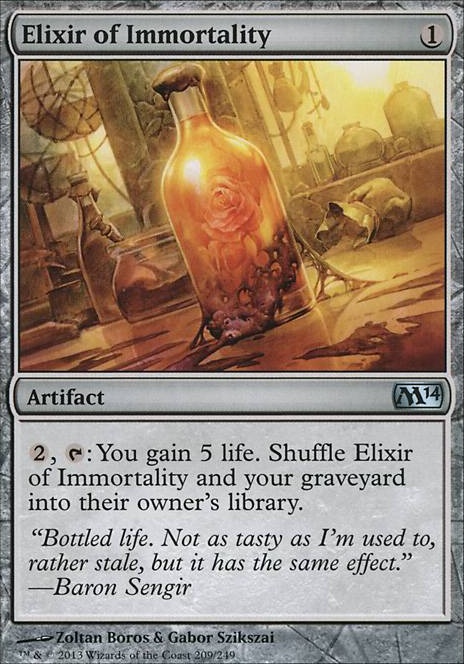 Legality
| | |
| --- | --- |
| Format | Legality |
| Modern | Legal |
| Legacy | Legal |
| Vintage | Legal |
| Commander / EDH | Legal |
| Duel Commander | Legal |
| Tiny Leaders | Legal |
Elixir of Immortality
Artifact
2, T: You gain 5 life, Shuffle Elixir of Immortality and your graveyard into their owner's library.
Elixir of Immortality Discussion
6 days ago
Correct me if I'm wrong on this: you plan to control your opponent through discard, with burn/discard-damage as wincondition, right?
If that is true, Elixir of Immortality simply doesn't contribute to winning, and Otherworld Atlas directly works against your own plan. Lifegain is fine, but it isn't relevant in every match (to put it mildly), therefore Elixir of Immortality belongs in the sideboard, and should be brought in against burn and other fast aggro.
The madness subset of cards is a little on the low end, if they are ever supposed to meet. 2 of each is simply too little. Oona's Prowler would help on this, but a creature with toughness 1 is not something you should build interactions around. Necrogen Mists could be useful - it does something during upkeep, and with enough madness cards, that could be pretty funny.
1 week ago
I grew pretty frustrated with Standard. I've been playing the relatively new Eternal digital card game. It's basically Magic with some changes. When I told my friends this, they immediately shot me down saying "It's not magic." Well, yeah, no shit. But it sure as hell beats the current state of standard. I also get to play dimir control deck to my hearts content.
Standard's pretty shitty atm. For control players, the mere existence of Heart of Kiran and Scrapheap Scrounger make things insanely complicated. We actually have more support for control in standard than in a long while with win cons that don't kill the game like Elixir of Immortality... Sucks for hardcore draw-go fanatics.
1 week ago
I don't know how full your graveyard gets, but if you end up with a lot of cards there, you could use graveyard to library effects to prevent drawing out. Something like Gurzigost + Feldon's Cane or Elixir of Immortality? Green kind of makes you do it in a roundabout way.
1 week ago
Elixir of Immortality allows you to shuffle in your graveyard which is helpful in control decks like this one
Load more