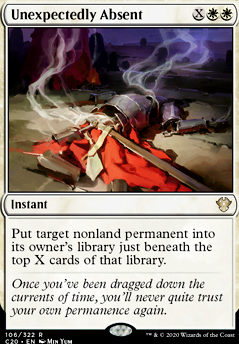 Unexpectedly Absent
Instant
Put target nonland permanent underneath the top X cards of that owner's library.
Latest Decks as Commander
Unexpectedly Absent Discussion
1 year ago
Changelog (22/11/2020)
White
Blue
Black
Red
Green
Multicolored
Colorless
Mana Fixing
1 year ago
I really like Flickerform, Gift of Immortality, Ephemerate, and Conjurer's Closet with Tolsimir, Friend to Wolves. Great ways of protecting him and getting reuse out of his enter the battlefield (ETB) ability!
I also really like Sword of the Paruns. Tolsimir usually wants you to play lots of wolves so that you can use his ability. You can use Sword of the Paruns to boost your wolves on defense when they ETB and fight!
Suggestions:
I would recommend maybe replacing Gods Willing, Blessed Breath, Realms Uncharted, Unexpectedly Absent, Inspire Awe, & Stand Firm with Make a Stand, Unbreakable Formation, Rootborn Defenses, Brave the Elements, Swords to Plowshares, & Path to Exile
Seek the Horizon could be upgraded to Explosive Vegetation
Heraldic Banner fits the deck really well! Some other good cards in that vein would be Marshal's Anthem, Leonin Sun Standard, Adaptive Automaton, Spear of Heliod, or Vanquisher's Banner. You could replace Shriekhorn, Mindcrank, Conjurer's Bauble, Ghoulcaller's Bell, & Grindclock with the recommendations.
1 year ago
After some more playtesting I've decided that back to basics is to good and has to be played.
1 year ago
Overall the list looks good. A few improvements I would recommend however:
1 year ago
Glad you found it useful. For some reason I forgot to mention Unexpectedly Absent . 2 mana instant speed way to get a card off the field is nice, even if it does go to the top of the deck.
Load more