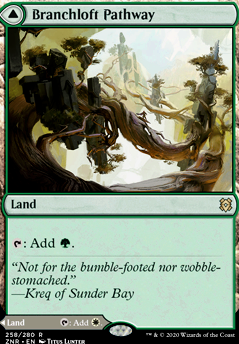 Back:
Boulderloft Pathway
Flip
Branchloft Pathway
Land
: Add .
Latest Decks as Commander
Branchloft Pathway Discussion
1 week ago
Hey! Kinda late, but I would like to suggest some stuff:
(Disclaimer: I have a budget way lower than yours, but I've been tinkering with Ghired for almost two years - he's my favorite commander. I'll break the suggested upgrades down into categories for better organization.)
Haste enablers:
Ramp: Run at least 15 ramp cards to make your deck flow smoother and faster.
As an aggressive deck, speed is fundamental. Fellwar Stone, Nature's Lore, Three Visits, Skyshroud Elf, Bloom Tender, Faeburrow Elder, Chromatic Lantern, Coalition Relic, Wood Elves, Skyshroud Claim and Mirari's Wake can ramp and heavily fix your mana, taking the place of Gyre Sage, Solemn Simulacrum, Rampant Growth, Sakura-Tribe Elder and Xenagos, the Reveler - the latter is a win-more ramp, and his 2/2 token is not large enough to synergize with the power-based card draw, while the other four fix for a single color of mana (Ghired decks can sometimes be color-hungry), and this deck can't abuse the sad robot for value.

In the land department, Krosan Verge and Blighted Woodland pull their weight, and synergize greatly with Avenger of Zendikar and Rampaging Baloths. Maybe remove Cascading Cataracts? (Your spells are not THAT color hungry.)
Direct damage:
Extra combats: You don't have to worry about your opponents' answers if they never get to their turn, so...
Boardwipes:
Card draw: Alongside ramp, it is my main concern with Ghired. I want to be able to rebuild my board after a boardwipe.
Some cards I suggest you to remove:
Some cool lands for you to try out: (landbase is my favorite part of deckbuilding)
I hope I've been of some help to you. I didn't suggest many token-related cards because I believe that, as long as you have decent ramp, draw and removal in your deck, you can win to your heart's content. Wanna throw in a Godsire? Do it. Prefer to clone your opponents' creatures with Hate Mirage? Go ahead. But the fundamentals of the deck is what makes it flow consistently. Have fun and smash 'em all (and run Doubling Season for extra fun) ;-)
1 month ago
If you truly want it to be aggro I would lower the curve a bit. Skyhunter Skirmisher isn't that great and pretty slow, I recommend Adorned Pouncer. It's only two mana, and has an eternalize ability to get a 4/4 double strike late game.
I highly recommend splashing red, for the best one drop aggro cat of all time Wild Nacatl. It also gives you access to 4x Lightning Bolt which you probably want, and maybe some other classic zoo cards like Atarka's Command.
Conclave Tribunal is most definitely not what you want to running for removal in an aggro deck. The card is quite slow, and tapping your creatures to cast it means you can't attack with those creatures. If you stay in GW i recommend Path to Exile, and if you splash red I'd run Prismatic Ending to supplement bolt.
The manabase needs work. 25 lands is a lot, even for control decks. Definitely way too many here. I recommend around 22. You probably want more duals as well. I don't know what your budget is, but here are some reasonably priced duals: Overgrown Farmland, Branchloft Pathway  Flip. If you're trying to keep the deck pretty budget I wouldn't bother running snarl lands and would run these two duals instead.
If you don't have a budget I'd go ahead with the red splash and run fetchlands like Windswept Heath and Arid Mesa, along with 2 other shocks Sacred Foundry and Stomping Ground.
3 months ago
Most recent updates... 17 October 2021
Out Eidolon of Blossoms , Mesa Enchantress , Austere Command , Return to Dust , Selesnya Cluestone , Helm of the Host , Ajani Unyielding and Ajani, Mentor of Heroes. Lands Gavony Township , Turntimber Grove and Sandstone Bridge .
In Sythis, Harvest's Hand , Starfield Mystic , Garruk's Uprising , Seal of Primordium , Rishkar's Expertise , Vanquish the Horde , Return of the Wildspeaker , Talisman of Unity , Branchloft Pathway  Flip , Arctic Flats , Overgrown Farmland.
~BoS
Load more