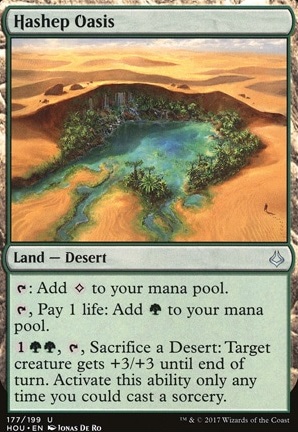 Hashep Oasis
Land — Desert
T: Add C to your mana pool.
T, Pay 1 life: Add G to your mana pool.
1GG, T, Sacrifice a Desert: Target creature gets +3/+3 until end of turn. Activate this ability only any time you could cast a sorcery.
Browse Alters
Legality
| | |
| --- | --- |
| Format | Legality |
| 1v1 Commander | Legal |
| Arena | Legal |
| Block Constructed | Legal |
| Canadian Highlander | Legal |
| Commander / EDH | Legal |
| Duel Commander | Legal |
| Gladiator | Legal |
| Highlander | Legal |
| Historic | Legal |
| Legacy | Legal |
| Leviathan | Legal |
| Limited | Legal |
| Modern | Legal |
| Oathbreaker | Legal |
| Pioneer | Legal |
| Tiny Leaders | Legal |
| Unformat | Legal |
| Vintage | Legal |
| Casual | Legal |
| Custom | Legal |
| Quest Magic | Legal |
Latest Decks as Commander
Hashep Oasis Discussion
6 months ago
Changelog (22/11/2020)
White
Blue
Black
Red
Green
Multicolored
Colorless
Mana Fixing
8 months ago
If you do decide to take multimedia advice throw in more buffs Gavony Township, Okina, Temple to the Grandfathers, Hashep Oasis, Skarrg, the Rage Pits, Ancient Animus, Dromoka's Command and Vines of Vastwood. Also, you'll need a shuffle titan like Ulamog, the Infinite Gyre, Dockside Extortionist, Academy Rector, Village Bell-Ringer and Dockside Extortionist to have the loop in your deck
1 year ago
While a lot of cards go infinite with Ashnod's Altar, I think having Midnight Guard with an attached Presence of Gond can actually be used without Altar as a combat win, and as an alternate target for removal. Cast Presence on Guard when you've ready to combo off with Tayam, and suddenly the table is more threatened by the potentially infinite Elves you've created on the previous player's end step.
Vesperlark is a cheap uncommon out of Modern Horizons that I'm sure most EDH players can find at their local store's bulk bin, and allows you to effectively grab 2 creatures to trigger that Corpse Knight instead of one.
Devoted Druid should be moved to the main, and you should totally add Centaur Garden and Hashep Oasis, too. Cast Druid, and if it survives one round, you've got infinite instant speed mill with Tayam. Getting Corpse Knight, Promise of Bunrei, and a Carrion Feeder has never been easier.
1 year ago
Bruse & Tana are my fave partner pair! So cool to see them pop up on TO. Here's my list if you're interested: Bruse Tana Boorish Bloodsower
I see you have Betrothed of Fire in the maybes. I'd definitely mainboard that one. It's one of the best auras you can put on Tana. I also recommend these: Mantle of Leadership, Hope Against Hope, Eidolon of Countless Battles, Thallid Germinator, Goldnight Commander, Utopia Mycon, Druids' Repository, Song of Freyalise, Bear Umbra, Open the Armory, Heliod's Pilgrim, Ohran Frostfang, Hunter's Prowess, Seize the Day, Hashep Oasis, Sakura-Tribe Elder, signets + talismans (2drop ramp gets Tana out on T3. in glass cannon decks like this, doing your thing 1 turn faster makes a huge difference!)
1 year ago
I'd consider either the desserts (Shefet Dunes, Hashep Oasis) since they can make colored and colorless mana, or some utility lands like Field of Ruin and Mutavault. You'll need to mess around to figure out what you like best (I'd try to include field of ruin since you really need to slow combo decks down in order to have a chance), and remember that Zirda reduces land activated abilities too.
As for what to take out, I'd try 1 Blossoming Defense, 1 Sunblade Elf, and 1 Fleecemane Lion for 3 displacer, but I haven't played the deck and you'll need to test. Keep in mind that your mana is going to be less consistent because of the format switch and added colorless, so Sunblade and Fleecemane are going to be less consistent turn 1 and 2 plays.
1 year ago
Hey dude, love the deck.
I goldfished it for a while and I have to disagree about your land count. I think you should actually go up to 24 lands. The reason is that your curve is set at 4 - Hedron Archive and Mystic Forge are what makes the deck go off. Once you hit that four mana the deck feels like gas, it's super powerful. Given this I think you want to play a 2 drop that makes mana so you have four mana on turn three. Sadly the only colorless option in Pioneer is Hedron Crawler , but I think it does a reasonable enough job.
I'd be tempted to go down the Spatial Contortions, just because this deck is great at going over the top so mediocre removal doesn't seem necessary. Also, could it be worth splashing a colour to play devoid cards? Walker of the Wastes seems a bit underpowered, ususally it'll be a 5 mana 6/6 or 7/7 with trample. You could play World Breaker which still works with Ugin and Mystic forge, switch a few Wastes for Forests (which you can fetch with Fabled Passage), and drop the Shrine of the Forsaken Gods for Hashep Oasis . Shrine of the Forsaken Gods is rarely going to produce more than one mana, and even when it does you already have seven lands! With no big daddy Eldrazi why do you need that much mana?
Anyway, that's my two cents. Have an upvote!
1 year ago
Looks good! I would suggest removing these cards as they might be overcosted or not as impactful as some others: Mage Slayer, Treacherous Terrain, Beast Within, Expedite, Savage Summoning, Surge of Strength, Descendants' Path, Bloodthorn Taunter, Harbinger of the Hunt, Kilnmouth Dragon, Prowling Serpopard.
Also you might like these: Goreclaw, Terror of Qal Sisma, Heraldic Banner, Draconic Disciple, Knollspine Dragon, Worn Powerstone, Empowered Autogenerator, Gratuitous Violence, Mosswort Bridge, Spinerock Knoll, Hashep Oasis
Load more