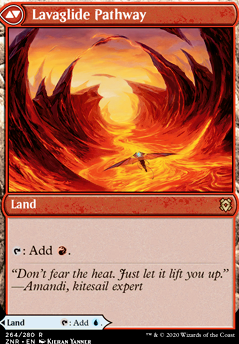 Back:
Riverglide Pathway
Flip
Legality
1 year ago
I think just having some mdfc lands like Blightstep Pathway  Flip and Lavaglide Pathway  Flip would work, or other tapped lands that could produce red mana. I think that adding Replicating Ring would take slots away from other good cards, and since rogues is more of an aggro/control deck, 3 mana ramp wouldn't be helpful.
1 year ago
Hey, nice start on a budget.
When you add Pathways and other DFC cards that have lands on the backside you only add the front side of the card to your decklist. Pathways only count as one land in the manabase; don't add both sides, only one such as Riverglide Pathway  Flip, but not Lavaglide Pathway. Replace the extra Pathways in the manabase with a few more basic lands. Sejiri Shelter  Flip has a land on the backside, but you don't add Sejiri Glacier to the manabase. These DFC acts as extra lands as an addition to the total lands in the deck. If you have 34 total lands then Sejiri Shelter  Flip can be a 35th land.
Sol Ring, Command Tower and Path of Ancestry are three budget staples of Commander to consider adding. Trinket Mage can tutor for Bag of Holding or Elixir of Immortality, important cards to have more access too. Tandem Lookout can change who it's soulbond too and when your Commander has an effect that can do damage to each opponent then Lookout can be a repeatable draw source to draw a lot of cards.
With as little as 40 cards in your library Brallin or Glint-Horn Buccaneer can win you the game at your Cleanup step. If either is soulbond to Lookout or enchanted with Curiosity or Ophidian Eye, you have 8 or more cards in hand and have no effect that's no max hand size. At your Cleanup step you have to discard down to 7 cards in hand and you don't leave the Cleanup step until you have exactly 7 cards in hand, but this combo doesn't let you have 7 cards in hand thus you don't leave the Cleanup step. When you discard it triggers Ballin who then triggers to draw, you keep drawing and discarding your entire library until your opponents are dead or until you run out of cards.
Drift of Phantasms transmute is a budget way to tutor for Tandem Lookout, Ophidian Eye, Glint-Horn Buccaneer or any other 3 CMC card in your library and Transmute is a discard effect.
---
Cards to consider cutting:
Lavaglide Pathway
Pillarverge Pathway
Sejiri Glacier
Silundi Isle
Star Compass
Mercurial Chemister
Herald of the Forgotten
Boon of the Wish-Giver
Tormenting Voice
Good luck with your deck.