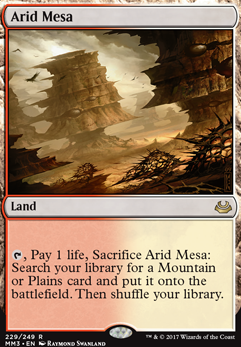 Legality
| | |
| --- | --- |
| Format | Legality |
| Tiny Leaders | Legal |
| Noble | Legal |
| Leviathan | Legal |
| Magic Duels | Legal |
| Canadian Highlander | Legal |
| Vintage | Legal |
| Modern | Legal |
| Custom | Legal |
| Vanguard | Legal |
| Legacy | Legal |
| Archenemy | Legal |
| Planechase | Legal |
| 1v1 Commander | Legal |
| Duel Commander | Legal |
| Oathbreaker | Legal |
| Unformat | Legal |
| Casual | Legal |
| Commander / EDH | Legal |
Related Questions
Arid Mesa
Land
, Pay 1 life, Sacrifice Arid Mesa: Search your library for a Mountain or Plains card and put it onto the battlefield. Then shuffle your library.
---
Have (4)

A

z

d

r

a

n

a

x

, Rjrbadboy , Brutus1 , Luckeyawesome
Want (22)
801Hellfire , calovr , derankerdave , BilboTBagins ,

j

e

c

d

e

r

, The_Cheese_Pie ,

A

s

u

n

a

m

i

, DerClyde , Runfromgoblins , Pilladas , Lavatails , TheBob58 ,

b

i

m

j

o

w

e

n

, Regoober , Kronk911 , Jbarino ,

s

o

n

n

e

t

6

6

6

,

P

T

s

m

i

t

t

y

,

F

o

r

k

b

e

a

r

d

, PhinnRobyn , kellygene , Commander_Shepard
Arid Mesa Discussion
3 weeks ago
Commenting here rather than on your page.
I don't mean to sound so overbearingly critical, but your deck is overall lacking in substantial board presence. Oathbreaker is a format in which you want to protect your Planeswalker at all viable costs. You have four creatures. That does not make for a very strong base. I'm going to rip into this deck, but I am also going to offer you suggestions on how to greatly improve upon it :) I hope that you don't take offense to anything I am saying, but I felt like I can do you some good here.
As for a win condition outside of Form of the Dragon , there is also Martial Coup . Since you are snuffing out all of your opponent's lands anyway, as well as their creatures, why not create a literal army of tokens that now stand unopposed?
There is also Curse of Bloodletting , which makes your Form of the Dragon deal 10 damage instead.
You may also want to consider replacing Mudhole with something more viable. Perhaps Lightning Helix ? It burns and gets you life. Acts as another win condition, makes it harder for your opponent to win in the process as your life totals grow farther and farther apart, and plays nicely with the aforementioned Dawn of Hope .
This took me like 40 minutes, so I hope it helps.
3 weeks ago
Hi all,
I have been an active member on this website for years, and as well have been a fairly active player up until about a year and a half ago.
I've amassed a collection of decks and some miscellaneous cards for the past 5 years (I started playing in March of 2015). It's sad to say, but I have to let me collection go.
The collection basically consists of six competitive decks, four modern, and two legacy, and as well a small binder of extras I have had laying around from the years of FNM's and release days I have attended.
Essentially my collection consists of:
Modern G/W Elves
Esper Death Shadows
UR Gifts Ungiven Storm
UG Infect
BG Dark Depths
And UB Instant Reanimator
Some cards that I have sitting in my binder, just to give an idea of the quality of the collection, and the legitimacy, are:
Arid Mesa (Zen) Verdant Catacombs (Zen) Scalding Tarn (Zen) Misty Rainforest (Zen) Marsh Flats (Zen) 4x Blood Moon Foil Zendikar Island, Plains, and Swamp 4x Tarmogoyf Modern Masters 4x FNM Promo Gitaxian Probe
Among other goodies.
The decks I am not willing to part out, so please do not ask. If you are interested you can DM me and I can give you the direct decklist WITH pictures.
If you are interested in what is in the binder, I can send a full list with pictures of everything in the binder. I am trying to keep this post short, however.
I was hoping to post on here first to get dedicated players, instead of going to get a large portion of the value cut out at a card shop, or going on offer up.
If anyone is interested please do not be a stranger. I am selling because I do not currently play, and probably will not for a very long time due to working two jobs and friends moving across the country.
I am also selling to attempt to fund a new car.
Thanks for understanding, and I hope to hear from some of you.
1 month ago
My recommendations:
New Commander: Ramos, Dragon Engine or Morophon, the Boundless
Either of these would fit the theme of your deck better and would assist you in casting and running the deck.
Cut:
Altar of the Brood - Doesn't fit what you're doing and doesn't assist in your goal
Ghostfire Blade - Not good enough. You're running Eldrazi. They're big enough and powerful enough to take care of themselves
Mycosynth Lattice - This doesn't help you. Most of your stuff is colorless so this only helps your opponents cast spells and places a glaring weakness that a card like Vandalblast can easily exploit.
Bonds of Mortality - You're running annihilator and massive creatures. You're rarely worried about the occasional hexproof creature, and you shouldn't have an issue with the occasional enchantment or artifact. Eldrazi overwhelm. Don't sweat the small stuff.
Prismatic Omen - This doesn't help you enough. Most of your stuff is colorless so this doesn't do a crazy amount for you. In addition, you're running Chromatic Lantern which will do this and also produces mana on top of it.
Ashiok, Nightmare Weaver - Why? This has nothing to do with your deck
Despark - There are better removal options, but as an eldrazi tribal deck you'd be better off playing cards that protect and accelerate you rather than this.
Wear / Tear - While decent, you don't usually need to hit both at once and it's multiple colors. I'd run Naturalize or Krosan Grip instead.
Fathom Feeder - ...No. Just no.
Mist Intruder - While this and Fathom Feeder are both eldrazi, just because you're running a tribal deck doesn't mean you have to run every tribal card, nor only tribal cards. Cut this and see my suggestions for cards to replace it with.
Khenra Charioteer - There are better alternatives
Vile Aggregate - You're running eldrazi. You're going tall rather than wide so you're unlikely to ever really have enough creatures out at once to really make this card worth running.
Bojuka Bog - Not worth it. It comes out tapped and unless someone is both running a graveyard deck and has enough good cards in it at the same time, you're not going to get enough value out of this, or if you want to save it for that, then you have a dead land in hand and there would be far better cards like Rest in Peace and such.
Gateway Plaza - Comes in tapped, costs an additional mana to play, and only gives one mana. Too slow and not good enough.
Ruins of Oran-Rief - You're running Eldrazi. You really don't need one more +1/+1. A colored mana would assist you more here as it would also help you pay for and colored spells you would like to cast.
Add:
Akroma's Memorial - This is a fantastic card that in your deck would be a win con. I would recommend running this over Eldrazi Monument as it does a lot more and doesn't force you to sacrifice your important eldrazi.
Privileged Position - An absolutely amazing card that I run in every deck that can run it. Full protection on ALL your permanents.
Sterling Grove - Protection for all your enchantments and allows you to fetch any that you need.
Krosan Grip - Guaranteed removal on artifacts or enchantments.
Ramos, Dragon Engine - You're running a five colored big boy deck. This enables it and since it's colorless it'll be relatively easy for you to cast.
Archetype of Endurance - Fantastic protection and a powerful creature to run. As a plus it fulfills some of the same roles as the cards you ran that removed hexproof.
Archetype of Aggression - Replaces your Khenra Charioteer as a much better, single color, alternative.
Kozilek, Butcher of Truth - Great card draw, annihilator, reshuffles your graveyard which prevents mill and keeps your deck running even after a board wipe, and a giant eldrazi god, all built into one card.
Kozilek, the Great Distortion - Card draw, counter protection, and a menacing eldrazi god. Who could ask for more?
Emrakul, the Promised End - Reduced costs, protection, flying, trample, steals a turn, and an eldrazi god. Nuff said.
Temur Ascendancy - Replaces or in addition to Fervor . Haste plus card draw and your creatures are almost all going to trigger it.
Demonic Tutor - Fantastic fetch card.
Vampiric Tutor - Fantastic fetch card.
Harsh Mercy - Tribal board wipe
Explosive Vegetation - Land fetch
Skyshroud Claim - Land fetch that comes in untapped. If you upgrade your landbase to include cards like Breeding Pool (see recommendations lower), you can use this and cards like Nature's Lore to fetch them and bring them in untapped.
Patriarch's Bidding - Full board wipe recovery, and/or a kill card if you have a haste enabler on the board.
Heroic Intervention - Top Tier instant speed protection.
Teferi's Protection - Top Tier instant speed protection
Cyclonic Rift - One of the best board wipes in the game. Cannot be protected against, reset's their entire board, and leaves you in a fantastic position.
Enlightened Tutor - Artifact/Enchantment Fetch
Worldly Tutor - Creature Fetch
Mystical Tutor - Instant/Sorcery Fetch
Urza's Incubator - Eldrazi cost reduction
Descendants' Path - Free Eldrazi casts
Rhystic Study - Fantastic card draw
Bloom Tender - In a 5-color deck this card is amazing ramp.
Birds of Paradise - Any color ramp for 1
Ugin, the Spirit Dragon - Does this require explanation in a colorless deck?
Beast Within - Destroys any permanent. This is a fantastic card to run as a mere 3/3 beast shouldn't bother you, and even if it would, it's likely far better than what they previously had.
Chaos Warp - Removes any permanent. Can be used on your own stuff to pull a new permanent out of your deck if needed. Bypasses indestructible.
See the Unwritten - Need I say more?
Tooth and Nail - Need I say more?
Exploration - Amazing ramp. Accelerates your turns
Burgeoning - See Exploration
Mana Reflection - The best mana doubler, bar none.
Zendikar Resurgent - Mana doubler plus card draw
Smothering Tithe - One of the best ramp cards
Oracle of Mul Daya - Fantastic acceleration. Combines with other accelerators such as Exploration and Burgeoning as they can now play lands off the top of your library as well.
Second Sunrise - Full boardwipe recovery
Defense of the Heart - Easy free creature drops
Mirari's Wake - Mana doubler plus anthem
Faith's Reward - Full, personal, boardwipe recovery
Seedborn Muse - One of the best cards you can run, bar none.
Commander's Sphere - 3 drop mana rock that can tap for all colors. Replaces your banners (ex. Vanquisher's Banner )
Darksteel Ingot - 3 drop indestructible mana rock that can tap for all colors. Replaces your banners (ex. Vanquisher's Banner )
Recommended Land Additions/Swaps:
Cavern of Souls
Reflecting Pool
Urborg, Tomb of Yawgmoth - Mana coverage, allows your fetch and colorless lands to tap for colored if they need
Cabal Coffers - Combines with Urborg, Tomb of Yawgmoth to generates metric butt tons of mana
Arid Mesa
Bloodstained Mire
Flooded Strand
Marsh Flats
Misty Rainforest
Scalding Tarn
Verdant Catacombs
Windswept Heath
Wooded Foothills
Blood Crypt
Breeding Pool
Hallowed Fountain
Overgrown Tomb
Polluted Delta
Steam Vents
Stomping Ground
Watery Grave
Fetch lands and shock lands are fantastic upgrades to your deck. Fetch lands let you pull the exact lands you need and let them come in untapped, and shock lands can both be fetched because they say the actual land type (ex. Breeding Pool is a Forest Island), and can come in untapped or tapped depending on what you need. Coming in untapped and generating multiple colors gives a distinct advantage over mono-colored lands and lands that must come in tapped.
Maybe Cut:
Eldrazi Monument - Hurts you too much and doesn't generate enough benefit. If you can't get a weak creature out in time, or don't have one available, you'll either have a dead card in hand that you don't want to cast, or one that hurts you badly. If you want indestructible, look at cards like Boros Charm or Heroic Intervention .
From Beyond - Too slow and doesn't do enough.
Why?:
Relic of Progenitus - Not worth it. Run Rest in Peace or other such cards instead.
A tribal deck isn't limited to only cards of its tribe, but rather is mostly one tribe and has several cards that accelerate and power up the tribe. Hence my recommendation is that you cut a few of the weaker cards that are unnecessary and instead run a few non-tribal cards that strengthen, accelerate, and assist your deck.
2 months ago
Yeah, backing up an heckproof's comment, you should include a playset of Arid Mesa and take out 4 Mountain s. You also could take out 3 additional Mountain s to finish a playset of Searing Blaze and add a Grim Lavamancer , but that's optional. 18 lands is generally the right amount for a burn deck, any more will decrease consistency.
2 months ago
So as a disclaimer, I'll be using my experiences with my deck, March of the Dusk Legion, as a point of reference for my recommendations.
So one thing I noticed is that your list is a bit unfocused in terms of strategy. What do you want to accomplish with your deck? Is it a token deck? +1/+1 counters? Aristocrats? You have cards that support all of these strategies but not enough of any one to reach critical mass.
Start with the mana-base changes and decide what you want the deck to accomplish and we can go from there!
Load more
Arid Mesa occurrence in decks from the last year
Commander / EDH:
All decks: 0.12%
WUB (Esper): 0.59%
RGW (Naya): 1.69%
UBR (Grixis): 0.46%
RBW (Mardu): 0.87%