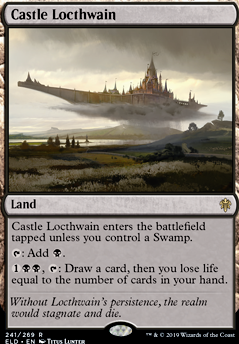 Castle Locthwain
Land
Castle Locthwain enters the battlefield tapped unless you control a Swamp.
: Gain .
, : Draw a card, then you lose life equal to the number of cards in your hand.
Browse Alters
View at Gatherer
Trade
Legality
| | |
| --- | --- |
| Format | Legality |
| Standard | Legal |
| Modern | Legal |
| Oathbreaker | Legal |
| Brawl | Legal |
| Limited | Legal |
| Casual | Legal |
| Block Constructed | Legal |
| Pioneer | Legal |
| Pre-release | Legal |
| Tiny Leaders | Legal |
| Historic | Legal |
| Canadian Highlander | Legal |
| Leviathan | Legal |
| Commander / EDH | Legal |
| Arena | Legal |
| Unformat | Legal |
| Highlander | Legal |
| Vintage | Legal |
| 1v1 Commander | Legal |
| Legacy | Legal |
| Custom | Legal |
| Duel Commander | Legal |
Castle Locthwain occurrence in decks from the last year
Latest Decks as Commander
Castle Locthwain Discussion
10 hours ago
Changelog (22/11/2020)
White
Blue
Black
Red
Green
Multicolored
Colorless
Mana Fixing
5 days ago
I love the idea of the deck! I think I'll try it myself!
Do you plan to improve on your mana base? Myself, dry-playtesting, I find it missing Swamps in most cases. The most mana-demanding Murderous Rider and its Adventure takes 2x with CMC=3, whereas any spell that demands 2x is only at CMC=4 and higher.
I think you could and swap additional Plains into Castle Locthwain. Fabled Passage should find its place here too. This, with a full set of Temple of Silence instead of Scoured Barrens will help with the late game mana flood!
What do you think?
1 week ago
For mono-black, Castle Locthwain is a fairly common one to toss a couple copies of. There's not much in the way of mono-black card draw, and at a glance that's what I see being the biggest constraint. Getting things out quickly can be nice, but against a control deck your creatures won't last long and then you'll be stuck Topdecking.
You might look at some early 1-mana Discard options to further play into your strategy/theme. Thoughtseize is by far the most common (and best) choice for this, but it can also be quite expensive to purchase singles of.
Other less costly options (albeit with more restrictions/conditions) for 1-mana discard spells are Duress or Specter's Shriek.
The newly released Mind Drain is vastly superior to Mind Rot, and is literally identical in its casting cost and card type; just an upgraded version.
I have a mono-black Hand Hate deck which I play regularly on MTGA online, and I've found Davriel, Rogue Shadowmage to be an excellent card to include. He serves beautifully as guaranteed damage per turn in longer games once the hands are cleared out, and he also provides a mana-free discard option for multiple turns while he's in play early so that you can keep the pressure on the opponent.
I have won numerous games on the back of Davriel, just by having enough creatures in play to act as stalemate blockers and then just keeping the opponent's hand empty and letting him tick each turn. Stalemate blockers can be amazing, and he's only a few cents to order singles of.
Drainpipe Vermin can be a useful 1-drop which would play into both your Rat and Discard mechanics, and it pairs very well when sacrificed to Nezumi Bone-Reader.
Ravenous Rats is an identical card functionally to Burglar Rat, in case you find this a useful card and wish to rebuild to include more than 4 of them by including both types.
Other neat suggestions you might want to try (depending on how this playtests) are Rancid Rats, Ratcatcher and/or Marrow-Gnawer
Beyond that, you mentioned Instants - I'd suggest control options even if they're cheap ones like Murder or Unmake (in case Indestructible is a thing you run into frequently) to handle things your Rats can't take care of straight away. There's also other permanents like Basilisk Collar which could make your weakling rats a real blocking threat, and it has a cheap enough Equip cost that you can attack with it on a creature, and typically afford to move it to an untapped Blocker immediately after. If the collar is too expensive or you don't like the Equip cost on it, you could go an Instant route with things like Deadly Allure, Lash of Thorns, Virulent Swipe, or Touch of Moonglove.
Even if none of these suggestions help, I like your build! +1
2 weeks ago
Thanks for the comment Omniscience_is_life!
I chose to go with a low number of mana rocks (just 3) and ramp spells in general because the deck has a fairly low curve and usually doesn't cast multiple spells a turn because of all the discarding. Admittedly, I haven't had very many opportunities to test the deck though.
As for Castle Locthwain, I chose it because its a utility land that also taps for coloured mana. Admittedly though,I don't think I've actually used the draw effect so fair enough. But if I were to replace it, it would be for some other utility land or swamp (the land count is already kinda low).
3 weeks ago
Some lands I will suggest are:
Load more