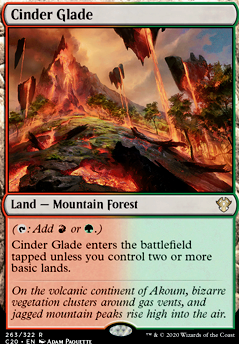 Cinder Glade
Land — Mountain Forest
(: Gain or .)
Cinder Glade enters the battlefield tapped unless you control two or more basic lands.
Browse Alters
Trade
Legality
| | |
| --- | --- |
| Format | Legality |
| Leviathan | Legal |
| Canadian Highlander | Legal |
| Modern | Legal |
| Block Constructed | Legal |
| Limited | Legal |
| Unformat | Legal |
| Commander / EDH | Legal |
| Highlander | Legal |
| Casual | Legal |
| Legacy | Legal |
| Custom | Legal |
| 2019-10-04 | Legal |
| Pioneer | Legal |
| Vintage | Legal |
| 1v1 Commander | Legal |
| Duel Commander | Legal |
| Tiny Leaders | Legal |
| Oathbreaker | Legal |
Cinder Glade occurrence in decks from the last year
Latest Decks as Commander
Cinder Glade Discussion
1 week ago
some of these cards are control cards, put into an aggro deck. So they may be good in some situations, yes, but in a general circumstance they're more likely to be a hinderance than anything
Wrath of God is an okay boardwipe, but really you don't want to potentially devastate your board AND have to wait a turn to rebuild. Most of the time something cheaper will be better - Pyroclasm if you know you're going to face weenies or RDW or something of the like, or Blasphemous Act for just more general decks. Frankly, Blasphemous Act will potentially be worth a mere most of the time against Krenko or Thalisse even. Plus it hits them as well.
Idyllic Tutor finds you an enchantment, but what enchantment do you need? Again, you're playing an aggro deck so you shouldn't be taking your turn 2 or 3 to set up for later; you should be butting heads with anyone and everyone.
Torment of Hailfire is looking so shady here. It's a mid-lategame card that's meant to be used in tandem with heavy removal and attrition, and you're just chucking it in here as what? some sort of a finisher? Sure, it could be a finisher, but I think it needs to be somewhat built around / synergised with to actually be a viable pickup.
Replace
Yarok, the Desecrated
with
Panharmonicon
. cheaper and not colour-reliant. Harder to deal with than just a creature
Rootborn Defenses is to make your stuff indestructible. First off, there's cards that do the same thing for less, and there's even cards that do more for the same price - Make a Stand, Flawless Maneuver, Ready / Willing or even Heroic Intervention. Populate is going to be pretty inconsistent in this deck too, as there's only a small handful of token generators in the deck, so why not swap it out (or remove it, even) for something more efficient
Cinder Glade
is a tapland so you might as well replace it with
Sheltered Thicket
. I think, regardless, switching to
Sheltered Thicket
will be more beneficial - fetch and eot, on your turn it enters untapped, or it's in your hand and you treat it as you would treat a
Barren Moor
: cycle if you don't need it, or play if you do.
Jegantha, the Wellspring is 5 mana for a max of 3 mana per turn (estimate). With so few early ramp cards, how do you expect to consistently hit 5 mana on turn 5, 4, even 3? He may be neat, and help you ramp but you need to get him in play first. I just don't think he's worth in this deck. It's a 5-colour deck, but doesn't have a strong mana base. Also an aggro deck, so a 5 mana mana dork will kinda throw off your tempo anyway
Evolving Wilds, Fabled Passage, Terramorphic Expanse, Renegade Map, Burnished Hart, Solemn Simulacrum, Yavimaya Elder, Sakura-Tribe Elder all find little to nothing. Maybe if you add in some more basics, keep Fabled Passage and Solemn Simulacrum but not the others. The reason for these caards is to thin your deck, but thin them from basics, so if you have minimal basics to begin with you're not really consistently thinning (given that the chance of drawing all your basics is exceptionally higher than it would be with, say 10+ basic lands). Fabled Passage and Solemn Simulacrum give, for sure, the highest value so that's why I suggest to keep just them.
1 month ago
Hey, nice work in progress on a budget.
I'll give some card suggestions only for Slivers and lands and if you would like additional help with other cards than I offer more help in another comment.
Some cards to consider adding:
Changeling are Slivers even when the card is in your hand, library or graveyard. Amoeboid Changeling can change an opponent's creature into a Sliver and then you can gain control of that creature with Overload. Overload's ability to gain control a creature doesn't end at end of turn therefore you gain permanent control of opponent's creature. Mirror Entity is another changeling and it's ability can change all creatures you control power/toughness equal to the amount of mana you pay. This can result in huge attacks with high powered Slivers. Combine Entity with Manaweft Sliver and Sentinel Sliver after attacking while in combat tap each Sliver you control to make mana to pay into Entity.
Command Tower is a staple land in Commander for decks that are two or more colors, it's especially good with five colors. Path of Ancestry can be helpful with repeatable scry when you cast a Sliver with mana from it. Cinder Glade, Sunken Hollow, Canopy Vista, Prairie Stream, Smoldering Marsh are called Battle lands and they have good interaction with basic lands to ETB untapped. These dual lands are also two different land types which makes land ramp spells such as Farseek better since it can search for and ramp with a Battle land.
---
Cards to consider cutting:
Spitting Sliver
Synchronous Sliver
Lymph Sliver
First Sliver's Chosen
Reflex Sliver
Sliver Construct
Metallic Sliver
Bladeback Sliver
Enduring Sliver
Frenzy Sliver
Spined Sliver
Poultice Sliver
Rupture Spire
Bloodfell Caves
Blossoming Sands
Dismal Backwater
Jungle Hollow
Rugged Highlands
Scoured Barrens
Swiftwater Cliffs
Thornwood Falls
Tranquil Cove
Wind-Scarred Crag
Unknown Shores
Cave of Temptation
If interested I offer more advice. Good luck with your deck.
1 month ago
Hey, good budget version of Gishath.
Congregation at Dawn ($2 at CardKingdom) and Mwonvuli Beast Tracker can search for Dinos/Dino and put them/it on top of your library before you attack with Gishath making sure that you cheat a Dino/Dinos onto the battlefield with the attack. Tracker can get any Dino who has trample and there's quite a few including Quartzwood. Shared Summons can get any two creatures into your hand which includes Forerunner and an enrage Dino.
Garruk's Uprising is a good repeatable draw and trample source with Dinos. Getting both these abilities from a three drop enchantment is helpful especially with Quartzwood. Rhythm of the Wild makes Gishath uncounterable as well as a haste enabler for other Dinos or a +1/+1 counter source to help against Marauding/Forerunner's damage to a creature. Jeska's Will can make ramp to cast a fast Gishath for as low as five mana. Make seven or more red mana with Will then add any one white mana and any one green mana.
Otepec Huntmaster as a ramp source is better than Kinjalli's Caller because Huntmaster is also a haste enabler for a Dino and rarely will you have white mana turn one to cast Caller. Apex Altisaur is a big Dino who's an upgrade for Burning Sun's Avatar repeatable fight with enrage and it fights an opponent's creature when it ETB.
Cinder Glade and Canopy Vista would help color fixing because then Farseek, Skyshroud Claim, Mountain Valley can search for a dual land and Battle lands have interaction with lots of basic lands. Path of Ancestry is a good budget Rainbow land for tribal since repeatable scry is helpful. Mosswort Bridge's hideaway can easily be triggered with Dinos. Some other budget lands are Battlefield Forge, Naya Panorama, Ash Barrens.
---
Cards to consider cutting:
Good luck with your deck.
1 month ago
Great start! There are a few categories of stuff I would add, I will start with budget options:
Ramp - Cultivate, Kodama's Reach, Farseek, Rampant Growth will fix your colors.
Removal - Reclamation Sage, Swords to Plowshares, Austere Command, Wrath of God, Wear / Tear, Sundering Growth
Card Draw - Guardian Project, Shamanic Revelation, Beast Whisperer. Lifecrafter's Bestiary
Lands - Cinder Glade, Canopy Vista
Win Conditions: Overwhelming Stampede, Chord of Calling to tutor out a win
Other good cards: Swiftfoot Boots, Lightning Greaves, Rootborn Defenses
Other good cards, but not as budge
Xenagos, God of Revels, Token Doublers Anointed Procession, Coat of Arms, Heroic Intervention,
Cards to Consider Cutting:
Veteran Warleader, Shanna, Sisay's Legacy, Gruul War Plow, Ajani, Inspiring Leader

That is all for now, but I can suggest more later.
1 month ago
Changelog (22/11/2020)
White
Blue
Black
Red
Green
Multicolored
Colorless
Mana Fixing
2 months ago
Hey, nice version of Jared. I'm not a fan of Jared, but I can see you have put a lot of thought into your deck and you have overall very good card sense on a budget. Card draw shouldn't be a problem as long as you can keep the monarch :)
The manabase is lacking which is understandable because of the low budget. Cinder Glade and Canopy Vista are two of the better budget lands for Naya because they are two different land types, have interaction with lots of basic lands and they're Forest lands. Farseek, but also Nature's Lore, Three Visits (Commander Legends version), Skyshroud Claim and Wood Elves can all search for them and these five land ramp spells are among the best in Commander because they can ramp with a dual land. Some other good budget lands are: Battlefield Forge, Path of Ancestry and Naya Panorama.
Crop Rotation can tutor for Throne of the High City. Open the Armory can tutor for Pariah, Shield of the Oversoul or one of five equipment. Pariah is an important card to have more access too because you can't lose the monarch when Jared is enchanted with it.
Kami of False Hope is the white Spore Frog. Sun Titan is now less than $1 and is quite helpful since it can be repeatable reanimation: Jared, Pariah, Throne, Frog, Reckoner or any other 3 CMC/less permanent. Dromoka's Command is a good instant fight spell since it also gives another mode.
---
Cards to consider cutting:
1x Mountain
Protector of the Crown: Archon and Regal are better six drop monarch enablers.
Truefire Captain: difficult casting cost for this budget manabase.
Blackblade Reforged: not needed since doesn't give evasion or protection and Jared will have huge power/toughness with counters.
Good luck with your deck.
Load more