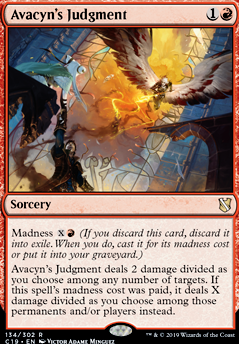 Avacyn's Judgment
Sorcery
Madness (If you discard this card, you may cast it for its madness cost instead of putting it into your graveyard.)
Avacyn's Judgment deals 2 damage divided as you choose among any number of target creatures, players and/or planeswalkers. If Avacyn's Judgment's madness cost was paid, it deals X damage divided as you choose among those permanents and/or players instead.
Browse Alters
Trade
Legality
| | |
| --- | --- |
| Format | Legality |
| 1v1 Commander | Legal |
| Block Constructed | Legal |
| Canadian Highlander | Legal |
| Commander / EDH | Legal |
| Duel Commander | Legal |
| Highlander | Legal |
| Legacy | Legal |
| Leviathan | Legal |
| Limited | Legal |
| Modern | Legal |
| Oathbreaker | Legal |
| Pioneer | Legal |
| Tiny Leaders | Legal |
| Unformat | Legal |
| Vintage | Legal |
| Casual | Legal |
| Custom | Legal |
| Quest Magic | Legal |
Latest Decks as Commander
Avacyn's Judgment Discussion
6 months ago
Changelog (22/11/2020)
White
Blue
Black
Red
Green
Multicolored
Colorless
Mana Fixing
1 year ago
I was driven to comment because I am in love with this idea, Song/Bobo/Rielle looks like tons of fun. I am writing this mostly to lay down my thoughts about how I would make my own version, and if you disagree with any of my points of course ignore me and play whatever cards you want.
As an experienced Yorion player I have some suggestions for tweaks, beginning with the inconsistency of 80 card decks and how to make them reliable. 32 lands is not enough, especially with the land synergies you have here. There are a few cards that, while powerful, don't necessarily line up with the strategy. Sad to say, Field of the Dead is banned in pioneer, so I'll start with those ideas.
-1 Field of the Dead, -2 Questing Beast, - 4 Gallia of the Endless Dance, +2 Breeding Pool, +2 Ketria Triome, +1 Blast Zone, +1 Borborygmos Enraged, +1 Rielle, the Everwise. Gallia is good and has discard synergy, but requires one drop creatures to actually begin triggering in any reasonable amount of time, and our early game is better spent setting up for the silliness later. This puts us at 36 lands, but I think 38 is where we want to be.
Cavalier is powerful and aggressive AF, but not something we want to see all the time. -1 Cavalier of Flame, +1 Sheltered Thicket, -1 Temple of Epiphany, +1 Lotus Field (don't want to miss out on squeezing this amazing land in somewhere). that's 37.
Unfortunately, while he is adorable, Buccaneer is an objectively bad magical card. Luckily, there is another 3 drop 2/4 who loves lands. The switch is synergistic and keeps to curve, -4 Glint-Horn Buccaneer, +4 Courser of Kruphix.
The next point is that Song is its own engine, that its downside is large, and that Rielle terminates the drawback of being without a hand during our opponent's turns. The adventure creatures are also neat in this regard; they dodge the discard. With that in mind, Ox could be cut. If we control Rielle and Song, we want the first thing we discard to be Song's trigger after we've drawn cards with Uro, who will be hogging our graveyard anyway. Benthic gets the boot, we want to play lands from anywhere. -3 Ox of Agonas, -3 Benthic Biomancer, +1 Uro, Titan of Nature's Wrath, +4 Ramunap Excavator, +1 Sheltered Thicket. In my opinion, this is the correct amount of lands.
The new version is resilient to wipes and we can win in one turn anyway. We need... we need to graze. -3 Heroic Intervention, -1 Avacyn's Judgment, +4 Arboreal Grazer.
I think the sidboard is very good, but Damping Sphere is how decks without access to Cindervines are trying to fight Underworld Breach. -2 Damping Sphere, +1 Cindervines, +1 Mystical Dispute.
The new list aggressively loots and ramps for Bobo, as well as Judgment, all while threatening our opponent with a 6/6 that never dies and an annoying 5/1 fearie with with flying, first strike, and trample. If only I could have this in Arena.
1 year ago
Hey, you can do a lot with a $60 budget for upgrades. For non madness, do you still want to play the Worldgorger combo? Again this combo will be at least $20 of the $60 budget. Without the combo you could make plenty of other upgrades for $20, but the combo makes your deck much more competitive.
For multicolored decks I always start with allocating enough of the budget for the manabase, to add some playable lands. I figure I need to have a good manabase otherwise what's the point in making the deck if I can't consistently cast cards. For your deck I would start with adding these lands:
If playing non madness, still play some madness cards that become better when you discard them with Anje. There's really reason to not take some advantage of playable madness cards with Anje as Commander.
Other advice I can give will be determined on if you want to play the Worldgorger combo. I'm basing it on the combo because your deck can look quite a bit different if not playing the combo.
1 year ago
Hey, what's the budget you have to make upgrades? Anje can be good with lots of madness cards or only a few. The first thing to consider is do you want to go all in with madness or just play a few good cards with madness? All madness is faster, cheaper, but less flexible. Only a few cards with madness is slower, more expensive, but more flexible, more options for deck strategies.
Madness is what makes Anje unique and with like 40 madness cards you can loot through your library fast which can set up combos/reanimation. Anje + Glint-Horn Buccaneer + Shadow of the Grave can be a budget win condition with lots of cards with madness. The more expensive Worldgorger combo can use two different cards with madness as the win condition: Avacyn's Judgment and the more difficult to pull off Bloodhall Priest.
The problem with this strategy is most madness cards are horrible, but are needed to untap Anje to loot more. Lots of cards with madness is a cheaper way to upgrade the precon because all cards with madness are budget options and you technically don't have to include the expensive price Worldgorger combo.
---
Do you want to play the Worldgorger combo? It's very good with Anje as an enabler for infinite mana and the fact that two cards with madness can be win conditions is helpful with Anje as Commander. The combo is however not budget, it's expensive. You'll want minimum $20: $10 Worldgorger, $5 Animate, $5 Dance.
Necromancy at $12 is better than both Animate and Dance since it can be cast at instant speed, but it adds more price for upgrades. Emergence Zone can be used with Animate or Dance to combo at instant speed. Cut / Ribbons and Sunscorched Desert are other win conditions with Worldgorder combo that work fine without having madness. The combo can be played in either a madness heavy direction or non madness direction.
Another direction to consider for upgrades is non madness, only playing a few cards with madness that are good when you discard them with Anje. The reason to choose this direction is the majority of cards you play are playable by themselves, not relying on madness with Anje's discard. The Worldgorger combo is just as good with this direction and you can include many other win conditions. Buccaneer is fine too, but not a combo win however without lots of cards with madness. There's lots more options to choose with this direction, other combos you could play or reanimation strategies. This direction will most likely be more expensive for upgrades, but it will be more flexible.
When I have a better idea of what kind of deck you want to make then if you would like I can give more advice.
1 year ago
Nice list, and the low cost is especially nice! You might like these cards: Livewire Lash , Precursor Golem , Fists of Flame , Aurelia's Fury , Avacyn's Judgment , Ghired's Belligerence , Volcanic Wind , Violent Eruption , Arcbond , Twinflame
1 year ago
It depends on your hand. You're gonna virtually always have Anje out, as the deck runs about 2 cantrips.
You're generally trying for Animate Dead + Worldgorger Dragon + wincon + ramp/protection.
Most typical would be some extra mana (ex. 1BBBBR) with backup (ex. Imp's Mischief ) and a madness card in hand: Worldgorger Dragon , Dance of the Dead , win con + any 2 cards.

With 3 madness cards in hand and BBB to cast Doomsday: Lotus Petal , Dark Ritual , Worldgorger Dragon , Animate Dead , Avacyn's Judgment .

With 0 cards in hand and 2BBBBBRR: Faithless Looting , Call to the Netherworld , Bloodhall Priest , Worldgorger Dragon , Dance of the Dead .
1 year ago
BUMPING REALITY BURNS...
Well sylvannos, I chose Gauntlet of Power … But I still need your thoughts on the Following:
* Aria of Flame : Your opponents won't gain anything most likely, & can be used as constant burn every time you play an Instant/Sorcery, & every time you add more Counters; Every. Last. Bit of them.
* Magmatic Force : A huge Hulking menace that burns on your opponent's turns even.
* Conflagrate , Bonfire of the Damned , & Avacyn's Judgment : I'm trying to find stuff that doesn't target; & cuts, but would these be good X-Burns, or are they crap; & several others in addition?
* Browbeat & Risk Factor : Card Advantage if nobody gets pinged, & regardless ping if so. Also, Risk Factor can be used a second time via Jump-Start (Grumbles to thyself about their youth...)
& Do I have too many X-Burns? Maybe not enough Copying? Lack of Mana Ramp/Card Advantage? Not enough stuff that happens every turn while they are in play? I'm just curious.
I'm still contemplating about my lie about being a , & not realizing my true status... I just wish somebody helped me on...
---
---
Is somebody capable of helping me on this? Or is there such an impossibility it's mentally wrong?
1 year ago
@sylvannos: Jeez, so many One-times; several remain I'm unaware of. Anyways, 3 Opponents would be the dead minimum, but since I've no real playgroup (Much less a Gameshop for such, as well as the fact I'm emulating the idea of an average board over 4 Players; including myself. I threw in a crapton of X-Burns; but I may have left out 3 key cards for that: Conflagrate , Bonfire of the Damned , & Avacyn's Judgment . Any of these X-Burns worth it, or am I using too many as it is? Also curious about the following: Browbeat , & Risk Factor . They're one use, but puts opponents on a gamble; throw in enough damage, maybe they'll think twice about damaging themselves to prevent me from drawing 3 cards. I suppose it's a "No." for the latter two?
Load more