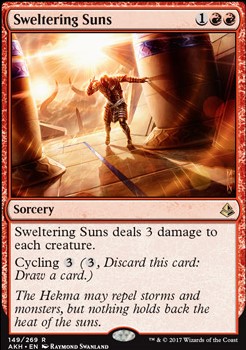 Sweltering Suns
Sorcery
Sweltering Suns deals 3 damage to each creature.
Cycling 3 (3, Discard this card: Draw a card.)
Browse Alters
View at Gatherer
Trade
Legality
| | |
| --- | --- |
| Format | Legality |
| Leviathan | Legal |
| Vintage | Legal |
| Modern | Legal |
| Block Constructed | Legal |
| 2019-10-04 | Legal |
| Canadian Highlander | Legal |
| Custom | Legal |
| Commander / EDH | Legal |
| 1v1 Commander | Legal |
| Gladiator | Legal |
| Limited | Legal |
| Oathbreaker | Legal |
| Duel Commander | Legal |
| Pioneer | Legal |
| Highlander | Legal |
| Unformat | Legal |
| Legacy | Legal |
| Casual | Legal |
| Arena | Legal |
| Tiny Leaders | Legal |
| Historic | Legal |
Sweltering Suns occurrence in decks from the last year
Latest Decks as Commander
Sweltering Suns Discussion
2 months ago
Changelog (22/11/2020)
White
Blue
Black
Red
Green
Multicolored
Colorless
Mana Fixing
4 months ago
Definitely, expected you to build this deck. Let's see if I can help out any. Not the biggest fan of equipments but that card draw engine combined with utility may sway me.
Sunforger - would be excellent but I know you're opposed to tutors; though being able to snag damaged based wrath effects like Anger of the Gods and Sweltering Suns could really like you take advantage of your commanders secound ability.
Super surprised you're not running Godsend - it's a great utility and well...you're Suns_Champion.
7 months ago
Here's my take on what to cut:
Elvish Aberration: 6 mana is a lot just to ramp. Cycling is nice, but doesn't directly Ramp.

Ghitu Chronicler: Again, expensive. There are much better things to do with our 6-mana

Krosan Tusker: Same as before. Expensive for what it is, doesn't directly ramp.

Magus of the Candelabra: Unless we can double mana somehow, doesn't actually ramp.

Nessian Demolok: Can be useful, but I've found tribute usually gets paid with these cards since creatures are pretty easy to deal with.

Oblivion Sower: Fun card, but just doesn't fit the deck

Treasonous Ogre: Just seems really slow to me

Valley Rannet: Same reasons as the tusker

Void Attendant: Again, just doesn't fit with the deck

Vessel of Volatility: Slow, and I honestly prefer my ramp to be repeatable

Land. I usually stick to around 36, I'd go down to there and test to see if it works out all right (Maybe 1 or 2 more since you seem to have a good amount of lands that can be sacrificed).

Chromatic Lantern: Pretty much useless in a 2-color deck. Here it's basically an Arcane Signet, but more expensive.

The Chain Veil: Not exactly useful here. You have some Planeswalkers, but not enough to really make it worth it.

Blood Feud: Too expensive for what it does. Green has a lot cheaper options

Burning Inquiry: Not a fan. Cathartic Reunion, Thrill of Possibility, Faithless Looting, etc. are all better in my opinion.

Fight with Fire: If you're going to scale up, might as well go with Banefire, Comet Storm, Crater's Claws, etc.

Processor Assault: Good value for your mana, but how often does exile come up in your games?

Sweltering Suns: Anger of the Gods is better in my opinion.

Volcanic Vision: Has potential, but I'm not really seeing a whole lot of spells that make it great.

Yawning Fissure: Doesn't fit strategy of the deck

Fiery Fall: Expensive.

Chandra, Flamecaller: Just meh in my opinion. Chandra, Fire of Kaladesh  Flip and Chandra, Torch of Defiance seem like better alternatives.
These are just my thoughts, hope it helped!
(Also, Pyromancer's Goggles seems good here.)
8 months ago
Fair enough. If you play Sweltering Suns out of the sideboard that would make sense. Additionally, the new card Raking Claws is a double strike buff without the trample of Temur Battle Rage but can be cycled for versatility. If all of your creatures have flying, trample is a little more negligible.
9 months ago
Nathor, thank you very much for your suggestions. I would definately add Sweltering Suns as a sideboard option. Also I would think of any cuts I could do for counterspells. I agree that Dive Down could be moved to sideboard but what I like in this card is its low cost. I think low cost counterspells are not effective so far in this deck (like Spell Pierce). Still, I cannot take one of your points: Discovery / Dispersal is a nice self mill option, due to surveil it allows drakes to get from 1 to 3 extra power.
Load more