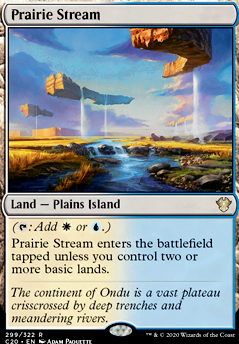 Prairie Stream
Land — Plains Island
(: Gain or .)
Prairie Stream enters the battlefield tapped unless you control two or more basic lands.
Browse Alters
Trade
Legality
| | |
| --- | --- |
| Format | Legality |
| Oathbreaker | Legal |
| 1v1 Commander | Legal |
| Pioneer | Legal |
| Legacy | Legal |
| Canadian Highlander | Legal |
| Commander / EDH | Legal |
| Highlander | Legal |
| Modern | Legal |
| Tiny Leaders | Legal |
| 2019-10-04 | Legal |
| Custom | Legal |
| Unformat | Legal |
| Duel Commander | Legal |
| Casual | Legal |
| Leviathan | Legal |
| Vintage | Legal |
| Limited | Legal |
| Block Constructed | Legal |
Prairie Stream occurrence in decks from the last year
Rules Q&A
Latest Decks as Commander
Prairie Stream Discussion
1 week ago
Changelog (22/11/2020)
White
Blue
Black
Red
Green
Multicolored
Colorless
Mana Fixing
2 weeks ago
Ooh, I love the idea of this deck! Unique decks are always fun. +1
Some thoughts:
I saw the comments about Sol Ring and Legacy/Vintage. But are you actually trying to play a specific format, either online or at a sanctioned event? Or is this more for casual kitchen table Magic? If the latter, just change the T/O format to Casual, and then you can run all 4 copies of Sol Ring!
As to ramp, Piracy doesn't work. Think of it more as mana denial. Unless your opponent is crazy, they're going to tap all their lands in response in order to keep you from getting mana (and since mana burn is no longer a thing, they don't even get hurt for doing this like they used to). While you get no mana, what that DOES accomplish is deny them mana during your combat and second main phases, which keeps you safe from counter magic and combat tricks (except Force of Will is still a thing....). THAT SAID.... back to the above format question: If you're running this casually in multiplayer games, then you can potentially get an opponent to agree to help you with mana through a temporary alliance (or two-headed giant game). But outside of two-headed giant, good luck getting an ally to agree to this once they know your deck is going to completely lock them out of the game. ;)
I actually think High Tide, in your maybeboard, is much better. You have a lot more blue than white in your deck, so you can switch some Plains out for Islands, and you can change your duals over to Hallowed Fountain and Tundra, or budget options Irrigated Farmland and Prairie Stream. You could easily have 20 Islands in your deck this way, making High Tide very potent.
Finally, since you have both Academy Rector and Noble Benefactor that need to die, I recommend a sac outlet. Here's a list of 12 free sac outlets available in WU colors. I'm sure there's more that require an activation cost, but free is always preferable. Of note are the Altars, which will help ramp you in the mid-late game.
Again, love the deck idea, and hope some of this helps!
1 month ago
Hey, well done building a budget version of Overload, but unless your willing to spend more to upgrade the manabase a lot then getting above power level 5 will not be possible. There's no Command Tower or Exotic Orchard which are budget staples of Commander especially with five color decks. You honestly shouldn't be worrying about power level at all with a tribal deck that's less than $200.
On a budget there's limited options for playable lands for a five color manabase. Your best options for lands in five colors are Rainbow lands (Command Tower), etc. Unfortunately most Rainbow lands are expensive price cards, but there's some exceptions:
The goal of any manabase in Commander is to have the least amount of lands that will always ETB tapped because then game play is not hindered by the lands you play since you can tap the land for mana the same turn you play it. On a budget for five colors it will difficult, almost impossible, to not play some lands that always ETB tapped, but the lands that do this better give you good color fixing to make up for it and you don't need to play a ton of them.
Tri lands (Jungle Shrine) will always ETB tapped, but when they untap they can make one color of three different color choices which makes them on a budget worth playing:
Tri lands along with Path of Ancestry should be the only lands in the manabase that always ETB tapped.
I've built a lot of budget five color manabases for $200 decks and they use basic lands with dual lands that have good interaction with basic lands. Battle lands (Cinder Glade) and Check lands (Rootbound Crag) are dual lands that have interaction with basic lands to make them ETB untapped:
Battle lands also have interaction with Check lands because they're two different land types which is what Check lands look for. Many Check lands are expensive price, but there's a few that are less than $4. All Check lands are more expensive than Battle lands therefore add more Battle and less Check. Battle lands are nice with Farseek since it can search for one of them and being able to ramp with a dual land gives you much better color fixing then just a basic land.
Example of a budget five color manabase shell to build from:
8-10 Rainbow lands
20 basic lands
5-8 Battle lands/Check lands
5-8 Tri lands
---
You have the right idea with playing green land ramp spells which are good with 20x basic lands for ramp and color fixing, but you can expand on this with cards that let you search for any land meaning it can get a land that's not a basic land. Crop Rotation is a powerful budget card in Commander since you can sac a basic land to search for any land and put it onto the battlefield. Sac a basic land to get a Rainbow land. Crop is an instant meaning you could cast it during an opponents end step to get a Tri land then untap on your turn and be able to tap the Tri land for mana. Sylvan Scrying is another land tutor to get any land.
Arcane Signet and Commander's Sphere are staple budget Rainbow mana rocks that can help ramp as well as color fixing.
I offer more advice about Slivers on a budget. Good luck with your deck.
1 month ago
Hey, well done with precon upgrade on a budget.
Scion of the Ur-Dragon is one of the best Dragons for Dragon tribal being a repeatable Dragon tutor. Scion could replace Wardscale Dragon. Scion's ability to change into a Dragon can be done at instant speed which means during combat you can change into different Dragons whenever there's a stop at a combat phase.
Scion's ability goes well with Savage Ventmaw, Teneb, the Harvester and Bladewing the Risen which is a three Dragon combo to end up with Scion and cheat Teneb/Bladewing on the battlefield. Then if Teneb lives he can reanimate other Dragons you tutor for with Scion. Savage is part of the combo because you tutor for him first with Scion, before you attack which then gives you 6 mana to activate Scion three times during combat. The combo takes 11 mana therefore Savage making 6 mana means you only need 5 mana for other sources. Would you like me to explain this combo?
---
Consider cutting a few of the least good Dragons for more Dragon support? Rhythm of the Wild and Temur Ascendancy are in the maybeboard and they could replace two Dragons such as Vorosh, the Hunter and Darigaaz Reincarnated. The repeatable effects of Rhythm and Ascendancy are much better than what these Dragons can provide. Faeburrow Elder is also in the maybeboard and it's a much better ramp source than Mana Geode. Crux of Fate and Eerie Ultimatum are also in the maybeboard they could replace Spit Flame and Palace Siege.
There's 20 lands here of the 36 that will always ETB tapped which is a lot. The Tri lands on a budget are worth always ETB tapped, the rest are not. My advice is cut the Bounce lands and Scry lands for other types of lands. The combination of lots of Tri lands and Bounce lands is not good; play either one, not both in the same manabase.
Exotic Orchard is budget staple Rainbow land. By adding a few more basic lands then the 5 Battle lands are budget options since they have interaction with lots of basic lands. Cinder Glade, Smoldering Marsh, Sunken Hollow, Prairie Stream, Canopy Vista, can get each of these for less than $2 at TCGPlayer with Vista being the most expensive.
Manabase upgrades to consider:
You have Farseek and it can search for one of these Battle lands which is helpful for color fixing.
Good luck with your deck.
1 month ago
Alrighty, changed a few things with the land base!
Removed -
Added -
Also added these to the maybe board I'd like to put into use, just trying to work out what to replace for them lol -
Door to Nothingness (For fun ;))
As always, Feiryn, your help is much appreciated! Have more of the land base on the way, but probably won't have them for a few weeks still. (Also have Hunting Grounds coming... Can't wait to use that lol.
1 month ago
Hey, nice budget version of Ur-Dragon. Good job upgrading the precon by adding the Ventmaw + Assault combo.
Even if you have a higher budget to make upgrades with here's some budget cards (each $2 or less) to consider adding to replace some cards you have here:
Understand that for most cards on this site the prices are displayed wrong and you need to do some browsing around TCGPlayer/Card Kingdom to get the best actual prices of cards. Having a creature tutor can be helpful to get Scion of the Ur-Dragon or any other Dragon. Drakuseth is a Dragon upgrade especially with the Ventmaw + Assault combo as a win condition with infinite attacks.
Hoard is a ramp upgrade since if not using it for ramp it can be a repeatable draw source. Wizards put zero instant speed removal in the precon and that's not good in Commander. You want to be able to remove a problematic card from an opponent or counter a spell that's going to wreck you.
The 5 Battle Lands could replace the 5 Vivid lands. There's lots of Tri lands here and these lands will always ETB tapped, but on a budget they're worth it for the color fixing. Vivid lands are not worth ETB tapped because you don't have a way to put more counters on them and when they run out of counters they're terrible. Battle lands have interaction with lots of basic lands and Farseek can search for one of them.
Good luck with your deck.
1 month ago
Hey, good budget version of Omnath. Nice Sylvan Library :)
For around $25 you could make several budget improvements. Some budget staples in Commander for four colors to consider adding:
Vista and Glade are lands that Wooded Foothills or Farseek can search for rather than a basic land. Farseek can search for Prairie.
---
Some budget cards for landfall to consider adding:
Land ramp that puts two lands onto the battlefield at the same time to trigger Omnath twice is helpful. Chamber, Turf, Sanctuary and Boilerworks are called Bounce lands and they can give you more chances to have lands in your hand to play to trigger landfall. They can also bounce themselves back to your hand which gives you at least one land drop each turn for landfall.
---
Omnath can benefit from some mana sinks to be able to consistently use the four mana he makes:
If you're interested in these suggestions I offer more advice about cards to cut. Good luck with your deck.
2 months ago
I spot someone looking to play my favourite dragon!
First off, what's your budget like? You're running cards such as Mana Drain so I'm going to assume a high budget at least for this comment.
Starting with your lands, you generally want to avoid cards that always enter tapped. This especially goes for a more aggressive list like this where you don't want to be waiting until the next turn for your mana. I recommend dropping all of the lands you have that enter tapped including Temple of the False God, and instead look at picking up others like Adarkar Wastes, Prairie Stream, Seachrome Coast, Nimbus Maze, Skycloud Expanse, Port Town, or even just replacing them with basic Islands/Plains. If you have a lot of money to burn there's always cards like Ancient Tomb, Cavern of Souls, and of course fetchlands.
I highly recommend picking up a Stoneforge Mystic and Batterskull if you can afford them, they go extremely well together. Umezawa's Jitte is another really good piece of equipment but also is a bit more on the expensive side. I recommend cutting Whispersilk Cloak as Shroud makes you unable to equip Ojutai with anything, and Swiftfoot Boots is redundant due to Ojutai's natural hexproof. If you want another way to protect him, there's cheap options such as Sword of Vengeance which gives him a tonne of stuff.
For enchantments definitely look at Aqueous Form, cheap and fills the niche you were going for with Whispersilk Cloak. Battle Mastery and Daybreak Coronet are also fairly good Auras.
As for other cards there's Fabricate, Steelshaper's Gift, and Enlightened Tutor if you want to get pricy. I also recommend cutting Karn's Temporal Sundering, Time Warp, and Ojutai, Soul of Winter since they won't help you in your overall gameplan much.
Apologies for the wall of text, but I hope some of this helps!
Load more