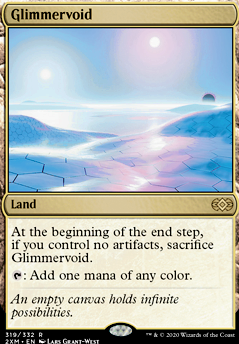 Glimmervoid
Land
At end of turn, if you control no artifacts, sacrifice Glimmervoid.
: Gain one mana of any colour.
Latest Decks as Commander
Glimmervoid Discussion
2 months ago
Wabbajacke a typical Lanturn control list would look something like this:
So, if you're wanting to keep to just blue and black, and include Circu, Dimir Lobotomist, then I would suggest a list that looks something like this (you'll note the deck can be a lot more tool-boxy than the above because Whir of Invention lets us search for whatever we want, so for example we only need 2 bridges):
2 months ago
Changes, 02Nov2021 continued:
In:
Improved mana rocks!: (Mana Vault, Mana Crypt, Chromatic Orrery, Mox Opal, Voltaic Key). Little explanation needed here. The key can do more than be a mana rock, but considering how many of my rocks can now make 2+ mana per tapping, that's gonna be a lot of its purpose.
More turns: (Time Sieve, Expropriate). Seems like a better theme to splash in than pillow fort, and both of these cards are also about my main themes: artifact love and theft. Speaking of which...
Artifact love/recursion: (Tezzeret, Master of the Bridge, Tezzeret, Artifice Master, Sai, Master Thopterist, Emry, Lurker of the Loch, Dakkon, Shadow Slayer). This deck loves artifacts. It kinda has to love Tezzeret too as a result.
Your stuff is mine now: (Thief of Sanity, Nightveil Specter, Opposition Agent, Xanathar, Guild Kingpin, Empress Galina). I wanna take your stuff. All of your stuff. And not "until this card leaves the battlefield", either. Once I take it, it's mine. Bonus points for denying you access to them in the first place before making them mine.
Improved Lands: (Urza's Saga, Exotic Orchard, Glimmervoid). Urza's Saga is pretty much the card that made me realize I needed to update this deck.
Other: Fabricate is better than Diabolic Tutor by just about every measure. The only drawback being that it can only get artifacts is practically a moot point in this deck. Lithoform Engine just seems really good in here. I can't wait til I can copy an Expropriate with it... Finally, Paradox Haze cuz I love the way it can interact with not only The Ladies themselves but with Xanathar as well.
2 months ago
the idea beneath this deck is amazing! i would like to suggest some things... -urza's saga is a MUST to be included; if you use saga you could cut 1 Zabaz -arcbound worker is amazing as the 1-drop -in order to increase as much as possible your Arcbound Crusher you should add 1-2 Genesis Chamber, in this way you can really maximize your Fling - as other suggested Shrapnel Blast could be a good finisher/removal but i guess you could bring in Galvanic Blast -Spire of Industry could help fix your mana, as well as Glimmervoid -if you have modular trigger you need Arcbound Ravager
that's my point of view!! anyway super funny deck!!
6 months ago
Adameus2012 Yeah I have already considered running Spire of Industry but need to spend some more time playtesting and figuring out what to replace it with first. I don't think Glimmervoid is worth the risk here, as if it's played early there are just too many ways to lose it. Also if I were to add Power Depot it would probably mean ditching Llanowar Reborn to prevent slowing my deck down too much, and that's not a swap that seems reasonable.
But yes, i am thinking of swapping in 3 Spire of Industry at this point - I just need to run the math on what I can take out for it (probably the Phyrexia's Core and 2 Forest )
6 months ago
I am running a deck VERY similar to this, and the one thing you are missing is some red mana sources to activate Zabaz's ability to destroy an artifact. It leads to a lot of fast plays more consistently having the extra sac outlet available (even if it's not free). I've played a few games where winning wasn't really possible because of the hand I had, other than the fact that I had Zabaz and inkmoth and was able to pump the inkmoth to a 5/5 on turn 3 via Zabaz's ability and swing through for lethal infect. Don't underestimate that ability, it's all on one card too so you can potentially keep hands with only Zabaz as an enabler. I personally run Glimmervoid and Spire of Industry in my build to have the red sources available, and Power Depot helps too.
9 months ago
Hallo Spell_Slam! Thank you for your comment!
This is still a prototype for the deck and some cards you mentioned are continuously going in and out from the list. I do not always use the live edit tool to switch cards from main to maybe and often, when i take out a card, i forget to add it back again at the maybeboard. Daretti, Gamble and the Dynamo are among them and they're on the radar for sure.
When i added Path to Exile , i considered that this deck perhaps prefers to give away lands rather than life, since it wins through combat damage. I tested Dispatch , but the risk is that it will become useless if I am too far behind for some reason.
I'm not totally sold on Scrap Trawler either, as maybe i prefer having things in my graveyard more than i want to have them in my hand.
Idol of Oblivion has worked really well in all my tests, i'm inclined to think i'll keep it, but i agree on the Bauble and the Phoenix though. They're in only until I decide what to replace them with (the Dynamo, probably). Thank you for your suggestions, that was very kind of you!


BransBranflakes, thank you for stopping by!
3 Drinks are better than 3 cards for sure, and with Anointed Procession and/or Illusionist's Bracers on the field, that makes for 5-7 drinks. Now you just have to figure out how to make the opponent pay for them too!
I thank you for the degenerative suggestions, but i'm trying to keep up with my group's meta and to be a good boy (a little). GoOoOOolems!


Hallo again discipleofgary73!
Inspiring Statuary is intresting, but i play very few non-artifact spells in this deck and they're already relatively cheap. Glimmervoid and Summoning Station were noted though!
9 months ago
Hey, well done so far.
Your deck doesn't have a Commander yet. In the editor where you see Breya, Etherium Shaper text add the Commander tag CMDR to the end.
Breya, Etherium Shaper *CMDR*

This will show Breya as the Commander and show a card image of Breya under the Commander category.
---
What is your budget for upgrades? Since I don't know I will give you some low budget options.
Dramatic Reversal is paired with Isochron Scepter and mana rocks to make infinite mana. Infinite mana can be used with Breya as a win condition since she can sac herself for mode to do 3 damage to a player. When she dies she goes to the Command Zone and because you have infinite mana you keep casting her from there. Repeat the combo by sacing her and one of her Thopters. If not playing Reversal than Scepter doesn't do enough in your deck with only four other instants.
Grand Architect with Breya since she and the Thopters she creates are blue. Architect is ramp for artifacts or artifact activated abilities and it can tap itself even the turn you play it. Architect combos with Pili-Pala for infinite colored mana and Breya can be the win condition with infinite mana by sacing herself for her 3 damage to a player mode.
Goblin Engineer because many of the combo artifacts are 3 CMC or less. Engineer has interaction with Eldrazi Displacer for more tutoring. More repeatable artifact reanimation is helpful and getting an artifact of your choice in your graveyard is good with many cards here: Daretti, Scrap Savant , Goblin Welder , Sharuum the Hegemon , Trash for Treasure , Emry, Lurker of the Loch , etc.
Whirlwind of Thought repeatable draw by casting artifacts as well as instants/sorceries/enchantments/Planeswalkers.
---
Some changes to consider:
If interested I offer more advice. Good luck with your deck.
Load more