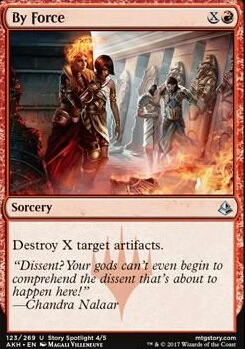 By Force
Sorcery
Destroy X target artifacts.
Browse Alters
View at Gatherer
Trade
Legality
| | |
| --- | --- |
| Format | Legality |
| Modern | Legal |
| 2019-10-04 | Legal |
| Limited | Legal |
| Tiny Leaders | Legal |
| Historic | Legal |
| Canadian Highlander | Legal |
| Oathbreaker | Legal |
| Vintage | Legal |
| Pioneer | Legal |
| Legacy | Legal |
| Arena | Legal |
| Custom | Legal |
| Gladiator | Legal |
| Commander / EDH | Legal |
| Duel Commander | Legal |
| Casual | Legal |
| 1v1 Commander | Legal |
| Leviathan | Legal |
| Highlander | Legal |
| Block Constructed | Legal |
| Unformat | Legal |
By Force occurrence in decks from the last year
Latest Decks as Commander
By Force Discussion
2 months ago
Changelog (22/11/2020)
White
Blue
Black
Red
Green
Multicolored
Colorless
Mana Fixing
2 months ago
Alright here are a few things I notice that will help tune up the deck to help speed it up, as well as improve consistency overall.
Cards to remove-
Tearamorphic Expanse
Rocky Tar Pits
Tapped lands are the bane of any deck as far as speed goes. Switching these out for lands that enter untapped will speed things up as well as provide better consistency for color fixing. If you are going to include a tapped land make sure it provides insane value (Valakut for example, or Mosswort Bridge in big creature heavy decks) so the drawback of the ETB tapped is worth it in the long run.
Nesting Dragon- Not a bad card but Dragonmaster Outcast is cheaper and will provide you with more consistency in the mid to late game.
Scroll Rack- A good card, but you have no real way to abuse it, and it is really nothing more than a replacement effect since your top deck manipulation is based off of high CMC creatures. Damnable Pact would provide you with a better way to refill your hand, and you seem to havew enough lifegain scattered through out to offset the life loss.
The Mending of Dominaria- It is a high CMC card that is fairly easy to remove, keeping you from getting the third trigger off and negating the power of the card... I would suggest Abundance since you are running Sylvan Library. This will allow you to replace the downside of Sylvan Library (pay 4 life to draw extra cards) and help you sculpt your hand for what you need in the moment. (Basically those two cards together read- At the beginning of your up keep draw three cards, naming land or non land for each draw. It is an awesome replacement effect need to be running Abundance)
Ranger's Path- It costs 4, and the lands enter tapped. You have a decent enough ramp package going already and i don't feel like you need the redundancy here. I would suggest adding Blasphemous Act or Black Sun's Zenith to give you another board wipe since you are running slightly light on those. Both are good cards just depends on which style you might need... Black suns will get around indestructible, while Blasphemous will normally only cost you one mana. Or run both if you play against mainly casual (ie big creature) decks.
The only other big thing i notice is a lack of single target interaction for Artifacts and Enchantments. Cards like Vandalblast, By Force, Force of Vigor, Return to Nature, and even Caustic Caterpillar are great removal if you find yourself wanting to increase your interaction.
Overall I dig the deck for what you are going for. Let me know if you have any questions about my suggestions are anything overall. Hope this helps some
2 months ago
The difficulties in doing this would entirely depend on how the data structures for the cards are currently set up, as well as how the actual mana curve tool is built. If you were to build this from scratch, you could relatively easily have a boolean within each card called "ContainsX" or something, and have the mana curve tool check for it before putting it under any given CMC.
Difficulties aside, I'm not sure how I personally would feel about this. I do like the general idea, especially since it would my Zaxara, the Exemplary deck much easier to manage, but it also seems a little disingenuous to put cards like Diabolic Revelation or Mass Manipulation within the same mana cost category as something like Stonecoil Serpent or By Force.
3 months ago
Thanks for looking at the mana. I'm not sure about it since I haven't played yet (and next get together is probably in a month or so), but I think you make a valid case with the tapped lands. I want to try out the new MDFCs and I found out i have the U/R and U/B duals lying around. I've swapped them and Interplanar Beacon for Temple of Deceit, Vivid Crag and Creeping Tar Pit. What others would you recommend cutting for more basics?
Perhaps you're right on the 3cmc artifacts too, even though I'd say commander's sphere is decent because it cycles for free when you don't need it anymore. I might add Rakdos Signet and cut Chromatic Lantern.
Crux of Fate is already in the list, Vandalblast or By Force might be nice instead of the 5th boardwipe though
True that's a combo. I don't think I'll run it beause I don't have the cards currently interesting loop for sure though!
I cut Fuel for the Cause for Daretti, Scrap Savant
That play pattern appeals, so maybe I'll find room for it later. A bit of randomness like that can make games more fun
Beacon is in now :)
In Bolas's Clutches is more of a flavorcard, so are The Eldest Reborn and Cruel Ultimatum. Some or all will probably go after the first couple games, but I like the idea for now.
My idea about Pentad Prism is that it's a nice 2 mana ramp spell that can be proliferated onto for ramp. Throne of Geth is another way to proliferate because i do make some artifacts here and there
The idea with most artifacts is that they either ramp, proliferate or benefit from proliferation (see the section Card by Card). Which other cards do you feel are part of the subtheme but don't contribute?
If you're talking about Saheeli, Tezzeret and (now x2) Daretti: I think the Business Artifacts in the list (the chain veil, contagion clasp/engine and lithoform engine) are worth fetching / copying even just on their own, but maybe your idea is they don't do enough?
Let me know because I'm curious what you think on the topic, if you have suggestions to spice up the artifact theme I'd gladly hear them!
5 months ago
Key Cantrips:
Ponder, Preordain, Brainstorm, Gitaxian Probe
Key Draw:
Mystic Remora, Rhystic Study, Sylvan Library, Dark Confidant, Ad Nauseam, Mindblade Render, Oakhame Adversary, Waste Not, Notion Thief, Sensei's Divining Top
Key Wheels:
Wheel of Fortune, Windfall, Timetwister, Dark Deal
Key Tutors:
Enlightened Tutor, Mystical Tutor, Vampiric Tutor, Demonic Tutor, Gamble, Worldly Tutor, Lim-Dul's Vault, Eladamri's Call
Key Recursion:
Yawgmoth's Will, Underworld Breach, Noxious Grasp, Reap, Eternal Witness
Key Mana Rocks:
Mana Crypt, Sol Ring, Mox Diamond, Chrome Mox, Lotus Petal, Mox Opal, Mox Amber, Mana Vault, Grim Monolith, Basalt Monolith, Arcane Signet, Fellwar Stone, the Signets and Talismans, Mind Stone, and Thought Vessel
Key Mana Dorks:
Deathrite Shaman, Birds of Paradise, Noble Hierarch, Avacyn's Pilgrim, Elves of Deep Shadow, Elvish Mystic, Llanowar Elves, Fyndhorn Elves, Arbor Elf, Boreal Druid, Bloom Tender, Priest of Titania, Faeburrow Elder
Key Mana Ramp (Other):
Dockside Extortionist, Kinnan, Bonder Prodigy, Smothering Tithe, Carpet of Flowers, Curse of Opulence, Derevi, Empyrial Tactician, Wild Growth, Dark Ritual, Cabal Ritual
Key Stax/Hate:
Collector Ouphe, Notion Thief, Ashiok, Dream Render, Narset, Parter of Veils, Null Rod, Linvala, Keeper of Silence, Cursed Totem, Grafdigger's Cage, Chains of Mephistopheles, Rest in Peace, Aven Mindcensor, Drannith Magistrate
Key Blue Countermagic:
Swan Song, Spell Pierce, Flusterstorm, Miscast, Dispel, Force of Will, Force of Negation, Mental Misstep, Fierce Guardianship, Pact of Negation, Mana Drain, Dovin's Veto, Drown in the Loch, Counterspell
Key Non-Blue Countermagic:
Silence, Veil of Summer, Autumn's Veil, Red Elemental Blast, Pyroblast, Deflecting Swat
Key Removal:
Chain of Vapor, Swords to Plowshares, Nature's Claim, Dismember, Fatal Push, Vandalblast, Winds of Abandon, Cyclonic Rift, Gilded Drake, Oko, Thief of Crowns, Legacy's Allure, Abrade, Abrupt Decay, Assassin's Trophy, Drown in the Loch, By Force, Shattering Spree, Natural State
Key Wincons:
Demonic Consultation, Tainted Pact, Thassa's Oracle, Jace, Wielder of Mysteries
Lands are Fetches, Horizon Duals, Og Duals, Shocks, Pain lands, sometimes triomes, sometimes the castles. Command Tower, City of Brass, Mana Confluence, Exotic Orchard, Forbidden Orchard, Gemstone Caverns, Gemstone Mine, Ancient Tomb, Gaea's Cradle, Wirewood Lodge, Mystic Sanctuary
7 months ago
i dont know about abusive, but my picks for most rage-inducing cards are:
2- By Force
3- Flash oh wait, he dead
Load more