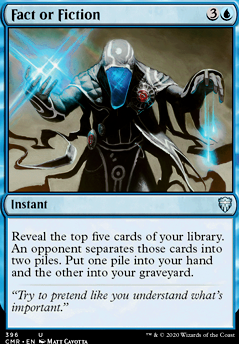 Fact or Fiction
Instant
Reveal the top five cards of your library. An opponent separates those cards into two piles. Put one pile into your hand and the other into your graveyard.
Browse Alters
Trade
Legality
| | |
| --- | --- |
| Format | Legality |
| Unformat | Legal |
| Limited | Legal |
| Leviathan | Legal |
| 1v1 Commander | Legal |
| Legacy | Legal |
| Tiny Leaders | Legal |
| Modern | Legal |
| Custom | Legal |
| Canadian Highlander | Legal |
| Duel Commander | Legal |
| Oathbreaker | Legal |
| 2019-10-04 | Legal |
| Highlander | Legal |
| Casual | Legal |
| Vintage | Legal |
| Block Constructed | Legal |
| Commander / EDH | Legal |
Fact or Fiction occurrence in decks from the last year
Latest Decks as Commander
Fact or Fiction Discussion
11 hours ago
Changelog (22/11/2020)
White
Blue
Black
Red
Green
Multicolored
Colorless
Mana Fixing
1 week ago
The amount of utility cards that facilitates for a large-creature/stompy deck (like giant tribal) is completely unparalleled and unrivaled. There are things--both budget and expensive--like Garruk's Uprising, Soul's Majesty, Hunter's Insight, Snake Umbra, Triumph of Ferocity, Lead the Stampede, Garruk, Primal Hunter, Return of the Wildspeaker, Abundance, Rhythm of the Wild, Selvala's Stampede, Shamanic Revelation, Elemental Bond, Colossal Majesty, Guardian Project, Rancor, Primal Rage, Heroic Intervention, Wrap in Vigor, Golgari Charm, Lifecrafter's Bestiary, Canopy Cover, Aspect of Mongoose, Alpha Authority, Asceticism, Defense of the Heart, Lignify, Lurking Predators, Bow of Nylea, The Great Henge, Eerie Ultimatum, Reap, Creeping Renaissance, Seasons Past, Reap the Past, Genesis Ultimatum, Beastmaster Ascension, Overwhelming Stampede...
The list is huge, and it grows every year.
This is on top of the superior ramping ability of Green and it's above-average removal options. One big advantage of Green's land-based ramp is things like Planar Cleansing, Hour of Revelation, Play of the Game, Bane of Progress, Creeping Corrosion, and Merciless Eviction can't send you back to the stone age by destroying all your mana rocks.
Everything you will want to be doing with Giant Tribal, Green supports and supports well. I cannot stress this enough. Not to mention the good green giants that keep getting printed.
---
Black doesn't provide too much in the way of utility specific to giant tribal or stompy decks other than recursion and good card draw like Greed, Phyrexian Arena, and Erebos, God of the Dead. Personally I like cards like Damnable Pact, Read the Bones, Ancient Craving and Ambition's Cost but if you're running Green and/or Blue you shouldn't need to lose life to draw cards. Painful Truths might still be useful due to it's great rate (three cards for three mana is good). Syphon Mind is a great rate and has the upside of making your opponents discard.
Obviously Black specializes in removal (but so does White!) so you could run things like Mortify, Despark, Utter End, Vindicate, Anguished Unmaking, Dreadbore, Terminate, Bedevil and Ruinous Ultimatum. In Garruk's Wake and Decree of Pain are probably good in your giant deck since you're ramping so hard. Since you're running White you shouldn't need Black's wraths, but those two stood out.
Things like Phyrexian Reclamation, Animate Dead, and Reanimate are great for creature decks. Palace Siege is all right on a budget. So is Twilight's Call. It's no Oversold Cemetery or Meren of Clan Nel Toth or Rise of the Dark Realms but those are pricey. Recovering from boardwipes will be important.
---
Blue has some interesting removal options like Curse of the Swine, Pongify, Rapid Hybridization, and Reality Shift. You have some Cyclonic Rifts in your trade binder, right? That alone is a great reason to run Blue in your deck (it's literally one of the best cards in EDH straight-up). Do it!
Blue also has all the card-draw--from per-turn stuff like Kumena's Awakening and Mind Unbound; chunks of cards like Concentrate, Treasure Cruise, Fact or Fiction, Fathom Trawl, and Tidings; huge hand-refillers like Overflowing Insight, Mind Spring, Stroke of Genius, and Pull from Tomorrow; and some sneaky stuff like Windfall, Keep Watch, Drawn from Dreams, Verity Circle, and Insight. Green has some amazing card-draw already but it wouldn't be a terrible idea to supplement it with Blue cards. Rush of Knowledge would be REALLY good in a giant-tribal deck--especially with Morophon, the Boundless at the helm.
Counterspells are very much not Giant/Stompy but I have a few aggro decks that run a silver-bullet copy of Negate or Swan Song just as anti-boardwipe tech. Not necessary though. Boros Charm, Golgari Charm, and Wrap in Vigor work well in that capacity. There are lots of 3-cmc options too but the mana difference between 2 and 3 is huge.
---
You could even run some interesting charms like Abzan Charm or Esper Charm. There are some surprisingly potent options. Some are stinkers of course.
Temur Ascendancy would be reason alone to run five colors and be utterly fantastic in this deck.
Garruk's Uprising alone is reason to run at least Green.
Merciless Eviction is one of the best removal spells in the game. Four or five colors would allow you to run that.
Urban Evolution would be good in a big-mana deck like this. Inspired Ultimatum, while not amazing, is playable.
You get the idea.
---
As you can see, there is a myriad of reasons to run more colors. Honestly, I really can't recommend it enough if true Giant-Tribal is the goal--whether Naya giants or five-color giants.
One extremely important thing for large-creature decks is to consider how you're going to recover from board wipes. Superior card-draw from Green, Black, and Blue cards will help immensely. Card advantage like Phyrexian Reclamation, Palace Siege, Seasons Past, All Suns' Dawn, Reap the Past, Reap, Creeping Renaissance, Eerie Ultimatum, and abilities like Mayael the Anima's, Golos, Tireless Pilgrim's, and Kenrith, the Returned King's reanimate ability will help you recover. These are things that Red and White simply can't do well. Sure there's Resurrection and Reya Dawnbringer, but they aren't great.
Brion Stoutarm is a legitimately good general--he really is!--but not for giant tribal. He brings nothing to the table for giant tribal other than being a decently-statted Giant himself and pigeonholes you into the worst color pair in EDH for essentially no benefit. As I mentioned, Iroas, God of Victory and, to a lesser extent, Kalemne, Disciple of Iroas would make better commanders if you are dead-set on Boros colors (which I do not recommend if you want to play maximum giants). If you were building around Brion's ability and had some giants around as support that would be one thing, but it seems that's not the goal. As such, please consider switching commanders :) I think that if you want Brion Stoutarm as the commander, you should make a Brion deck.
I really do think you'll be happier in the long run with a different commander It doesn't have to be expensive. Most of what you would need I can trade to you, including Morophon, the Boundless, and most supplemental cards I don't have are in the 25-cent to $1 range (Realm-Cloaked Giant, Mayael the Anima, etc). I actually have a shitload of this utility stuff on-hand, and you have some great staples like Cyclonic Rift on-hand--and probably more! I want you to be satisfied with your deck! It doesn't have to be competitive to be fun, but it doesn't have to be expensive to work better and smoother and be more competitive.
2 weeks ago
I was moving to my new place.. Finally could unpack cards and get back to tunning this deck :) (Unfortunately thanks to Covid situation here, won't be able to play it anytime soon :()
Drolas , thanks for your comment. The Neoform combo is interesting, I will get the card soon from my friend and will be able to try.
In the meantime, I have removed what is now placed in sideboard and added. Going MOAR creatures.
3 weeks ago
I also have the deck and am thinking about upgrading it. Your curve is a bit off. You want more 3 CMC cards, and cut down on higher CMC costs since you're not in green and ramping is not too easy to achieve. Though you have a decent amount of ramp with the artifacts.
Some things I would consider changing:
I think that's all I can think of, hope it helps :)
3 weeks ago
VampDemigod The cards I just pulled out of my collection for the deck so far are, Sol Ring, Narset's Reversal, Reality Shift, Trailblazer's Boots, Lightning Greaves, Swiftfoot Boots, Thieving Skydiver, Expel from Orazca, Tale's End, Entrancing Melody, Fact or Fiction, Clever Impersonator, Tezzeret, Artifice Master, Rogue's Passage, Castle Vantress, and Scavenger Grounds What do you think?
1 month ago
Desolation Twin = Too slow, I would remove it.
Angelic Accord: Not enough lifegain in the deck to make it worth.
Path of Bravery: Meh, mostly you will be attacking with a creature or two so not worth. Only at the very end will you swing with a lot, but at the very end your life total doesn't matter too much.
Embalmed creatures are zombies so stuff like Eternal Skylord works really well.
Cloudblazer is a great target for copy target creature spells.
Lazotep Plating Hexproof is a great save something card and you get a little bonus with the amass.
Forsake the Worldly Great removal plus cycling option. A personal favorite.
Fact or Fiction Great because you get to search the top 5 and get a few into hand. Sneaky trick though is that you can embalm any creatures that go into the grave. It's a win win.
Embalmer's Tools I think it makes embalm cost 1 less and remember that embalm creatures are zombies so you can mill others or yourself to get more creatures to embalm. Almost like drawing a card if you mill an embalm creature.
Rogue's Gloves Equip to a token then make it unblockable with your commander to draw a free card on your turn. Same with Staggering InsightCuriosityCurious Obsession
Throw in your Geist of Saint Traft?
1 month ago
I like this deck, I've always wanted a red/blue wizard deck and this one has a lot of potential. So I do want to disclaimer and say that my suggestions are not criticisms, and also I did not consider your budget or your collection lol. Lastly this is suggestions with just a cursory glance. Azami, Lady of Scrolls is pretty amazing in any wizard deck. Sol Ring, Izzet Signet, Arcane Signet, Fellwar Stone, Wayfarer's Bauble, and Talisman of Creativity are all low cost mana rocks that will help your deck ramp quickly. Mystic Sanctuary, Steam Vents, and Reliquary Tower are decent utility lands. Counterspell, Cyclonic Rift, Vandalblast, Expansion / Explosion, Blue Sun's Zenith, Chaos Warp, Curse of the Swine, and Fact or Fiction are all really good answer cards (I know rift is 20$ but it's still a staple). Baral, Chief of Compliance, Adeliz, the Cinder Wind, and Vedalken AEthermage are amazing utility creatures. Thousand-Year Storm turns all your spells into storm spells. Primal Amulet  Flip helps mana costs and then copies spells. There's a few more things I can't really think of any, but my sources indicate that x spells do real well in a deck like this. Hope some of these help.
2 months ago
A large reason Fact or Fiction isn't played is because Cryptic Command usually takes up the four mana slot in decks that would want Fact or Fiction. As great and iconic as it is, FoF just isn't what a lot of control decks want.
I believe FoF can still be playable though in decks that play blue that are not focused on control. You can sort of min/max the value of the card by playing it in decks that use the graveyard to some extent. I wondering if like a simic midrange deck that runs cards like Uro, Titan of Nature's Wrath, Tarmogoyf, and Fact or Fiction could be something worth considering.
I made a pretty sweet modern deck that uses FoF in the mainboard: Knightfall - EOTFOFYL
Load more