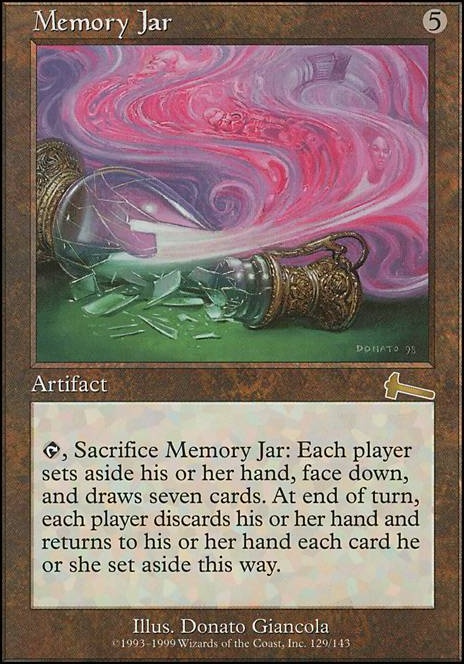 Memory Jar
Artifact
, Sacrifice Memory Jar: Each player exiles all cards from his or her hand face down and draws seven cards. At the beginning of the next end step, each player discards his or her hand and returns to his or her hand each card he or she exiled this way.
Browse Alters
View at Gatherer
Trade
Legality
| | |
| --- | --- |
| Format | Legality |
| Limited | Legal |
| 1v1 Commander | Legal |
| Highlander | Legal |
| Duel Commander | Legal |
| 2019-10-04 | Legal |
| Leviathan | Legal |
| Vintage | Legal |
| Unformat | Legal |
| Tiny Leaders | Legal |
| Oathbreaker | Legal |
| Canadian Highlander | Legal |
| Casual | Legal |
| Commander / EDH | Legal |
Rules Q&A
Latest Decks as Commander
Memory Jar Discussion
4 days ago
Thank you for your detailed response, it is much apprecaited as always. There are only 2 themes, land and power, Eldrazi used to be a theme. The 2x Kozilek's are to refill my hand once I drop all my lands, the ulamog is there for removal. My main goal in this deck is to get azusa out on T3, T2 if I get some ramp. Then use one of the many land tutors to search for either kozilek to refill my hand.
The sprinkle of going wide I recently tried to add as it fueled cradle but you are right, going wide doesn't work well. Its very hit or miss, 60% miss. I think by taking out going wide, and perhaps maybe Ulamog (I still need 2x Kozilek's for card draw, badly). Yes, I don't run a lot of interaction myself, I use the excuse of being green and hoping my opponents will kill each other. Not the best strategy, but a fun one.
Zendikar Resurgent - It's been helpful, but I can cut it. Its one of those cards I pay 7 mana for and unless I use it the same turn, they blow it up or else things get out of hand too quickly.
Shamanic Revelation - Super hit or miss. When it works, it works, when it doesn't, it draws me one card. I should note its super fun with rude awakening, but yeah, it's my primary cut for sure.
MAYBE Regal Force - Only ever good with Avenger, Baloths and Titania as it does not synergize with field of the dead of even rude awakening sadly. I want your thoughts on this as it is one of my targets for tooth and nail. Tooth and nail usually goes Greenwarden + Ulvenwald --> Cradle/Deserted temple, bringing back T&N. Then next turn cast T&N to bring Avenger + Regal. Outside of that, it draws me maybe 1-3 cards otherwise. Idk if it's worth it or what to replace it with.
MAYBE Ulamog, the Ceaseless Hunger - I like him because I use him with Sanctum to find either Kozilek. But its 10 mana to exile 2 cards and eat a path to exile. Costs a lot?
Mind's Eye - I'm unsure about cutting this. With all of the wheels and card draw in my meta, this has saved me from many tight spots. If I were to cut it, I might replace it with a Memory Jar, or perhaps just add in memory jar in place of one of the above cards.
Boundless Realms - WAY too good to ignore. Landfall triggers with baloths, field of the dead triggers, thinning the deck and ramping. This card has been an allstar and even with my relatively low basic count, it still puts in work.
Lightning Greaves - So simple.....idk why I haven't thought of it? Let me give that some serious consideration. I'm pretty sure you're right. Plus its nice to have an additional haste outlet, whether its to swing with only 1 creature after G-waving my entire deck onto the field and they remove akromas, or to give whatever land came onto the battlefield haste from rude awakening.
Crashing Drawbridge - I would add concordant crossroads before I add this. I don't need too much haste, it's not so much aggro as is value.
Green Sun's Zenith - EVERYONE recommends this card to me, I feel like I should add it just for that reason. Finding only green creatures is what bothers me, but I can definitely see it's potential. I'm going to seriously consider this as I think you are right, similar to lightning greaves.
Dryad Arbor - The potential T1 ramp with GSZ does not outweight the fragility of the land as a creature and it's lack of haste. I've often found decks that use GSZ to get Arbor T1 often just boardwiped quickly in my experience, it has happened time and time again in my meta.
Finale of Devastation - The concept of more creature tutors is intriguing for sure. It also acts as a late game haste outlet/finisher which is nice to have. I like the flexibility of it. Again, needs serious consideration. Thank you for bringing this (and others) to my attention.
Ancient Greenwarden - With life from the loam, CoW, Ramunap, I wasn't sure if I needed more redundancy. However, I think you're right. It's second ability is nice with baloths, field, avenger so I'm excited to see how that works. I'm most probably adding this.
Nissa, Vastwood Seer - Already in the deck, a pet card of mine. Not that impactful, but lowkey and helpful enough to give you value without being a target :)
For the distinction of going tall vs wide, I agree, taller is better. I've considered Return of the Wildspeaker, still not sure. Let me think about it. Prowling serpopod is nice, but I try not to put in too many slots just to deal with one of the many colors which I may or may not deal with. I have boseju and cavern for anti blue, I feel it is usually enough. Azusa fills the spot of wayward, hence me not running exploration/burgeoning despite my relatively high land count. I already put most of my lands on the field, so I don't need more land drops, I just need more card draw, desperately. Kogla is cool, nice synergy with Azusa too. Seems like more of a beater that doesn't have synergy with the deck unlike Multani/Ulvenwald, so it doesn't seem right at the moment. Then again, I should add more interaction in the deck so I will see...
Your comments have been very thought provoking, I need time to process it.
2 weeks ago
You might like these: Lore Broker, Spark Double, Kederekt Parasite, Curiosity, Helm of the Ghastlord, Sigil of Sleep, Geth's Grimoire, Quest for Pure Flame, Tandem Lookout, Ophidian Eye, Elder Mastery, Dream Salvage, Memory Jar, Neko-Te, Forced Fruition, Torbran, Thane of Red Fell
3 weeks ago
These might interest you: Spark Double, Kederekt Parasite, Helm of the Ghastlord, Elder Mastery, Tandem Lookout, Ophidian Eye, Sigil of Sleep, Neko-Te, Burning Inquiry, Dream Salvage, Quest for Pure Flame (cheap and easy to charge thanks to Neku), Geth's Grimoire, Memory Jar, Torbran, Thane of Red Fell, Lore Broker, Zurzoth, Chaos Rider
1 month ago
I think my inclusions of Black Lotus makes pretty clear what the best card printed is.
If you look at my combo decks they do in fact either run wheels, or Recall. I think I have two that run both. Cold Wheels and Breakfast. Mind Funeral has it. I'm thinking about making Mind Funeral a control shell. But I do in fact utilize Recall. Maybe it would make the prison decks better. They would need testing. Do you have recommendations of what to remove?
The reason I don't rely on those draw spells in the prison decks is the sheer redundancy. The enchantment prison deck not so much but there's a lot of overlap in how the pieces effect the combo decks. But the prison decks, aside from Dredge, are the only decks that don't have either Recall or a spinner of some kind (Wheel of Fortune, Windfall, Echo of Eons, Timetwister, Memory Jar).
Am I missing something? Timetwister rotates everybody's hand. Narset, Parter of Veils is strong but is there much redundancy of that effect? Then you have to make room for it. Possible. Karn, the Great Creator works in Stax because it's a redundant effect. I don't think Narset has that kind of backing.
1 month ago
I like the deck, man! Might want to look at a Memory Jar in there for some sick nastiness! +1 from me!
2 months ago
     nothingstar: Great suggestions! I knew I was missing one of the red looting spells, and it was Wild Guess; Thank you! Been considering taking Chasm Skulker from my Animar deck, and I have a Reforge the Soul I was thinking about taking from my Kalemne deck.
     Magus of the Jar and Memory Jar will definitely make it to the final product as well. Again, great suggestions, thank you. =)
2 months ago
Daretti, Ingenious Iconoclast is a repeat value engine that has the benefit of being able to protect itself and can deal with problematic permanents on the board.
+1: Plop a 1/1 construct with defender onto the field. This ability works well by itself, as it guarantees bodies to block for Daretti. We have a number of ways to utilize the 1/1 tokens too. We can use them alongside Smokestack to pay for the sacrifices. We can use it with Rankle, Master of Pranks to pay for the sacrifices as well. The +1 also means you are getting extra mileage from Skullclamp and draw a lot of cards. It also has strong synergy with Goblin Welder, so you can keep recurring your lock pieces. The tokens will also protect you from sac effects like Diabolic Edict or Smallpox or anything that forces you to sacrifice permanents.
-1: Sac an artifact to destroy a creature/artifact. This is the biggest reason to play Daretti. Repeatable removal of the two most common non-land permanent types is extremely helpful when your goal is to control the board. You can use the 1/1 constructs from the +1 to pay the cost, or you can use one of the two artifact critters in the deck. The sacrifice shouldn't be under rated, as you can reset Phyrexian Revoker to another permanent when your attack with Alesha, or you can jam spells when Ethersworn Canonist leaves before bringing her back with Alesha. This also allows you to remove your own artifact stax pieces if you wish to combo off or need to cast multiple spells in a turn. You can even choose to use this ability the first turn you play Daretti due to the large number of artifact rocks and stax pieces in the deck. This ability is the strongest reason to run Daretti in a stax package, you can move from strong board position to locking out the board if Daretti is left unchecked for a couple turns.
-6: Make three copies of target artifact in play/graveyard. You won't usually use this in an average game, but this can be back breaking in games that go long. We have some juicy targets in our own deck, with Sphere of Resistance (extra per spell), Thorn of Amethyst (extra for non-creature spells), Memory Jar (21 temporary cards drawn and go to your GY), Smokestack (after one or two rotations of 4x smokestack, the game is 100% over), Phyrexian Revoker (hose out most likely every active ability on the table), or even just a mana rock to get ahead. Choosing from an opponent's artifacts is also very nice in a 4 player game, because you can usually find something nice. Copying anyone's "Sword of X and Y" 3 times can be a game winning move, but honestly most equipment is a great choice to copy. I used to run Cranial Plating in this deck specifically for the 3x copies, which allow Alesha to get commander damage kills. Just note that copying legendary artifacts isn't wise, so trying to 3x someone's Umezawa's Jitte is a no-go. In more casual/high powered games, you'll sometimes be able to 3x copy a Wurmcoil Engine or Myr Battlesphere or similar big artifact doinks, which let you get kills on stalled out boards.
The last thing about Daretti that makes him worthwhile in my mind is the CMC. 3 CMC means he can come back from Sun Titan, which is pretty massive. Being a tiny constantly chugging threat engine for 3 mana also means he demands answers, or begins to punish games when he survives. I can recommend him in stax shells, where games are intended to go longer and you get more uses from him. In fast combo decks or midrange decks, someone like Dack Fayden will perform better due to draw filtering, and directly stealing an artifact as opposed to 1:1 trading artifacts like Daretti does. If you're interested in running this guy, consider him mostly for the +1 and the -1. The ult is a very nice cherry on top, but from personal experience I'm getting that ult about 1 of every 3 games he hits the table (in cEDH).
Load more