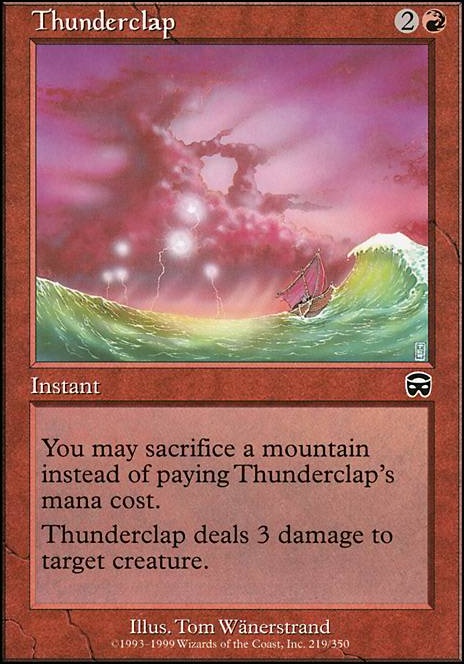 Thunderclap
Instant
You may sacrifice a Mountain rather than pay Thunderclap's mana cost.
Thunderclap deals 3 damage to target creature.
Latest Decks as Commander
Thunderclap Discussion
1 year ago
Changelog (22/11/2020)
White
Blue
Black
Red
Green
Multicolored
Colorless
Mana Fixing
2 years ago
Hey, I like the idea of this list; but have a lot of problems with how it runs and it being considered cEDH., and the primer as a whole. First of all, your opening spoiler is inaccurate. The average cEDH mana curve does not sit at 2.8-3.5. That is completely ridiculous. On average, a cEDH deck sits around 1.7-2.3, and 2.3 is even a bit high. Second of all, you don't run infinite mana combos, which make your X spells like Firecat Blitz shine. Third, your board interaction and stax pieces are too few and far between. Stranglehold and your land destruction/hate pieces are nice, but Cursed Totem , Grafdigger's Cage , Chalice of the Void , Ricochet Trap , Shattering Spree , Thunderclap , and Mogg Salvage would further improve the stax and interaction of the deck greatly. The three large downsides of mono-red are lack of access to tutors, interaction, and sufficient ramp. That's why you should look to amp both of those up as much as possible, and once you've reached the proverbial ceiling, acknowledge red can only do much on its own, and hunker down into stax. You most likely won't end up being the fastest deck at the table with these changes, but you will be able to slow down others' decks with T1, 2, and 3 stax pieces to the point where you're a contender.