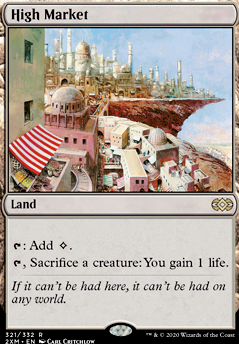 High Market
Land
: Gain .
, Sacrifice a creature: You gain 1 life.
Browse Alters
Trade
Legality
| | |
| --- | --- |
| Format | Legality |
| Oathbreaker | Legal |
| 2019-10-04 | Legal |
| 1v1 Commander | Legal |
| Canadian Highlander | Legal |
| Casual | Legal |
| Vintage | Legal |
| Leviathan | Legal |
| Legacy | Legal |
| Limited | Legal |
| Duel Commander | Legal |
| Highlander | Legal |
| Commander / EDH | Legal |
| Tiny Leaders | Legal |
| Unformat | Legal |
Latest Decks as Commander
High Market Discussion
3 weeks ago
Hey, very good budget version of Meren.
For the manabase my advice is play an equal amount of Forests and Swamps because you have one drop green mana dorks who you want to be able to consistently play turn one which a Forest is the best land option for the manabase to do that. Having double the amount of Swamps than Forests is problematic when playing one drop mana dorks.
Some budget cards to consider adding:
Buried Alive is excellent to tutor for any three creatures and put them into your graveyard, one of the best cards with Meren. Jarad's Orders and Final Parting are nice budget tutors with Meren. Tutoring for two cards, one goes into your hand and the other being a creature into your graveyard to reanimate/recur with Meren. Elves of Deep Shadow and Talisman of Resilience are low CMC budget ramp upgrades.
Midnight Reaper and Deathreap Ritual are more repeatable draw sources when creatures you control die. Deathreap can draw a lot of cards in multiplayer Commander since morbid can trigger on any players turn as long as any creature died during the turn. Butcher of Malakir is a upgrade for a budget big creature to reanimate with Meren since it's a repeatable source of opponents having to sac a creature they control when any creature you control dies. Demon's Disciple is an upgrade for Merciless Executioner since if an opponent doesn't have a creature, but has a Planeswalker they have to sac a Planeswalker.
---
Some cards to consider cutting:
The Vivid lands are not good lands and even on a budget there's better options. They aren't reliable enough to warrant ETB tapped and even if you have a way to put more counters on them with proliferate I still think they're not worth playing even over more basic lands. Hogaak, Arisen Necropolis is not worth the trouble of casting it or reanimating it. It's just a beater, but you want more than that with high CMC creatures in Commander.
Good luck with your deck.
3 weeks ago
You don't have a ton of card-draw, and I also recommend at least eight pieces for almost any deck. Graveyard recursion, especially the good ones, definitely count as card advantage in my book, so Phyrexian Reclamation is great here, as is Whisper.
Grim Haruspex and Disciple of Bolas are on-theme. Thorn of the Black Rose and Custodi Lich are fun creature-based choices too. Some other classic choices are Ambition's Cost, Ancient Craving, Promise of Power, Liliana's Contract, Syphon Mind, Castle Locthwain, and Read the Bones. Palace Siege is okay, especially if you feel you need more recursion. Diabolic Servitude is nice and repeatable. Victimize and Blood for Bones are a great rate. Oversold Cemetery is nice too, though pricey.
Greed, Arguel's Blood Fast  Flip, Skullclamp and Erebos, God of the Dead are really good but not cheap. Erebos, Bleak-Hearted, Yawgmoth, Thran Physician, and God-Eternal Bontu would be decent as well. Bonus points for some being threats/blockers.
Gonti, Lord of Luxury is an interesting choice for card advantage--especially if you can recur him out of the graveyard over and over.
---
Dreadhorde Invasion is a great source of sacrifice fodder. So are Grave Titan and Bitterblossom but they're expensive. High Market is good in case your commander get's Arrested or turned into an elk or frog or the moon. Rogue's Passage could help end games once Yahenni is huge.
If you find you can't close out games between all the groupslug aristocrat cards and Yahenni's damage, perhaps a few auxiliary groupslug cards could tip games in your favor. Most of the good ones are very expensive though. Bloodchief Ascension, Painful Quandary, Polluted Bonds, Wound Reflection, and Palace Siege et al. Torment of Hailfire and Exsanguinate are classic finishers too.
As far as cuts go... I don't love some of the creature-based removal. I know it's good because you can sacrifice them later but perhaps Morkrut Banshee, Skinrender, and Anowon the Ruin Sage could be cut. I don't love Devour in Shadow and Drag to the Underworld. You should be set on removal even with those five cuts. Feed the Swarm is worth noting! Mortician Beetle is a bit win-more but is uniquely suited to the deck and worth keeping for now. Probably makes a good blocker. Geralf's Messenger is a bit weaker than some of the token generators and recurring threats too.
Also, I don't know if you care (few do) but if you want an accurate price calculation for your deck you should put the cards in the Sideboard into the Maybeboard so they aren't added.
1 month ago
Hey, nice budget version of Atla.
You have three of the best cards with Atla: Mirror Entity, Skullclamp and Goblin Bombardment. Eladamri's Call, Open the Armory and Idyllic Tutor are tutors for one of these cards. Crop Rotation can tutor for High Market or Opal Palace. Palace is actually an important card with Atla because if you cast her with Palace then she gets a +1/+1 counter. Atla having a counter means she doesn't die when you activate Mirror Entity for zero turning all creatures you control into 0/0 Eggs. This is how you can take real advantage of Entity.
Some budget lands to consider adding: Ash Barrens, Battlefield Forge, Canopy Vista
---
Cards to consider cutting to add the tutors and lands: Rugged Highlands, Birthing Boughs, Dragon Egg, Crucible of Fire, Palladia-Mors, the Ruiner, Explosive Vegetation, Sunscorch Regent
Good luck with your deck.
1 month ago
I might suggest some sacrifice outlets (Phyrexian Tower, High Market, Diamond Valley if you have it) so that you can put Brokkos into your graveyard in response to an exile or other effect and not have to pay commander tax. I probably wouldn't put in anything for this outside lands just because it might not be a situation that comes up very often, but it might be nice to have for when it does.
Load more