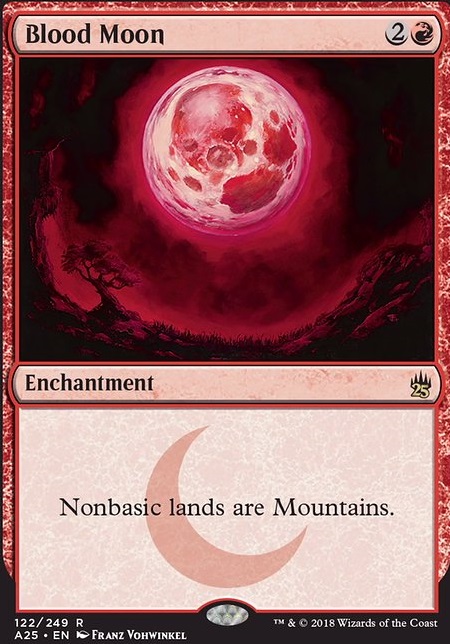 Legality
| | |
| --- | --- |
| Format | Legality |
| Pre-release | Legal |
| Noble | Legal |
| Leviathan | Legal |
| Magic Duels | Legal |
| Canadian Highlander | Legal |
| Vintage | Legal |
| Modern | Legal |
| Vanguard | Legal |
| Legacy | Legal |
| Archenemy | Legal |
| Planechase | Legal |
| Duel Commander | Legal |
| Unformat | Legal |
| Casual | Legal |
| Commander / EDH | Legal |
Blood Moon
Enchantment
Nonbasic lands are Mountains.
Have (29)

G

a

b

e

C

u

b

e

d

, ironax ,

C

h

a

r

-

Y

o

u

, Justinaut , wackozacko , daksheesley ,

C

a

m

p

b

e

l

l

S

t

e

v

, jrschnoebelen , AlertKnave8075 , Pyre_Vulpine96 , JAT0 , FireRogue , Asyndeton ,

D

r

u

n

e

G

r

e

y

, Daeyel , lorddarkstar , greanbeaner , ZombieFood , Jareht ,

O

c

h

e

y

o

, TehDelta ,

T

h

e

D

u

g

g

e

r

n

a

u

g

h

t

,

S

k

e

t

c

h

y

S

c

r

i

b

b

l

e

r

,

a

w

a

l

l

o

f

t

e

x

t

, xpsychovampx ,

C

o

m

i

c

a

l

f

l

o

p

,

H

a

l

p

h

i

n

i

a

n

, kaboomeow ,

K

i

o

r

t

i

o

Want (15)

D

u

c

t

-

T

a

p

e

-

G

u

a

r

d

i

a

n

, TimothyClover , Dadaman11 , gamerhat , Zimu , Gabeph ,

C

o

m

i

c

a

l

f

l

o

p

,

h

w

a

g

n

e

r

, Bovine073 ,

k

n

t

o

,

N

e

m

e

s

i

s

, KCMetroGnome , KB2187 ,

c

h

i

c

a

g

o

b

e

a

r

z

, Thunderbeard
Blood Moon Discussion
12 hours ago
This a musical catalogue of parodies of rock/metal songs about Magic: The Gathering.
My sense of humor may not be for everyone, because sometimes I make fun of myself and portray myself as an extremely socially inept and unsportsmanlike player. So, idk, be warned. Or enjoy, whatever you're into!
15 hours ago
Love the idea. I think your sideboard needs some serious work. There are decks that go around and under you before you even set up. Mainly zoo, dredge, and the like. If you can get to midrange then your deck definitely has an advantage. Couple of thoughts. Snapcaster Mage? Allows for the double use of a lot of spells. It essentially doubles your cards from 4 to 8 (in theory). Maybe not a full playset, but I would say a 1 to 2 should be in here somewhere. For a control measure, you could add in some mainboard Blood Moons, if not at least sideboard. Can help take your opponent off colors, as well as stop some matchups like eldrazi or regular tron. If you go that route, maybe add in some more islands to ensure you have your blue.
Sideboard.
You should consider cards that are helpful in the meta. Grafdigger's Cage and Relic of Progenitus are the main go to cards against graveyard strategies if you're not in black for Leyline of the Void.
A couple of Negates probably would be good to switch out a Mana Leak or Remand depending on the matchup. Remand is terrible in burn, but great against tron (excluding Ulamog, the Ceaseless Hunger). Mana Leak can be great in burn, but pretty terrible in tron. I'm not saying that Negate is specifcally good in these matchups (pretty good though), I'm just making note of different decks and different playstyles that cards can be good and/or bad against.
You may want to include some Vapor Snags (probably a couple mainboard) because your list doesn't do but so much against Death's Shadow. You are hoping to get to four mana to cast Madcap Experiment or Cryptic Command to try and save you, and that is only if your opponent hasn't Thoughtseized your answer at that point.
Mindbreak Trap and/or Summary Dismissal are good cards against storm (Grapeshot) and/or Emrakul, the Aeons Torn. Both exile Emrakul, the Aeons Torn, but Summary Dismissal stops the extra turn trigger as well.
Surgical Extraction is a great card for just about any sideboard. It can help take apart combo decks at instant speed.
Potential alternate win con - Keranos, God of Storms. Pretty good card here. If you are able to up Jace, the Mind Sculptors in the deck, a possible is Thunderous Wrath, but that is kind of cute. Not necessarily efficient enough.
1 day ago
Dorotheus thanks for the input! I did consider Tormenting Voice but, due to the cost to cards discarded it seemed a little underpowered (a 1cmc red creature that draws a card then allows you to discard a card would be a good fit). I also considered Bloodghast but, didn't realy want to add nonbasic lands to this deck with all the Blood Moons floating around. I also agree, Chandra, Torch of Defiance may seem like an odd fit into this deck but, she can work well (the possible every turn card draw and extra mana abilities work great in this deck and to top it off, on a curve +1 chandra into a Demigod of Revenge might not be so bad on turn 5 if a land was played each turn, Vengevine is the one this deck would really like to avoid Chandra +1 into). If I may ask, does Flamewake Phoenix graveyard return ability trigger Vengevines graveyard return ability? Would Earthshaker Khenra also trigger Vengevine?
1 day ago
Last_Laugh, I use Harrow over Crop Rotation, mostly for early ramp and landfall triggers with Lotus Cobra and the big guy. Crop Rotation isn't very beneficial for me early game to grab Gaea's Cradle, since most of the time, I don't have creatures on my board until Omnath is out.
JoeBob21, once mid game rolls around, it becomes easy to take advantage of Tireless Tracker and the clue toll. As for the suggested cards, I don't have the spots to include them. Nonetheless, they are great cards and most of them have been in a previous build of mine. Thank you for your suggestions and thanks for the +1, I appreciate both!
feyn_do_alduin, I believe those are great substitutions. They still keep the theme intact. I would substitute Storm Cauldron for maybe a Blood Moon, Magus of the Moon or Stranglehold. If you want to include Groundskeeper, I would replace Manabond, since it was included mostly to pair with Storm Cauldron.
1 day ago
Hi Koekje,
I have a bit of a good news / bad news response to your deck. Good news Flickerwisp is cheaper than Felidar Guardian and Restoration Angel has more utility. Bad news your deck folds to Torpor Orb since you lose all the "good stuff" and you aren't running any artifact destruction.
Also your mana curve is off, basically you have too many high cost spells and not enough mana ramp or early plays. Modern is thought of as a turn four format, this means that you need to be in a winning position on turn four. Right now your deck is slower than that and doesn't have answers to artifacts or enchantments like Blood Moon.
While the novelty of making an essentially creature based deck is fun, it isn't necessarily the best idea. For example a spell like Eerie Interlude is ideal for your deck design, probably more so than the 5 mana Venser, the Sojourner.
I hope this helps...
2 days ago
Love this deck. I've been playing against it with my paper version of Howlpack Aggro. Basically it's the same werewolf deck without Aether Vial. Isochron Sceptor on Lightning Helix is such a good combo against other aggressive decks, and I have no doubt this deck would slay. That being said, I feel there's not enough of the red deck wins cards in this list. What about Blood Moon or Chandra? As an aggro deck, this is awesome. I just fail to see the red deck wins aspect.
Great stuff! In my game play, Werewolves came out on top in a 3 game match, but I think that's mainly due to the fact that I'm more familiar with my deck than yours.
3 days ago
Apologies for the delay, I had to write this twice.One time mana sources make a lot of sense since you do need 11 mana to play your commander and equip all in the same turn.Basalt Monolith, Grim Monolith, Lion's Eye Diamond, Mana Vault, Pyretic Ritual, Desperate Ritual, Seething Song, Lotus Bloom, Lotus Petal, Treasonous Ogre, Vessel of Volatility, Simian Spirit Guide
Rite of Flame is too weak and Mana Seism may be a bit too deep.
Good RocksChrome Mox, Mox Diamond, Mana Crypt, Mox Opal, Sol Ring, Coalition Relic, Gilded Lotus, Thran Dynamo, Everflowing Chalice, Mind Stone, Fellwar Stone, Metalworker
Ok rocks to cut if you need more slots.Worn Powerstone, Jeweled Amulet, Fractured Powerstone
EquipmentHammer of Nazahn, Helm of the Host, Lightning Greaves all good but how do you feel about Sword of Feast and Famine + Aggravated Assault backup strategy? Sword of the Animist is a good equipment for this strategy as well but depending on the table may not be fast enough.
Draw and tutorsSensei's Divining Top, Daretti, Scrap Savant, Tormenting Voice, Wheel of Fortune, Imperial Recruiter,
I do not like Gamble without reliable graveyard interaction and I generally dont like Winds of Change especially if your opponents have any graveyard interactions.
Love the counter package, no Dualcaster Mage?Fork, Burnout, Pyroblast, Red Elemental Blast, Reverberate, Ricochet Trap, Glorious End, and of course Possibility Storm. Not a big fan of Veilstone Amulet in cedh but the makeup of your local meta will make or break this card. Active Volcano is probably too much.
Extra turns can be a big surprise win for this strategy. Love them. Final Fortune, Last Chance, Warrior's Oath
Artifact hate seems good but missing Vandalblast. By Force, Shattering Spree, Trash for Treasure.
Moon effects are strong but another meta call. Blood Moon and Magus of the Moon
Maybe too many colorless lands? I think you could cut one land overall but I understand you want to hit each land drop. Ancient Tomb, Buried Ruin, Cavern of Souls, City of Traitors, Command Beacon, Crystal Vein, Dwarven Ruins, Gemstone Caverns, 25xMountain, Sandstone Needle, Scorched Ruins, Sequestered Stash
Equipment assists seem good for faster hands but kind fragile. Brass Squire and Magnetic Theft
Dire Fleet Daredevil is a good card.Goblin Welder, Slobad, Goblin Tinkerer, and Welding Jar are all good.
Kuldotha Forgemaster is a good way to tutor the equipment into play.
Sphere of Resistance is a fantastic protection card but can make it easier for others to combo if you leave it out.
Load more