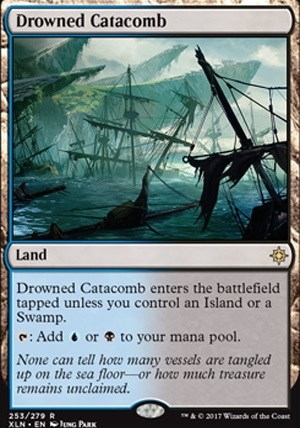 Drowned Catacomb
Land
Drowned Catacomb enters the battlefield tapped unless you control an Island or a Swamp.
: Gain or .
Browse Alters
View at Gatherer
Trade
Have (5)

m

e

t

a

l

m

a

g

i

c

,

a

b

b

y

3

1

5

,

A

z

d

r

a

n

a

x

, CompleteWaste ,

D

e

m

M

e

o

w

s

e

p

h

s

Want (8)
Littledude7654 , Lyriczulu , deathdealer1225 , TraceOn , Android122 ,

A

m

o

s

, CaptainFruffles , bahenderson
Legality
| | |
| --- | --- |
| Format | Legality |
| Block Constructed | Legal |
| Vintage | Legal |
| Duel Commander | Legal |
| Canadian Highlander | Legal |
| Highlander | Legal |
| Oathbreaker | Legal |
| Modern | Legal |
| Leviathan | Legal |
| Unformat | Legal |
| Casual | Legal |
| Legacy | Legal |
| Limited | Legal |
| Custom | Legal |
| Arena | Legal |
| 1v1 Commander | Legal |
| Pioneer | Legal |
| Historic | Legal |
| Commander / EDH | Legal |
| 2019-10-04 | Legal |
| Tiny Leaders | Legal |
Drowned Catacomb occurrence in decks from the last year
Latest Decks as Commander
Drowned Catacomb Discussion
1 week ago
Changelog (22/11/2020)
White
Blue
Black
Red
Green
Multicolored
Colorless
Mana Fixing
4 weeks ago
Anyone claiming Spell Pierce is bad is insane. It's an amazing card in any playgroup that is tuned in any way. is a pretty big tax. However, it's not good as generic countermagic -- it's for crushing combos or protecting your combo.
If your playgroup isn't tuned to any degree, doesn't run many combos at all, and you're not using a combo wincon, replace Spell Pierce. If you're playing anything other than low power hyper casual commander, keep Spell Pierce and add more countermagic. Every blue deck should include Negate, Counterspell, Dispel.
Second, you have 14 taplands. This is horrible. I don't care what meta you're in, fix that. I'll give you some tips: River of Tears, Nimbus Maze, and Caves of Koilos are all really cheap and will make your manabase a lot better. Cut a handful of taplands for more basics -- they're great and in budget manabases they are necessary for making your deck work. Glacial Fortress, Isolated Chapel, Drowned Catacomb aren't too pricey and will make your manabase MUCH better. Tainted Field and Tainted Isle are pretty cheap.
Cards I'd cut: Debt to the Deathless, Death Grasp, Serra Avatar. They all just cost too much mana.
1 month ago
Alrighty, changed a few things with the land base!
Removed -
Added -
Also added these to the maybe board I'd like to put into use, just trying to work out what to replace for them lol -
Door to Nothingness (For fun ;))
As always, Feiryn, your help is much appreciated! Have more of the land base on the way, but probably won't have them for a few weeks still. (Also have Hunting Grounds coming... Can't wait to use that lol.
2 months ago
Here are my thoughts
Don't split the land cycles
It is infinitely easier to say "Oh Geneva has painlands and checklands" rather than "Okay so Dimir has Drowned Catacomb next Boros has Sunbaked Canyon" etc. This is an ease of access point for getting started in the format but also regularly building decks in the format. Having to remember specifically which lands from all the different land cycles go into what color groups will be a huge turn off for most players. I also suggest keeping 5 color cycles for non-land cards intact too; if you have Gold Myr then include the other 4 colors as well.
Include X spells
Aside from giving nice offerings to decks as games go long, it gives you a use for all that ritual style mana ramp in the format.
Focus your ideas for the format
Currently, it seems like Legacy card pool with Pioneer power levels, except the only style of play is "Make synergy then swing creature". When you wanted to make a new format, what prompted you to do so? Is there a certain type of deck you are trying to bring to prominence, or a certain type of deck you don't want to see in the format? I think you should approach from a top-down design, rather than throwing cards at the board and seeing what sticks. It will also help in selling your idea to players, "Hey try my new format, it lets you do X Y and Z different from the other formats!"
Consider the power level you want
Your most well developed themes are madness and lifegain, both stompy builds of medium-low power level. Meanwhile, you have one of the absolute most efficient pieces of removal ever printed with Swords to Plowshares as well as 3 various alternate casting cost creature removal spells. Having hyper efficient creature removal and almost entirely creature based damage to win will create some stale gameplay rather quickly.
Focus on deck archetypes
A healthy metagame has aggro, midrange, and control, the eternal rock-paper-scissors of MTG. Aggro has good match up against control but hard against midrange, midrange is good against aggro and weak to control, and control is good against midrange but weak to aggro. Within that basic rock-paper-scissors, also consider well-known deck archetypes and builds. Some that come to mind are burn, spellslinger, combo, white weenies, tribal, prison, and mill. The format should appeal to Timmies, Johnnies, and Spikes in various ways. If I'm Johnny combo player and the only way to "combo" win is play life gain cards + life gain pay offs + attack with creatures, I'm going to lose interest in the format.
That being said, I highly recommend you get a good splash of cards into the pool for various archetypes before you get into the minutia of what each deck will play, this is currently still barer than bare-bones. Siege Rhino seems like it will be a deck to you right now, but it might not once you get the rest of the format fleshed out.
Play to each color's strengths
This format is currently just creature whack. Green is the creature and ramp color, but is primarily serving to ramp other colors and doesn't have good beaters. Blue is known for drawing and counter magic, of which we see almost none of yet. Look at the colors and think about the keywords that go alongside them, as well as non-creature spells. Red is going to want cards with haste, especially 1 drops, but also a variety of direct damage cards. Blue is going to want a handful more draw cards, probably bounce and countermagic too. Black could benefit from another discard effect beyond Duress, and that opens the door for Megrim to be a deck. Look for perennial keywords like trample, flying, first strike, haste, and even protection from color if you're feeling spicy.
Think about threats and answers
Empty the Warrens is a storm card that could fit well into a creature heavy format without throwing the entire format to Storm but still providing a new deck archetype and varied play for the format. It is a high caliber threat for decks to close games, but there are also tons of answers decks can use to handle it, such as Pyroclasm or Wrath of God or the already in-set Marrow Shards. Thinking about how decks win is crucial to designing the format, but having answers in mind for the threats keeps the format balanced. It will give players a better and more interactive experience, and it will raise the value of sideboarding immensely. Do you have a graveyard based combo for Combo Johnny? Well a Tormod's Crypt sounds like a great include to keep them in check. Lots of big hexproof/shrouded creatures for midrange to fight control? Give control effects to get around them like Chainer's Edict or even just more wrath effects. If you want the format to be dynamic, create threats and create answers.
Find synergies for cards already in the format
Do you want every deck to be a goodstuffs pile? Nobody wants that. Look to cards that are already included and give players deckbuilding choices. For example, you might think that Voltaic Key is an excellent way to get some more mileage from Worn Powerstone, and that inclusion of Voltaic Key will lead you to a few other cards that work well with the pair. Give players options, and think about the things a player will want available to them. Finding cards that nestle in alongside existing cards is an excellent way to start.
2 months ago
Assuming you still would like help, here are my thoughts just going off what you already have (so your mainboard and sideboard).
First of all your land situation needs to be sorted out. You have an insanely high average cmc (4.74) so you're going to be looking at about 40 lands without the very pricy ramp cards. 30 lands is in the range that decks with an average of about 2cmc or lower run. Here's a quickly made list of your lands that I'd use:
You almost always want to prioritise lands that can come in untapped over ones that always enter tapped. This is because auto-tapped lands basically set you back a turn, so it's often better to just run a basic over something like Sheltered Thicket. The exception here goes to the Triomes because they offer three colours and more importantly can be picked up by your fetchlands.
As for the rest of your cards, here's what I recommend cutting:
And add in their places, assuming you're running 40 lands:
Hopefully that helps, and let me know if you have any questions! These are just suggestions after a brief runthrough of course, so feel free to take them or leave them!
Load more