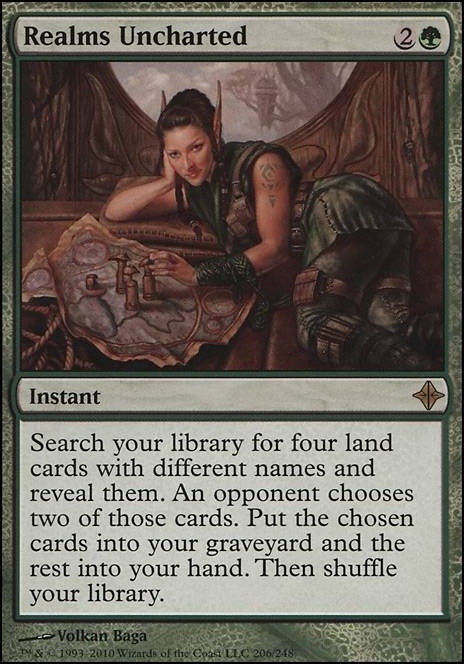 Realms Uncharted
Instant
Search your library for up to four land cards with different names and reveal them. An opponent chooses two of those cards. Put the chosen cards into your graveyard and the rest into your hand. Then shuffle your library.
Latest Decks as Commander
Realms Uncharted Discussion
2 months ago
Agreed with almost all the changes. Petrefied fiel works well with Realms Uncharted. In my build, I tutor for Eye of Ugin, Petrified, and whatever other 2 (usually cradle and deserted temple). I can use petrified to get the other land I wanted back. Not to mention that as a lands deck, you will have people wise up and destroy your lands, one way or another.
Rude awakening is BEAST! I'm so glad you love it. Combine it with cradle, deserted temple and a thespians stage to boot (dare I say, vesuva evil laugh). Lots and lots of mana as rude awakening makes all your lands creatures. Do note though, any lands that ETB that turn can't be tapped for mana once they are creatures as they are summoning sick, unless you have Akroma's or another haste outlet on the field. It's also nice after a big Rishkar's expertise to untap your lands in order to keep up tempo. It can even function as a wincon through beatdown late game should be. Overall, a versatile ritual
2 months ago
Hey, I have some suggestions for this deck based on some other decks I've used or played against.
I've used Domri, Anarch of Bolas to great effect in my own dragon deck, since she gives mana fixing, protection from counterspells, and creature removal.
Based on how there are zero basic lands in this deck, Realms Uncharted could be a very good way to get your mana rounded out, and to thin the deck later on.
Jegantha, the Wellspring is perfect for you commander. You wouldn't get to use the Companion ability but with 21 gold cards I think it would still go a long way
With over a quarter of the entire deck being creatures or planeswalkers, using Esika, God of the Tree  Flip's flip side can cycle all your fun stuff out a lot faster (I also think the showcase art looks fantastic).
In my opinion, Rishkar's Expertise, Primal Command, and Gaea's Blessing can fit in almost every green deck. They're versatile, and card draw in never hurt anyone too much.
I hope at least some of these helped! There are some other cards that might be good but I wasn't sure what aspect of the deck you'd want to focus on, so I tried to suggest things that would keep options open. Keep slamming those playtests and keep us updated on how it goes!
7 months ago
Hello fellow Titania player. From my experience I'd highly recommend a few cards:
Your list looks really strong, stronger than mine (I keep the power lvl a bit lower due to the general lvl my playgroup is at), but I think a few of my suggestions can push yours even further. If your interested, here is my own list: The Entmoot. We have similar themes! :) +1
9 months ago
Thoughts on these? Trophy Mage (finds Crucible), Stone-Seeder Hierophant (functions like Lotus Cobra, really good with Thawing Glaciers ), Animist's Awakening , Kamahl's Druidic Vow , Pentad Prism (in opening hand, gets Taty out T3), Elite Arcanist (can hold counterspells or win with Nexus), Isochron Scepter , Kaho, Minamo Historian (gives you options during opps' turns to counter something or use a tutor. Can go infinite with Nexus if you include Riptide Laboratory ), Realms Uncharted (instant, helps set up Sanctuary combo), Intuition (pretty versatile, could go for lands or EWit + Noxious + Temporal Mastery. and it's instant :O!) Littjara Mirrorlake (decent in your build as-is, can go infinite with EWit + Crucible if you include Time Warp ), Sakura-Tribe Scout (I'd slot this in over Oracle of Mul Daya since the effect is similar but Scout can get Taty out faster while Oracle can't), Ghostly Flicker (has neat utlity here. could be used defensively, to draw a couple cards, or as an infinite combo piece: EWit + Sanctuary + Time Warp)
Load more