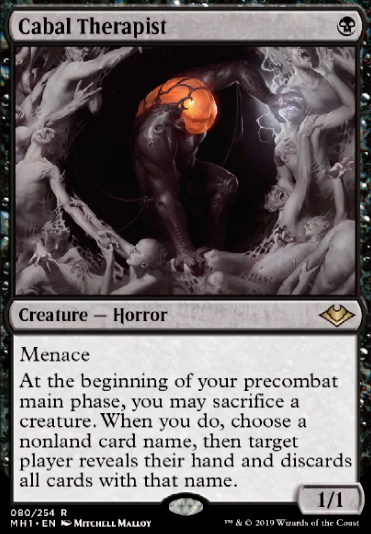 Cabal Therapist
Creature — Horror Mercenary
Menace
At the beginning of your precombat main phase, you may sacrifice a creature. When you do, choose a nonland card name, then target player reveals their hand and discards all cards with that name.
Browse Alters
Trade
Legality
| | |
| --- | --- |
| Format | Legality |
| Commander / EDH | Legal |
| Duel Commander | Legal |
| Modern | Legal |
| Vintage | Legal |
| Canadian Highlander | Legal |
| Tiny Leaders | Legal |
| Casual | Legal |
| Custom | Legal |
| Leviathan | Legal |
| 1v1 Commander | Legal |
| Legacy | Legal |
| Limited | Legal |
| 2019-10-04 | Legal |
| Block Constructed | Legal |
| Highlander | Legal |
| Unformat | Legal |
| Oathbreaker | Legal |
Cabal Therapist occurrence in decks from the last year
Latest Decks as Commander
Cabal Therapist Discussion
1 month ago
Changelog (22/11/2020)
White
Blue
Black
Red
Green
Multicolored
Colorless
Mana Fixing
1 month ago
I've piloted a bunch of b/x discard over the years.
Lurrus/Kroxa/Unearth is a really nice package, but you will have some difficulty fueling the graveyard. I like the Bolt devil interaction, but it will need a little more to support it. Its worth looking at Cabal Therapist lists to see how other people were trying to make a similar package work.
Quick fix; Vilage rites is unlikely to give the card advantage you need. Swap for some draw/discard - Stitcher's Supplier or similar, so that you can lurrus it.
Longer fix; plan a sideboard. Rogue brews get a vast advantage from pre-sideboarding against the meta, and giving up bad matchups entirely with sideboard slots dedicated elsewhere. Discard likes maindeck Surgical Extraction to mess up key pieces of tron. Davriel, Rogue Shadowmage is good.You need to be exiling their graveyard regularly, so stuff like Elspeth's Nightmare is worth considering.
Mausoleum Secrets and a black 'answer' package could go a long way in this deck, and let you have a thinner sideboard spread.
Jund wants to get into a topdeck war just like you, the battle is keeping them off of value engines. That means surgicaling things before they reccur them, and keeping them off answers to affliction. Some cards like Sea Gate Wreckage can help, if you improve your manabase to support it. Specific hand pruning like Thoughtseize or its budget cousins will go a long way, letting you avoid their 2 for 1's. Exactly how you approach the matchup will depend on which flavour of jund - and as a rogue brew, you get the advantage of building just for them.
5 months ago
My Suggestions
6 months ago
Over the last few weeks I have been working on a few builds with Cabal Therapist including stoneblade Cabal Stoneblade GB cabal yawgmoth Cabal Yawgmoth Combo Modern tokens The Spirits of Cabal(Cabal therapist tokens) bw pox Small Corona and most recently a mardu smallpox deck which I have been getting great results with: mardu cabalpox The idea of these decks is to sacrifice other creatures to the therapist as well as using menace to our advantage with swords and enchantments. I am looking for help with the mardu deck as well as other suggestions for shells in which cabal therapist could thrive and cards it combos with. thanks in advance!
7 months ago
With the way your deck is evolving, it is starting to look more and more like an orzhov smallpox list. Some stuff I would say about that is that you really need to make sure smallpox doesn't end up being card disadvantage for you, because in most cases, its just card disadvantage or break even. To do that, you need to maximize your Flagstones of Trokair and Bloodghast type cards. I'd run the full 4 Lingering Souls because of that. Also, a card thats worth looking at is Fetid Heath to fix your mana since you have black cards like Liliana of the Veil and Smallpox, which can be awkward to get out with lands like Flagstones of Trokair out. most smallpox decks run 4 Liliana of the Veil, but Cabal Therapist may fill some of the role it does, I don't know though. One last thing that I would say is that Vengeful Pharaoh is a card that seems to slot into smallpox, but no one ever seems to include.
hope this helps.
Load more