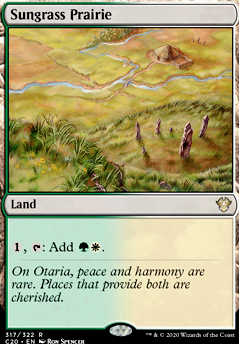 Sungrass Prairie
Land
, : Gain .
Browse Alters
Trade
Legality
| | |
| --- | --- |
| Format | Legality |
| Canadian Highlander | Legal |
| Unformat | Legal |
| Oathbreaker | Legal |
| Vintage | Legal |
| Duel Commander | Legal |
| Tiny Leaders | Legal |
| Casual | Legal |
| Custom | Legal |
| Limited | Legal |
| Commander / EDH | Legal |
| Legacy | Legal |
| 1v1 Commander | Legal |
| Highlander | Legal |
| Leviathan | Legal |
| 2019-10-04 | Legal |
Sungrass Prairie occurrence in decks from the last year
Latest Decks as Commander
Sungrass Prairie Discussion
2 months ago
Changelog (22/11/2020)
White
Blue
Black
Red
Green
Multicolored
Colorless
Mana Fixing
2 months ago
I agree with the suggestion for Rebbec, Architect of Ascension or at least include her. In no particular order: They are reprinting Three Visits, which is strictly better than rampant growth. Nature's Lore is good too. Cavalier of Dawn can be used on your own artifacts. Guardian Idol is a good ramp card early and doubles as a Golem. Land Tax is rarely going to be worth it in a green land ramping deck. Maul Splicer is expensive, but trample is good evasion for decent sized golems. Sensor Splicer gives vigilance. Vital Splicer gives the ability to regenerate for 1. It's not great, but is another creature you can bounce for more golems. Ichor Wellspring is a great target for both self destruction and recursion, in case of opponents having no artifacts to destroy. Arcbound Reclaimer for ensuring you get a good draw. Ancient Stone Idol for a really big boi. Ancestral Statue can replay splicers or get rid of bad auras. Also you have a lot of stuff like myrsmith, palladium myr, and I think those might be better served by a couple more treasure/clue/food generation cards. Treasure Map  Flip, Prying Blade, or Tireless Tracker, Ulvenwald Mysteries, or Gilded Goose (replacing Avacyns pilgrim). Any decent equipment, but especially a Bloodforged Battle-Axe. Maul of the Skyclaves, Heirloom Blade. Swords are good. And as always: Lightning Greaves Swiftfoot Boots Skullclamp Running a bunch of basics is always cheaper, but if you have a couple of bucks consider the following mostly budget additions. Homeward Path Scattered Groves is cheap and fetchable. Gavony Township for more counters. Gingerbread Cabin for an artifact with your land. Krosan Verge/Myriad Landscapefor mana fixing ramp. Command Tower because it's better than a basic. Path of Ancestry because the splicers are all human. Evolving Wilds/Terramorphic Expanse/Fabled Passage Blighted Woodland Sungrass Prairie Opal Palace
3 months ago
Your deck is almost all green-white, but I believe you should have more mana sources for your other colors:
5-color lands like Vivid Grove and Vivid Meadow won't hurt, neither will Jungle Shrine, Seaside Citadel, Sandsteppe Citadel and Murmuring Bosk. If you run at least 1 basic of each color, Evolving Wilds and Terramorphic Expanse can fetch any color for you.
If you prefer untapped lands, Exotic Orchard, the pain lands (e.g. Battlefield Forge) and the Odyssey filter lands (e.g. Sungrass Prairie) can be quite useful. Fellwar Stone also works as the Orchard.
You should be aware of these synergies: Krosan Verge, Farseek, Nature's Lore and Skyshroud Claim can fetch Murmuring Bosk, the triomes (e.g. Indatha Triome), the battle lands (e.g. Canopy Vista) and the bicycling lands (e.g. Scattered Groves).
If it helps, you can check my Kenrith deck. Its mana base is mostly green-blue-white, with black and red as splashes.
4 months ago
Now about your mana-base! I would eventually consider adding some of the following lands/ramp cards!
4 months ago
Post reland slivo fetch and shock
Primordial Hydra > Farseek
Reyhan, Last of the Abzan

> Nature's Lore
Arcane Sanctum > Arid Mesa
Darkwater Catacombs > Bloodstained Mire
Opulent Palace > Breeding Pool
Sandsteppe Citadel > Flooded Strand
Skycloud Expanse > Godless Shrine
Sungrass Prairie > Marsh Flats
Vivid Creek > Overgrown Tomb
Vivid Grove > Temple Garden
Vivid Marsh > Watery Grave
Vivid Meadow > Windswept Heath
5 months ago
Oi there! You might like some of these lands!
In the end I would consider all of these land choices, they can make the deck run much more smoothly! If this helps, be sure to check out some of my decks, (Double Trouble EDH, A Deal With the Devil EDH) both of which I recently decked out with CSS and huge descriptions! Anyways though, I hope this helps, good luck on your deck, and have a great day! Happy tapping!
Load more