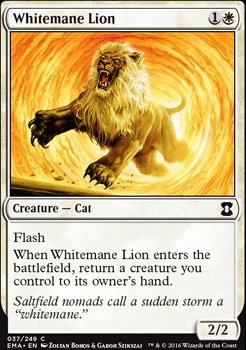 Whitemane Lion
Creature — Cat
Flash (You may cast this spell any time you could cast an instant.)
When Whitemane Lion enters the battlefield, return a creature you control to its owner's hand.
Browse Alters
View at Gatherer
Trade
Legality
| | |
| --- | --- |
| Format | Legality |
| Highlander | Legal |
| 1v1 Commander | Legal |
| Legacy | Legal |
| Block Constructed | Legal |
| Tiny Leaders | Legal |
| Casual | Legal |
| Vintage | Legal |
| Leviathan | Legal |
| Pauper EDH | Legal |
| 2019-10-04 | Legal |
| Unformat | Legal |
| Modern | Legal |
| Pauper | Legal |
| Oathbreaker | Legal |
| Duel Commander | Legal |
| Commander / EDH | Legal |
| Custom | Legal |
| Limited | Legal |
| Canadian Highlander | Legal |
Whitemane Lion occurrence in decks from the last year
Latest Decks as Commander
Whitemane Lion Discussion
1 day ago
Changelog (22/11/2020)
White
Blue
Black
Red
Green
Multicolored
Colorless
Mana Fixing
1 week ago
ellie-is — Thanks once again for your comment and help!
I pretty much agree with all your evaluations. I was also leaning toward Honor of the Pure and Radiant Destiny. As you say, Honor not affecting Pride Sovereign is irrelevant.
I do recognize that Always Watching is pretty much strictly better in this deck (cuz yeah, I'm only generating tokens with Sovereign's ability if I'm on the defense and blocking with him.... and sometimes not even then, as I'd then lose him as a blocker for the next turn). But of all the anthems, Watching has the most egregious artwork — it's creepy and absolutely doesn't fit. Lions are majestic, which is why I can get behind stained glass and god rays in the art. LoL
I agree on the others. They're just not as good or too slow. I do like the combat trick factor of Force, but I'm not sure how to fit it in.
Speaking of, as much as I agree with you that Whitemane Lion should be the one to go, I don't really want to go below 26 hits for CoCo. (In my Modern Elves, I had 36 creatures for Coco!) Until WotC prints another good lion, Whitemane will have to stay. :\ I've considered -2 Whitemane for +2 Sovereign, but I haven't tried that yet.
---
So on to a different question.... I was checking out your profile, and saw your Saproling deck (love the idea, by the way! Haven't had a chance to take a thorough look yet, but I plan to leave a comment and +1). Anyways, saw your deck, and all I could think was.... Damn, she'll pump so many Saprolings out, she'll just keep chump-blocking my lions and I'll never get them through! So do you know of any efficient ways to give the team evasion like trample or flying (though that's not very on theme)?
Although even if you suggest something awesome, I'm not sure what to take out without compromising CoCo. Maybe I need to just take CoCo out and focus in another direction.... despite the new lion art CoCo has in its Secret Lair version....
1 week ago
HalbrechtHalbrecht: Heh, you're welcome!
Now lets see...
Honor of the Pure is the best option overall due to its low mana cost, but it doesn't affect Pride Sovereign. Since you only have two Sovereigns and they get pretty big on their own, that might not be an issue. I do recommend having it as your primary anthem, as the lower mana helps ensure you'll be able to cast multiple of them if you've drawn them, which can be the difference between winning or losing with a great card in hand.
Radiant Destiny is my favorite of the 3-mana anthems. Always Watching gives vigilance without the City's Blessing condition, but your tokens would miss out (that said, you don't make that many tokens so it might not be an issue).
Spear of Heliod is nice, but it does have two easy to remove types, compared to the rest that only have one. Icon of Ancestry might win you some tight games you'd otherwise have lost, but overall it feels too slow for modern, especially if the card you're drawing is 1- not going to be cast on that turn because you're out of mana after activating it 2- not going to win you the game when you play it via haste or another effect. So I'd pick another card over it.
Force of Virtue is a nice trick to have, but I wouldn't run it as your primary anthem. Up to two copies if you already have at least 4x of other anthems can be nice to have and adds combat tricks to an otherwise very predictable deck, and could score you some wins.
If you're trying to figure out what you could take out for more anthems (and I do think it's a good idea having at least 8 of them, but King of the Pride counts and so you have 8 already), Whitemane Lion would be my pick—removing two of them would be a very safe bet.
4 weeks ago
Whitemane Lion was in one of the first few drafts I made for this deck along with Stonecloaker. I think my reasoning for not including either of them or other bounce creatures is because I'd rather have flicker effects like Restoration Angel, Ephemerate, or Soulherder to get more mileage out of my value creatures without having to recast them.
I don't think I have a copy of God-Eternal Oketra, but I think it'd be worth considering in the future.
4 weeks ago
As a fellow Ephara fan the lack of Whitemane Lion is interesting. It is truly a workhorse in my Ephara build and when mixed with its partner in crime, Oketra's Monument you get to draw a card each turn with Ephara at the cost of 1 white mana and are left with a 1/1 vigilance for your trouble. God-Eternal Oketra also works wonders as making a 4/4 vigilance for every creature drop is great. Just suggestions though.
1 month ago
To piggyback on DeinoStinkus, God-Eternal Oketra. I've made this one myself and can confirm it's potency against decks worth a few hundred dollars, while mine sits around $45. You just focus on a lot of creatures that let you bounce other creatures (Whitemane Lion is incredible).
1 month ago
Chulane is an insanely strong commander, and there are certainly ways to build this deck to be more competitive even on a budget. That being said it seems to me you would like a fun and casual +1/+1 themed deck that tries to win with Simic Ascendancy. Personally I think that sounds like a lot of fun and you should definitely build around it.
The first place I would start with the deck is using Tomer's suggestions from MTGGoldfish for building Commander decks. The bullet points are copied from one of his articles. Tomer explains these bullet points to be more like guidelines rather than strict rules you have to follow. Then the rest of the deck is filled with whatever you want to add.
50 mana; lands and ramp, usually a 37–13 split
10 sources of "card advantage;" I use this term loosely but am mostly looking for card draw or any spell that nets me 2+ non-land cards in hand / directly into play
6 targeted removal; split between creature / artifact / enchantment removal
3 board wipes; creature-light decks might want one more, creature-heavy decks might want one less
2 recursion
2 flexible tutors
1 graveyard hate; to shut down powerful graveyard recursion that everyone runs
1 surprise "I Win" card; something that can win games the turn you cast it without too much setup
So maybe more what you may have been looking for in your original question is what cards to add? Cards like Whitemane Lion, Shrieking Drake, Beast Whisperer, Primordial Sage, and cheap mana dork creatures work well with what Chulane wants to do. But as far as Simic Ascendancy and +1/+1 counters, some cards I'd consider are Managorger Hydra, Loyal Guardian, Forgotten Ancient, Herald of Secret Streams, Rishkar, Peema Renegade, Inspiring Call.
https://edhrec.com/themes/p1-p1-counters is also a good resource. For the deck you're building I'd look at other commander decks that care about +1/+1 counters and proliferate like Ezuri, Claw of Progress and Ghave, Guru of Spores
I think Simic Ascendancy with Chulane is a really cool idea. Have fun deckbuilding!
Load more