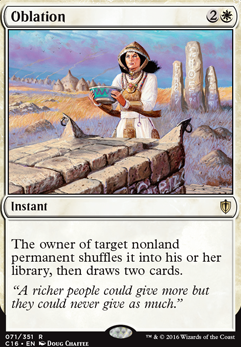 Oblation
Instant
The owner of target nonland permanent shuffles it into his or her library, then draws two cards.
Browse Alters
View at Gatherer
Legality
| | |
| --- | --- |
| Format | Legality |
| 1v1 Commander | Legal |
| Vintage | Legal |
| Duel Commander | Legal |
| Leviathan | Legal |
| Highlander | Legal |
| Custom | Legal |
| Legacy | Legal |
| 2019-10-04 | Legal |
| Casual | Legal |
| Canadian Highlander | Legal |
| Limited | Legal |
| Commander / EDH | Legal |
| Unformat | Legal |
| Tiny Leaders | Legal |
| Oathbreaker | Legal |
Oblation occurrence in decks from the last year
Latest Decks as Commander
Oblation Discussion
3 months ago
Changelog (22/11/2020)
White
Blue
Black
Red
Green
Multicolored
Colorless
Mana Fixing
3 months ago
So other than the Giants themselves, the last two areas to look at are removal and utility. Depending on how much Brion tech you want to include, you are probably going to have to skimp on one of these two areas.
Removal is tricky in EDH. You don't want too little or too much. You're running White, so you can destroy anything you want--which is nice.
I would recommend two or three board wipes minimum and at least and five or six cards that can take care of artifacts and enchantments. Creature removal is great for aggro decks but the Threaten cards can take care of that for the most part.
You're running Blasphemous Act, which is one of the best wraths. I'd still recommend one or two more board wipes though. I like Mizzium Mortars a lot but it doesn't quite count.
I have Sublime Exhalation - Planar Outburst - Phyrexian Rebirth - Cleansing Nova - Planar Cleansing - Fumigate - Divine Reckoning - Rout
If you can find a Wrath of God or Day of Judgment, the one-mana difference is actually huge. Definitely add Cleansing Nova in my opinion. Sublime Exhalation is probably the next-best one.
Hallowed Burial and Descend upon the Sinful are neat due to not sending things to the graveyard and getting through Indestructible. I think I have some of the latter.
One tactic you can do is sandbag your big creatures and wait for your opponents to commit to the board, then wrath and start playing your giants. If you like the sound of that, run five wraths or something like that. It's only a few more mana to kill EVERY creature.
I know you have some Wear / Tears. I'd add one for sure.
I have a bunch of Crush Contrabands, which are great. I'd highly recommend it.
Things like Oblivion Ring and Banishing Light are fantastic on a budget. I think I have both.
Generous Gift is stellar. I don't have any but it's getting reprinted soon and may be cheap.
I have a Pyrohemia on hand. Might be interesting with all your huge giants. Maybe not though.
I have a Fight to the Death. Might be interesting. Same with my Response / Resurgence.
Titan's Revenge is giant-tribal-y. From Morningtide, and should be somewhat reliable for winning the Clash. More gimmicky than good though.
Swords to Plowshares and Path to Exile are the gold standards for creature removal though. No reason to not run them if you have them. Regrettable, I have none for trade. Path just got reprinted though for what it's worth. I have a boatload of all the budget replacements for them, like Oust, Condemn, Oblation, etc.
Something like Comet Storm might be an interesting include. It can function as removal or win the game outright out of nowhere. I have none on hand but it keeps getting reprinted.
There are tons and tons of removal cards out there.
---
I would cut Crush Underfoot unless you're married to the flavor. It's pretty bad. Any removal not already mentioned here I would cut. It's all pretty weak and you're gonna need the slots.
6 months ago
Hey, nice to see someone else is trying to make Avacyn competitive! Here are some thoughts from my own Avacyn deck, I'm still in the process of building it as well. :)
Ramp:
Card Quality:
Protecting Avacyn:
Spot Removal:
Counter Spells: (Not that there are many in white).
Stax:
Potential Planeswalkers:
Good Luck! I hope the deck building goes well! :)
10 months ago
It also matters how good your mana base is, mythos is only REALLY good if you pay all three colors, otherwise it's just ok. Whereas mortify will always do the same thing, but you have to have the two colors two even be able to cast it. Depending on what else is in the deck Vindicate, Anguished Unmaking, Beast Within, Generous Gift, Oblation and Assassin's Trophy are better options. But if you are adding to those I think I would pick mythos, I play a solid mana base in my 3 color decks and like it more than mortify
Load more