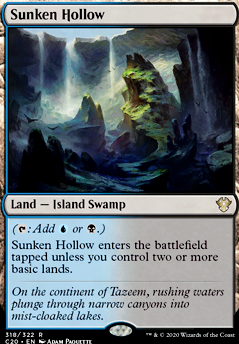 Sunken Hollow
Land — Island Swamp
(: Gain or .)
Sunken Hollow enters the battlefield tapped unless you control two or more basic lands.
Browse Alters
Trade
Legality
| | |
| --- | --- |
| Format | Legality |
| Unformat | Legal |
| Casual | Legal |
| Vintage | Legal |
| Limited | Legal |
| Duel Commander | Legal |
| Modern | Legal |
| 1v1 Commander | Legal |
| Canadian Highlander | Legal |
| Leviathan | Legal |
| Pioneer | Legal |
| Block Constructed | Legal |
| 2019-10-04 | Legal |
| Oathbreaker | Legal |
| Legacy | Legal |
| Commander / EDH | Legal |
| Highlander | Legal |
| Tiny Leaders | Legal |
Latest Decks as Commander
Sunken Hollow Discussion
3 days ago
Assuming you still would like help, here are my thoughts just going off what you already have (so your mainboard and sideboard).
First of all your land situation needs to be sorted out. You have an insanely high average cmc (4.74) so you're going to be looking at about 40 lands without the very pricy ramp cards. 30 lands is in the range that decks with an average of about 2cmc or lower run. Here's a quickly made list of your lands that I'd use:
You almost always want to prioritise lands that can come in untapped over ones that always enter tapped. This is because auto-tapped lands basically set you back a turn, so it's often better to just run a basic over something like Sheltered Thicket. The exception here goes to the Triomes because they offer three colours and more importantly can be picked up by your fetchlands.
As for the rest of your cards, here's what I recommend cutting:
And add in their places, assuming you're running 40 lands:
Hopefully that helps, and let me know if you have any questions! These are just suggestions after a brief runthrough of course, so feel free to take them or leave them!
4 days ago
Hey, for less than $150 you've done well with your version. You clearly know how to build a Commander deck with a low budget.
Cards that are $3 or less each to consider adding:
Scion of the Ur-Dragon is a very good Dragon as a repeatable Dragon tutor and it combos with Teneb, the Harvester + Bladewing the Risen to reanimate the Dragons you tutor for. Consider cutting some of the least good Dragons for a few creature tutors that can search for the better Dragons?
Temur Ascendancy does a lot for a three drop, haste for all creatures you control and repeatable draw when most Dragons ETB including Dragon tokens with 4 or more power. These land suggestions would add five more lands that can ETB untapped meaning they could replace five lands that always ETB tapped. Cascading Cataracts is helpful with Jodah/Fist letting you for five mana of any colors plus tapping Cataracts to cast any card.
Cards to consider cutting:
Vivid Crag
Vivid Creek
Vivid Grove
Vivid Marsh
Vivid Meadow
Even on a budget the Vivid lands are not good unless you have proliferate to put more counters on them and I don't recommend adding proliferate just for the Vivids.
Good luck with your deck.
6 days ago
Hey, good budget version of Muldrotha.
Mystic Remora, Kaya's Ghostform, Siren Stormtamer, Crop Rotation are one drops to consider adding. These cards provide good value for only one mana. Muldrotha enchanted by Ghostform makes it difficult for your opponents to remove since it doesn't even go back to Command Zone when it dies or exiled.
Exotic Orchard, Llanowar Wastes, Yavimaya Coast, Sunken Hollow, Tainted Wood, Ash Barrens, Simic Growth Chamber, Golgari Rot Farm, Dimir Aqueduct are budget land upgrades to consider.
---
Cards to consider cutting:
Dismal Backwater
Jungle Hollow
Jwar Isle Refuge
Thornwood Falls
Traveler's Amulet
Aligned Hedron Network
Levitation
Brawn
Good luck with your deck.
2 weeks ago
Hey, well done on a budget.
You've added several excellent Rainbow lands, but then there's subpar 5 Vivid lands as well as 3 Rupture Spire lands and 11 Tri lands. The current manabase is very slow with 20+ of 37 lands will always enter the battlefield (ETB) tapped. I understand you're on a budget; I too play budget Commander decks and you can do much better than 20+ lands ETB tapped even on a $300 budget. 11 Tri lands, Path of Ancestry and Grand Coliseum is more than enough lands that will always ETB tapped.
---
To speed up the manabase you could simply add more basic lands and some cards that have interaction with basic lands. Manabase changes to consider:
If you make this change then could also add 5 Battle lands: Cinder Glade, Canopy Vista, Sunken Hollow, Prairie Stream, Smoldering Marsh, cut 5 Tri lands. Battle lands are budget dual lands that have good interaction when you have more basic lands. The Battle lands will give Farseek a dual land to search for.
Cataracts is a helpful land to cast Ur-Dragon with basic lands or colorless mana sources because any combination of 5 mana along with tapping Cataracts makes all five colors of mana. For example Sol Ring + Thran Dynamo + Cataracts = five colors of mana. Cataracts is also good with Fist of Suns.
I offer more advice and I have other cards suggestions. Would you like more advice and suggestions? Good luck with your deck.
4 weeks ago
How's the mana base been? It seems like only having 11 blue sources for t1 might be a tad too low. And both Sunken Hollow and Prairie Stream needs 2 basics to be untapped, while Field of Ruin doesn't produce blue right away.
1 month ago
You should be running Elemental Bond and Garruk's Uprising you're almost always paying 3 or more into x so they're great. Vastwood Hydra might be a better creature than some of your choices. Curse of the Swine would be neat as creature removal. Capricopian is an amazing hydra that will bounce around your opponents getting bigger till they run out of mana. If you're not on a budget is suggest Doubling Season and Kalonian Hydra for obvious reasons. Then there's x card draw like Blue Sun's Zenith, Thassa's Intervention, Mind Spring, Pull from Tomorrow, or Stroke of Genius. Honestly I'd suggest any of the intervention cards, they're excellent. Think about replacing one of your non basics with Zagoth Triome and Opulent Palace and maybe Sunken Hollow
So as for cuts. Trophy Mage, Umbral Mantle, Basalt Monolith, Altar of Dementia, I'd suggest ditching some artifact rocks for some green land ramp like Farseek or Rampant Growth, and take out a few of your artifact rocks in general because you're in green and your ramp already is solid. Reclamation Sage, Elixir of Immortality, Vorel of the Hull Clade, Nimbus Swimmer. Now I would like to say that I'm not trying to hate on your deck, I quite like the concept, but I do think you need to hone in on your strategy, play an x card, make a hydra, draw into the next x card, cast that card, make another hydra. It's a great deck and I enjoy the way you built it, just trying to do as you said and help you cut some cards, and at the same time I wanted to point out a couple things you might've missed
1 month ago
Hey, you've done well overall with card selection on a current $300 budget. The good parts of your deck are the robust Dragon base and the nice selection of Planeswalkers. What can be improved is the manabase, more ramp/color fixing for five colors and more repeatable draw/tutors.
The manabase is slow with the Thriving lands and the Vivid lands which all ETB tapped. My advice is keep five Thriving lands, cut the Vivid lands and one Thriving land? Replace them with lands that have interaction with basic lands because there's 21 basic lands here. The five budget Battle lands can help the manabase since they have interaction with lots of basic lands to ETB untapped and Farseek can search for one of them.
Cascading Cataracts is a helpful land to cast Ur-Dragon and Crop Rotation can tutor for it. Rotation can be sac a basic land to tutor for any land and put it onto the battlefield. The five Triomes especially Forest ones would be upgrades for Thriving lands: Indatha Triome ($5), Ketria Triome ($6) and Zagoth Triome ($7). The prices of Triomes are displayed wrong here, they're all much less price. Land ramp that can interact with Triomes can really help with color fixing. Skyshroud Claim, Nature's Lore, Wood Elves can search for a Forest Triome and Farseek can search for any Triome.
8 additional mana sources that are 3 CMC or lower is a low amount for a 4.7 avg CMC deck with only 36 lands. Consider a few more sources of ramp/color fixing? The most important cards to want to cast in the early game is ramp or a repeatable draw source.
---
Some more budget tutors could replace some of the lesser Dragons. More low CMC tutors can get the better Dragons/other cards while also lowering the mana curve.
Low CMC repeatable draw sources when Dragons ETB are very good especially ones that trigger when a Dragon token is created. Ascendancy and Kiora are here, but consider more? The more of these enchantments you have the better chance you have of getting one onto the battlefield before you start casting Dragons.
Dragonlord Ojutai is a four drop Dragon thanks to the Ur-Dragon. It can potentially be repeatable Anticipate card advantage. The selection of what card you put into your hand is what makes it good on a budget.
Good luck with your deck.
Load more