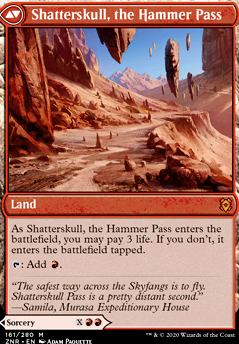 Back:
Shatterskull Smashing
Flip
Shatterskull, the Hammer Pass
Land
As Shatterskull, the Hammer Pass enters the battlefield, you may pay 3 life. If you don't, it enters the battlefield tapped.
: Gain .
Latest Decks as Commander
Shatterskull, the Hammer Pass Discussion
9 months ago
Hey, good start, but without an infinite combo you should forget about trying to get to power level 8 because 8+ level decks win with infinite combos. Without an infinite combo then power level 6-7 is the highest level you should go for. Not having black's powerful tutors or Fetch lands are other reasons the power level isn't higher. With DFC you only count the front side of the card in the decklist, the backside is not added. For example Shatterskull Smashing  Flip goes in the decklist, but Shatterskull, the Hammer Pass doesn't.
My advice is if you want to make a good Rakdos Toggo deck than build around Rocks. Take more advantage of Rocks to get more value out of them. Cranial Plating fueled by Rocks combos with Chandra's Ignition and Fling effects to kill your opponents with burn. Inspiring Statuary and Rocks can make a lot of ramp for Comet Storm or Exsanguinate.
Some other cards to consider adding:
Good luck with you deck.