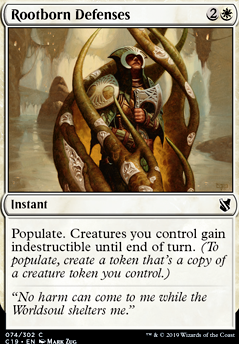 Rootborn Defenses
Instant
Populate. Creatures you control are indestructible this turn. (To populate, create a token that's a copy of a creature token you control.)
Browse Alters
Trade
Legality
| | |
| --- | --- |
| Format | Legality |
| Custom | Legal |
| Unformat | Legal |
| Canadian Highlander | Legal |
| Tiny Leaders | Legal |
| Limited | Legal |
| Modern | Legal |
| Casual | Legal |
| Duel Commander | Legal |
| Pauper | Legal |
| Highlander | Legal |
| Commander / EDH | Legal |
| Block Constructed | Legal |
| Leviathan | Legal |
| Pauper EDH | Legal |
| Vintage | Legal |
| 2019-10-04 | Legal |
| Pioneer | Legal |
| Oathbreaker | Legal |
| 1v1 Commander | Legal |
| Legacy | Legal |
Rootborn Defenses occurrence in decks from the last year
Rules Q&A
Latest Decks as Commander
Rootborn Defenses Discussion
1 week ago
some of these cards are control cards, put into an aggro deck. So they may be good in some situations, yes, but in a general circumstance they're more likely to be a hinderance than anything
Wrath of God is an okay boardwipe, but really you don't want to potentially devastate your board AND have to wait a turn to rebuild. Most of the time something cheaper will be better - Pyroclasm if you know you're going to face weenies or RDW or something of the like, or Blasphemous Act for just more general decks. Frankly, Blasphemous Act will potentially be worth a mere most of the time against Krenko or Thalisse even. Plus it hits them as well.
Idyllic Tutor finds you an enchantment, but what enchantment do you need? Again, you're playing an aggro deck so you shouldn't be taking your turn 2 or 3 to set up for later; you should be butting heads with anyone and everyone.
Torment of Hailfire is looking so shady here. It's a mid-lategame card that's meant to be used in tandem with heavy removal and attrition, and you're just chucking it in here as what? some sort of a finisher? Sure, it could be a finisher, but I think it needs to be somewhat built around / synergised with to actually be a viable pickup.
Replace
Yarok, the Desecrated
with
Panharmonicon
. cheaper and not colour-reliant. Harder to deal with than just a creature
Rootborn Defenses is to make your stuff indestructible. First off, there's cards that do the same thing for less, and there's even cards that do more for the same price - Make a Stand, Flawless Maneuver, Ready / Willing or even Heroic Intervention. Populate is going to be pretty inconsistent in this deck too, as there's only a small handful of token generators in the deck, so why not swap it out (or remove it, even) for something more efficient
Cinder Glade
is a tapland so you might as well replace it with
Sheltered Thicket
. I think, regardless, switching to
Sheltered Thicket
will be more beneficial - fetch and eot, on your turn it enters untapped, or it's in your hand and you treat it as you would treat a
Barren Moor
: cycle if you don't need it, or play if you do.
Jegantha, the Wellspring is 5 mana for a max of 3 mana per turn (estimate). With so few early ramp cards, how do you expect to consistently hit 5 mana on turn 5, 4, even 3? He may be neat, and help you ramp but you need to get him in play first. I just don't think he's worth in this deck. It's a 5-colour deck, but doesn't have a strong mana base. Also an aggro deck, so a 5 mana mana dork will kinda throw off your tempo anyway
Evolving Wilds, Fabled Passage, Terramorphic Expanse, Renegade Map, Burnished Hart, Solemn Simulacrum, Yavimaya Elder, Sakura-Tribe Elder all find little to nothing. Maybe if you add in some more basics, keep Fabled Passage and Solemn Simulacrum but not the others. The reason for these caards is to thin your deck, but thin them from basics, so if you have minimal basics to begin with you're not really consistently thinning (given that the chance of drawing all your basics is exceptionally higher than it would be with, say 10+ basic lands). Fabled Passage and Solemn Simulacrum give, for sure, the highest value so that's why I suggest to keep just them.
1 month ago
I've always used Rootborn Defenses Instant indestructible for your board, for 3 cmc, plus a populate trigger for those who use tokens?
1 month ago
Great start! There are a few categories of stuff I would add, I will start with budget options:
Ramp - Cultivate, Kodama's Reach, Farseek, Rampant Growth will fix your colors.
Removal - Reclamation Sage, Swords to Plowshares, Austere Command, Wrath of God, Wear / Tear, Sundering Growth
Card Draw - Guardian Project, Shamanic Revelation, Beast Whisperer. Lifecrafter's Bestiary
Lands - Cinder Glade, Canopy Vista
Win Conditions: Overwhelming Stampede, Chord of Calling to tutor out a win
Other good cards: Swiftfoot Boots, Lightning Greaves, Rootborn Defenses
Other good cards, but not as budge
Xenagos, God of Revels, Token Doublers Anointed Procession, Coat of Arms, Heroic Intervention,
Cards to Consider Cutting:
Veteran Warleader, Shanna, Sisay's Legacy, Gruul War Plow, Ajani, Inspiring Leader

That is all for now, but I can suggest more later.
2 months ago
I really like Angel themed decks, but the only problem is, most angels are just super expensive and looking at your deck list, there is just no ramp, except very few cards... Im just gonna type some cards, maybe you'll like some, most likely not all of them, just so you have some larger pool of cards to choose from. :)

Myriad Landscape/Burnished Hart is alright; Land Tax is just auto-include in most decks; Caged Sun is also good, but you need to ramp into it somehow; Sword of the Animist is ok, but you need to swing with a creature and there are no Haste enablers (not even Lightning Greaves.

First of all, I would cut exile board wipes, since it just hurts mono-white without ramp the most (Play of the Game and Perilous Vault). You could hold priority and cast Teferi's Protection, but.. dont really know about that... :D

Sunscour should have really good place in mono-white deck.
Endless Horizons - is something like budget of Land Tax, but can also help to thin your deck after you get enough mana on board.
Planar Bridge,Planar Portal,Thran Temporal Gateway,Belbe's Portal,Cryptic Gateway - to either search for anything or put big stuff directly on board. Urza's Incubator should be there to reduce mana cost of your big angels.
3 months ago
Since you're looking for feedback:
More lands 33 lands is not enough. On a quick count there's 6 other sources of "ramp" (counting the horn and the altar) which is also on the lower side.
I think 38 lands and 8+ ramp spells is pretty default for a deck with a normal curve. Since vamps are somewhat cheapish, you could cut some lands and maybe go down to 36, but 33 is just way off.
I don't necessarily advocate using deck templates (x lands, x removal, x wincons, x draw, etc), since every deck has different needs, but they're a good baseline and let's just say you need a damn good reason to diverge by so much (IMO, ofc). Good resources on this topic are easy to find. Command Zone and others have done a number of videos on the topic.
Cuts As for some cuts (which is always somehow harder than suggestions, so i'll leave that to others here):
I just noticed i basically mostly agree with most of the things Nightblad3 said but hope this helps
4 months ago
Looks good!
You might like these cards: Magewright's Stone, Thousand-Year Elixir, Awakening, Patron of the Orochi, Second Harvest, Parallel Evolution, Growing Ranks, Song of the Worldsoul, Rootborn Defenses, Wayfaring Temple, Shields of Velis Vel (turn all your dudes into eggs in response to a board wipe!), Volatile Claws, Cryptolith Rite, Axebane Guardian, Primal Vigor, Anointed Procession
Load more