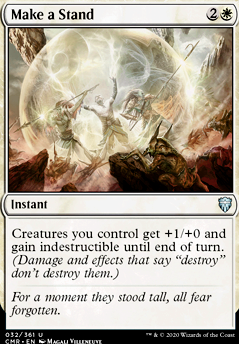 Make a Stand
Instant
Creatures you control get +1/+0 and become indestructible until end of turn. (Damage and effects that say "destroy" don't destroy them.)
Browse Alters
Legality
| | |
| --- | --- |
| Format | Legality |
| Vintage | Legal |
| Modern | Legal |
| 1v1 Commander | Legal |
| Block Constructed | Legal |
| Oathbreaker | Legal |
| Pioneer | Legal |
| Commander / EDH | Legal |
| Gladiator | Legal |
| Duel Commander | Legal |
| Legacy | Legal |
| Canadian Highlander | Legal |
| Historic | Legal |
| Casual | Legal |
| Highlander | Legal |
| Arena | Legal |
| Custom | Legal |
| 2019-10-04 | Legal |
| Tiny Leaders | Legal |
| Limited | Legal |
| Leviathan | Legal |
| Unformat | Legal |
Make a Stand occurrence in decks from the last year
Latest Decks as Commander
Make a Stand Discussion
2 months ago
some of these cards are control cards, put into an aggro deck. So they may be good in some situations, yes, but in a general circumstance they're more likely to be a hinderance than anything
Wrath of God is an okay boardwipe, but really you don't want to potentially devastate your board AND have to wait a turn to rebuild. Most of the time something cheaper will be better - Pyroclasm if you know you're going to face weenies or RDW or something of the like, or Blasphemous Act for just more general decks. Frankly, Blasphemous Act will potentially be worth a mere most of the time against Krenko or Thalisse even. Plus it hits them as well.
Idyllic Tutor finds you an enchantment, but what enchantment do you need? Again, you're playing an aggro deck so you shouldn't be taking your turn 2 or 3 to set up for later; you should be butting heads with anyone and everyone.
Torment of Hailfire is looking so shady here. It's a mid-lategame card that's meant to be used in tandem with heavy removal and attrition, and you're just chucking it in here as what? some sort of a finisher? Sure, it could be a finisher, but I think it needs to be somewhat built around / synergised with to actually be a viable pickup.
Replace
Yarok, the Desecrated
with
Panharmonicon
. cheaper and not colour-reliant. Harder to deal with than just a creature
Rootborn Defenses is to make your stuff indestructible. First off, there's cards that do the same thing for less, and there's even cards that do more for the same price - Make a Stand, Flawless Maneuver, Ready / Willing or even Heroic Intervention. Populate is going to be pretty inconsistent in this deck too, as there's only a small handful of token generators in the deck, so why not swap it out (or remove it, even) for something more efficient
Cinder Glade
is a tapland so you might as well replace it with
Sheltered Thicket
. I think, regardless, switching to
Sheltered Thicket
will be more beneficial - fetch and eot, on your turn it enters untapped, or it's in your hand and you treat it as you would treat a
Barren Moor
: cycle if you don't need it, or play if you do.
Jegantha, the Wellspring is 5 mana for a max of 3 mana per turn (estimate). With so few early ramp cards, how do you expect to consistently hit 5 mana on turn 5, 4, even 3? He may be neat, and help you ramp but you need to get him in play first. I just don't think he's worth in this deck. It's a 5-colour deck, but doesn't have a strong mana base. Also an aggro deck, so a 5 mana mana dork will kinda throw off your tempo anyway
Evolving Wilds, Fabled Passage, Terramorphic Expanse, Renegade Map, Burnished Hart, Solemn Simulacrum, Yavimaya Elder, Sakura-Tribe Elder all find little to nothing. Maybe if you add in some more basics, keep Fabled Passage and Solemn Simulacrum but not the others. The reason for these caards is to thin your deck, but thin them from basics, so if you have minimal basics to begin with you're not really consistently thinning (given that the chance of drawing all your basics is exceptionally higher than it would be with, say 10+ basic lands). Fabled Passage and Solemn Simulacrum give, for sure, the highest value so that's why I suggest to keep just them.
5 months ago
Hey, for less than $150 you've done well with your version. You clearly know how to build a Commander deck with a low budget.
Cards that are $3 or less each to consider adding:
Scion of the Ur-Dragon is a very good Dragon as a repeatable Dragon tutor and it combos with Teneb, the Harvester + Bladewing the Risen to reanimate the Dragons you tutor for. Consider cutting some of the least good Dragons for a few creature tutors that can search for the better Dragons?
Temur Ascendancy does a lot for a three drop, haste for all creatures you control and repeatable draw when most Dragons ETB including Dragon tokens with 4 or more power. These land suggestions would add five more lands that can ETB untapped meaning they could replace five lands that always ETB tapped. Cascading Cataracts is helpful with Jodah/Fist letting you for five mana of any colors plus tapping Cataracts to cast any card.
Cards to consider cutting:
Vivid Crag
Vivid Creek
Vivid Grove
Vivid Marsh
Vivid Meadow
Even on a budget the Vivid lands are not good unless you have proliferate to put more counters on them and I don't recommend adding proliferate just for the Vivids.
Good luck with your deck.
5 months ago
Some spells I think can just make the deck better are the following.
Finale of Glory You'll never use this for the X=10 part, but doing lets say X=4 will put 4 2/2s on the board which is 8 power total coming out of no where and they'll be ready to swing next turn.
Unbreakable Formation is amazing since it can protect you from a board wipe or be used as an offensive spell on your turn since it'll give your entire team a permanent +1/+1 bonus and leave them up to block after the swing. Make a Stand is similar, but much less effective. Faith's Reward and Eerie Interlude are great since they can dodge the scarier board wipes like Cyclonic Rift and Toxic Deluge
Decree of Justice is good for it's cycling ability. You'll draw a card for 3 mana and you can drain the rest of your mana into it to make that many soldier tokens.
Oketra's Monument is great since while not making soldiers it will give you cost reduction on your creatures and lets you have plenty of expendable bodies.
Marshal's Anthem is a card I use that is very underestimated. In the late game it will help you get some important creatures out of your graveyard and is a great anthem effect to boost your team.
Light from Within will give a good boost to all your non token creatures.
8 months ago
I really like Flickerform, Gift of Immortality, Ephemerate, and Conjurer's Closet with Tolsimir, Friend to Wolves. Great ways of protecting him and getting reuse out of his enter the battlefield (ETB) ability!
I also really like Sword of the Paruns. Tolsimir usually wants you to play lots of wolves so that you can use his ability. You can use Sword of the Paruns to boost your wolves on defense when they ETB and fight!
Suggestions:
I would recommend maybe replacing Gods Willing, Blessed Breath, Realms Uncharted, Unexpectedly Absent, Inspire Awe, & Stand Firm with Make a Stand, Unbreakable Formation, Rootborn Defenses, Brave the Elements, Swords to Plowshares, & Path to Exile
Seek the Horizon could be upgraded to Explosive Vegetation
Heraldic Banner fits the deck really well! Some other good cards in that vein would be Marshal's Anthem, Leonin Sun Standard, Adaptive Automaton, Spear of Heliod, or Vanquisher's Banner. You could replace Shriekhorn, Mindcrank, Conjurer's Bauble, Ghoulcaller's Bell, & Grindclock with the recommendations.
10 months ago
That is a very good question, what to cut. I don't want to micromanage anything but here are cards I feel are "weak" with what you have going (also, keep Dash Hopes if your play group hates it, it must be good ;))
Out (?): Conclave Tribunal
Dictate of Erebos (I know, it's an amazing card, but without creature support it isn't actually doing anything for you. This is a soft cut, it's always going to put a little work in just like Butcher of Malakir)
Maybe replace Prison Realm with One Thousand Lashes and/or Faith's Fetters
I LOVE Subversion but is it really putting in enough UMPH for 5 CMC? I really like Righteous Cause but that's just me. Hissing Miasma is pretty cool too, no life gain but it's cheaper and deters attacks.
Consecrate / Consume (hope formatting works here) is a 4 cmc kind of squanky force sacrifice of the most dangerous (most powerful) creature of an opponent. I don't like it. You have a huge removal suite and this seems like a good cut. You have Orzhov, you are the removal king and you can Murder or Return to Dust
Consecrate / Consume is too situational to be useful in your go-to 100
Revival / Revenge is sexy, keep it. But look at what cards actually make it mean something. Serra Avatar Evra, Halcyon Witness Sunbond etc. Play around with it, but in my experience, it is rare for doubling your life total to more impactful than gaining 3 instances of life gain. (but look at Wall of Reverence
Cut Dismember for more "UMPH" (kill conditions) Cut Make a Stand for more "UMPH" (kill conditions) Cut Nightmare's Thirst It is too situational for you. We can find better removal. Find room for more "UMPH" (kill conditions) Cut Rootborn Defenses we're going to add some creatures who love life gain after this section
OK, stick with me on this one: Liliana, Dreadhorde General draws cards for dead creatures, right? But... you don't have creatures (really) in your deck... Not saying cut her, but she would and will be happier in a sacrifice black deck (Maybe a Sheoldred, Whispering One deck, I think you could do it). If you need to make cuts I'm saying she isn't doing much for you here but letting you draw sometimes.
We're not abusing Athreos, God of Passage but he's too awesome to cut. If he isn't pulling his weight in this deck you can ship me the card, I'll give you my address. ;)
Mentioned Butcher of Malakir before: awesome card as deterrence but it shines when you have a lot of token to sacrifice for value. not an immediate cut, but if you include Sheoldred, Whispering One and Dictate of Erebos you might want want to add some sacrifice/recursion to capitalize. Making your sacrifices give you advantage and hurt your enemies is the coolest thing black can do.
Cut Piper of the Swarm replace with Vampire Cutthroat or Vampire Nighthawk or Call to the Feast or really anything. Piper isn't helping your mechanics. Replace with Sunscorch Regent because that guy beefs up fast and hard.
In (?)
Dusk is a great wipe and the dual nature of the card gives utility.
This is your call. I'd recommend Sunscorch Regent as a win-con.
Serra Avatar is great with life gain, especially if you add Rogue's Passage
Just look for ways to make that life gain work for you: Bloodbond Vampire Bloodthirsty Aerialist Ajani's Pridemate
Rebuff the Wicked is a fantastic counterspell, works with you control aspect. If it were me I'd add more card draw and Approach of the Second Sun and aim for that. Easier win con than Revel in Riches in my experience (have mardu deck based on treasure, removal and alternate win cons and Approach of the Second Sun is much easier and more reliable than Revel in Riches.
I don't know what else to say. You make your own Kambal deck. Just know you need some "UMPH" to take down your opponents beyond some life gain and drain. I love the build, but you need to 'seal the deal' as it were.
10 months ago
I know you're working with what you have, but a casual view of the deck doesn't seem to have much "umph". What is the life gain doing for you outside of keeping you alive? Commander damage makes pure life total a resource, so things like Vona, Butcher of Magan kick ass.
You have things like Dictate of Erebos and Conclave Tribunal which are awesome cards, but you have a very light creature presence (13 total) with no sac mechanic (for dictate) so it seems like an under-utilization of the cards. Who is going to help Conclave when you just have your commander out?
Same concept for Rootborn Defenses and Make a Stand Obviously great cards, but they provide a 1-turn protection for a mass of creatures you're not going to have. Long-lasting protection like Indestructibility or Swiftfoot Boots or Whispersilk Cloak will give you more staying power and force opponents to use their removal on your artifacts/enchantments rather than your combo pieces. Again, I know you're limited, but some instants are no match for something that requires another player to spend their hard earned mana and cards on your permanents.
I love, believe me, the mass life loss from opponents. I have two decks that do that same thing and they are damn near my favorites. But with commander people are going to be sniping your pieces way too often. Draining 4 damage per turn rules, but it needs to be backed up by some beef or a nasty combo. The Control helps, and again I get your constraints, but it seems like this deck will only sometimes work on late turns. Orzhov is my favorite combo and there is so much potential with Kambal, Consul of Allocation Are there cards that can get you benefit for his gain and drain? Sunbond isn't expensive and can do a little voltron or help protect a few creatures to make them big beaters with the constant little life gains.
You have Sheoldred, Whispering One, maybe do something jacked up basing things on tutoring her out and throwing things into your graveyard for benefit? She's a monster that cannot be ignored.
With white, and I haven't checked prices lately, the Soul Sisters (Soul's Attendant Soul Warden) are really great Orzhov adds for life gain.
Lone Rider  Flip is also a great budget add for you.
Well of Lost Dreams costs money, but with the theme of continuous life gain is an amazing addition for card draw. I guess I'm looking at the deck and not seeing what the win conditions are beyond "I gain life, they lose life" which is way cool but the rate seems too slow for the format. When commanders can cap you with 21 damage even if you have 200 life it means you need to Go for the Throat or make a real good wall for yourself (Teysa, Envoy of Ghosts?)
Essentially I see a ton of cool removal, a few pieces of life gain/drain and I find myself wondering "where's the teeth?" "How does Kambal say 'it is done'" Lots of life, for sure, but what do you do when a Zurgo Helmsmasher comes in with Rogue's Passage on turn 6? You know? I'm not talking cEDH ,just want to see the best Kambal there is because he rules. Your removal package is killer, great way to remove threats against you, but I feel like there comes a point where when you're just spending mana to take away what others spent mana on, you need an end-game. Overwhelming Splendor is a great way to capitalize on this "wait-them-out" removal strategy, but you can only cast it on one opponent, and what if it gets blasted? with more players, commander is full of win-con-killers so you need to make a deck able to adapt and twist with the removal, or be faster than removal can stop you. Approach of the Second Sun would be fantastic with the heal-and-stall aspect you have going
Load more