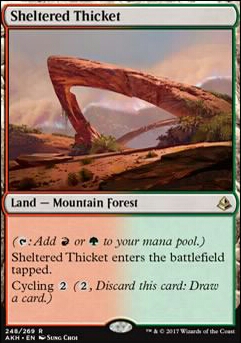 Sheltered Thicket
Land — Mountain Forest
(: Gain or .)
Sheltered Thicket enters the battlefield tapped.
Cycling (, Discard this card: Draw a card.)
Browse Alters
View at Gatherer
Trade
Legality
| | |
| --- | --- |
| Format | Legality |
| Custom | Legal |
| Highlander | Legal |
| Leviathan | Legal |
| Casual | Legal |
| 2019-10-04 | Legal |
| Block Constructed | Legal |
| Legacy | Legal |
| Modern | Legal |
| Commander / EDH | Legal |
| Unformat | Legal |
| 1v1 Commander | Legal |
| Tiny Leaders | Legal |
| Duel Commander | Legal |
| Historic | Legal |
| Canadian Highlander | Legal |
| Oathbreaker | Legal |
| Gladiator | Legal |
| Arena | Legal |
| Pioneer | Legal |
| Vintage | Legal |
| Limited | Legal |
Sheltered Thicket occurrence in decks from the last year
Latest Decks as Commander
Sheltered Thicket Discussion
1 week ago
some of these cards are control cards, put into an aggro deck. So they may be good in some situations, yes, but in a general circumstance they're more likely to be a hinderance than anything
Wrath of God is an okay boardwipe, but really you don't want to potentially devastate your board AND have to wait a turn to rebuild. Most of the time something cheaper will be better - Pyroclasm if you know you're going to face weenies or RDW or something of the like, or Blasphemous Act for just more general decks. Frankly, Blasphemous Act will potentially be worth a mere most of the time against Krenko or Thalisse even. Plus it hits them as well.
Idyllic Tutor finds you an enchantment, but what enchantment do you need? Again, you're playing an aggro deck so you shouldn't be taking your turn 2 or 3 to set up for later; you should be butting heads with anyone and everyone.
Torment of Hailfire is looking so shady here. It's a mid-lategame card that's meant to be used in tandem with heavy removal and attrition, and you're just chucking it in here as what? some sort of a finisher? Sure, it could be a finisher, but I think it needs to be somewhat built around / synergised with to actually be a viable pickup.
Replace
Yarok, the Desecrated
with
Panharmonicon
. cheaper and not colour-reliant. Harder to deal with than just a creature
Rootborn Defenses is to make your stuff indestructible. First off, there's cards that do the same thing for less, and there's even cards that do more for the same price - Make a Stand, Flawless Maneuver, Ready / Willing or even Heroic Intervention. Populate is going to be pretty inconsistent in this deck too, as there's only a small handful of token generators in the deck, so why not swap it out (or remove it, even) for something more efficient
Cinder Glade
is a tapland so you might as well replace it with
Sheltered Thicket
. I think, regardless, switching to
Sheltered Thicket
will be more beneficial - fetch and eot, on your turn it enters untapped, or it's in your hand and you treat it as you would treat a
Barren Moor
: cycle if you don't need it, or play if you do.
Jegantha, the Wellspring is 5 mana for a max of 3 mana per turn (estimate). With so few early ramp cards, how do you expect to consistently hit 5 mana on turn 5, 4, even 3? He may be neat, and help you ramp but you need to get him in play first. I just don't think he's worth in this deck. It's a 5-colour deck, but doesn't have a strong mana base. Also an aggro deck, so a 5 mana mana dork will kinda throw off your tempo anyway
Evolving Wilds, Fabled Passage, Terramorphic Expanse, Renegade Map, Burnished Hart, Solemn Simulacrum, Yavimaya Elder, Sakura-Tribe Elder all find little to nothing. Maybe if you add in some more basics, keep Fabled Passage and Solemn Simulacrum but not the others. The reason for these caards is to thin your deck, but thin them from basics, so if you have minimal basics to begin with you're not really consistently thinning (given that the chance of drawing all your basics is exceptionally higher than it would be with, say 10+ basic lands). Fabled Passage and Solemn Simulacrum give, for sure, the highest value so that's why I suggest to keep just them.
1 month ago
Might want to look into adding these cards for combat step potency. Berserkers' Onslaught, Aggravated Assault, Domri, Anarch of Bolas, Savage Ventmaw, Rampaging Baloths, Skarrgan Hellkite, End-Raze Forerunners, terrastodon, Kogla, the Titan Ape, Scourge of the Throne
And these cards for card-draw and mana ramp Beast Whisperer, Garruk's Uprising, Castle Garenbrig, Llanowar Elves, Temple of Abandon, Gruul Turf, Sheltered Thicket, Cragcrown Pathway  Flip, Return of the Wildspeaker, Elvish Mystic, Hunter's Insight, Ilysian Caryatid, Guardian Project, Bonders' Enclave, Nylea, Keen-Eyed,Lifecrafter's Bestiary
And the cuts I were thinking of could be Vivien, Champion of the Wilds, Spearbreaker Behemoth, Giant Adephage, Spidersilk Armor, Mistcutter Hydra, Shifting Ceratops, Sunder Shaman, Voracious Hydra, Rhonas's Monument, Blood Mist
This are just my first initial thoughts on the deck.
3 months ago
Since my last posts were not helpful, I tried doing some research to see if I could actually come up with something useful, and I did, albeit janky.
Firstly, Blazing Volley only targets the opponent and kills un-buffed spirits. So you may want to run several copies in the maindeck or sideboard.
Secondly, the most accessible spell in Pioneer for neutralizing flyers is Gruul Charm, so if you really think spirits are that problematic, you could run 3-4 of them on the sideboard, and maindeck some green mana, like Mana Confluence, Stomping Ground, Overgrown Tomb, etc. Maybe even some cycling lands like Sheltered Thicket. Janky, I know. But there aren't many options for Rakdos in Pioneer to deal with fliers.
3 months ago
I would add these: Spire Garden, Bountiful Promenade, Sea of Clouds and take out 3 of these: Irrigated Farmland, Scattered Groves, Sheltered Thicket, Krosan Verge. they are faster and better lands. they are only bad late game when 2 of your opponents are dead, but by that time, any land is bad, so, yeah, add them. Later this year, when Commander legends comes out, you can add Rejuvenating Springs and Spectator Seating and take out the last of these "come in tapped" lands (the one you decide to keep) and a basic forest. it will make your deck faster. other than this, the addition that "Commander Replay" suggested is very good. he suggested: Blasphemous Act, which is always useful, as well as Volcanic Offering. these are his suggestions and the cards he cut for them were Counterspell and Thirst for Knowledge. So these are the changes I would make. I love the deck by the way, and with these changes, I think it would be even better. So for now, add Rejuvenating Springs and Spectator Seating to the maybe board and add them later when the set comes out.
3 months ago
Assuming you still would like help, here are my thoughts just going off what you already have (so your mainboard and sideboard).
First of all your land situation needs to be sorted out. You have an insanely high average cmc (4.74) so you're going to be looking at about 40 lands without the very pricy ramp cards. 30 lands is in the range that decks with an average of about 2cmc or lower run. Here's a quickly made list of your lands that I'd use:
You almost always want to prioritise lands that can come in untapped over ones that always enter tapped. This is because auto-tapped lands basically set you back a turn, so it's often better to just run a basic over something like Sheltered Thicket. The exception here goes to the Triomes because they offer three colours and more importantly can be picked up by your fetchlands.
As for the rest of your cards, here's what I recommend cutting:
And add in their places, assuming you're running 40 lands:
Hopefully that helps, and let me know if you have any questions! These are just suggestions after a brief runthrough of course, so feel free to take them or leave them!
5 months ago
I also run a Xenagos deck! Lol, what are the chances! I will try to keep cards under $15 per your suggestion....
Enchantments....
Greater Good - BEST card you will ever add, if you listen to ANYTHING I say, this is it. Period.

Lurking Predators - With 1/3rd of your deck as creatures, this is like a sunbirds invocation that does something even if you pass the turn! Highly recomended!

Rancor - Nice to have, makes a 1/1 into a 6/4 trample with Xenagos. Providing trample cheaply and repeatedly is nice
Artifacts
The Great Henge - A bit over budget, but nice to have. Card draw, lifegain and ramp all in 1, usually for .

Gruul Signet - Nothing flashy, but another 2 mana ramp to help bring Xenagos out T3-4

Lifecrafter's Bestiary - Scry and card draw, not bad, definitely worth considering to help maintain gas
Sorcerries
Instants
Lands...Obviously none of these are needed, but they make the deck slightly better are relatively cheap. Worth the investment, IMO. You have lots of room in your landbase given you are playing green and already run an ok amount of ramp. Adding even more ramp will really make your utility lands shine.
Creatures
OVERALL: The deck is ok. I'm surprised how it has such a low CMC, but given your X spells. Once you replace those with 5+ CMC creatures, it will increase your AVG CMC to "normal". You want your AVG CMC to be around 4. Xenagos works as a sniper, you cast one big creature, give it haste and hope it doesnt eat removal. Given you spent all that mana on the creature, you don't do much else for the turn and then people usually swing at you because they are afraid of you casting another big creature out of nowhere.
As a result, having protection for them is crucial. In the form of heroic intervention, or another card out of budget such as Deflecting swat (which is SO powerful, counter counterspells, redirect targetted removal, targetted draw, targetted extra turns and more FOR FREE, so you can BLUFF INTERACTION). One more idea I'm thinking of is to replace Giant growth with Vines of Vastwood, similar function but provides protection as well. Also see Blossoming Defense for a similar function should removal/interaction is an issue in your meta as much as mine. Given you play against combo, they probably have interaction prior to them assembling their combo.
I got lots of ideas for cuts, so be sure to lmk what you think of each suggestion!
Load more