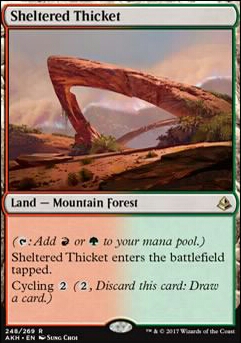 Sheltered Thicket
Land — Mountain Forest
(: Gain or .)
Sheltered Thicket enters the battlefield tapped.
Cycling (, Discard this card: Draw a card.)
Browse Alters
View at Gatherer
Trade
Legality
| | |
| --- | --- |
| Format | Legality |
| Historic | Legal |
| Unformat | Legal |
| Casual | Legal |
| Vintage | Legal |
| Limited | Legal |
| Duel Commander | Legal |
| Modern | Legal |
| 1v1 Commander | Legal |
| Canadian Highlander | Legal |
| Leviathan | Legal |
| Arena | Legal |
| Pioneer | Legal |
| Block Constructed | Legal |
| 2019-10-04 | Legal |
| Oathbreaker | Legal |
| Legacy | Legal |
| Commander / EDH | Legal |
| Highlander | Legal |
| Tiny Leaders | Legal |
Latest Decks as Commander
Sheltered Thicket Discussion
1 day ago
Assuming you still would like help, here are my thoughts just going off what you already have (so your mainboard and sideboard).
First of all your land situation needs to be sorted out. You have an insanely high average cmc (4.74) so you're going to be looking at about 40 lands without the very pricy ramp cards. 30 lands is in the range that decks with an average of about 2cmc or lower run. Here's a quickly made list of your lands that I'd use:
You almost always want to prioritise lands that can come in untapped over ones that always enter tapped. This is because auto-tapped lands basically set you back a turn, so it's often better to just run a basic over something like Sheltered Thicket. The exception here goes to the Triomes because they offer three colours and more importantly can be picked up by your fetchlands.
As for the rest of your cards, here's what I recommend cutting:
And add in their places, assuming you're running 40 lands:
Hopefully that helps, and let me know if you have any questions! These are just suggestions after a brief runthrough of course, so feel free to take them or leave them!
1 month ago
I also run a Xenagos deck! Lol, what are the chances! I will try to keep cards under $15 per your suggestion....
Enchantments....
Greater Good - BEST card you will ever add, if you listen to ANYTHING I say, this is it. Period.

Lurking Predators - With 1/3rd of your deck as creatures, this is like a sunbirds invocation that does something even if you pass the turn! Highly recomended!

Rancor - Nice to have, makes a 1/1 into a 6/4 trample with Xenagos. Providing trample cheaply and repeatedly is nice
Artifacts
The Great Henge - A bit over budget, but nice to have. Card draw, lifegain and ramp all in 1, usually for .

Gruul Signet - Nothing flashy, but another 2 mana ramp to help bring Xenagos out T3-4

Lifecrafter's Bestiary - Scry and card draw, not bad, definitely worth considering to help maintain gas
Sorcerries
Instants
Lands...Obviously none of these are needed, but they make the deck slightly better are relatively cheap. Worth the investment, IMO. You have lots of room in your landbase given you are playing green and already run an ok amount of ramp. Adding even more ramp will really make your utility lands shine.
Creatures
OVERALL: The deck is ok. I'm surprised how it has such a low CMC, but given your X spells. Once you replace those with 5+ CMC creatures, it will increase your AVG CMC to "normal". You want your AVG CMC to be around 4. Xenagos works as a sniper, you cast one big creature, give it haste and hope it doesnt eat removal. Given you spent all that mana on the creature, you don't do much else for the turn and then people usually swing at you because they are afraid of you casting another big creature out of nowhere.
As a result, having protection for them is crucial. In the form of heroic intervention, or another card out of budget such as Deflecting swat (which is SO powerful, counter counterspells, redirect targetted removal, targetted draw, targetted extra turns and more FOR FREE, so you can BLUFF INTERACTION). One more idea I'm thinking of is to replace Giant growth with Vines of Vastwood, similar function but provides protection as well. Also see Blossoming Defense for a similar function should removal/interaction is an issue in your meta as much as mine. Given you play against combo, they probably have interaction prior to them assembling their combo.
I got lots of ideas for cuts, so be sure to lmk what you think of each suggestion!
2 months ago
Hey, welcome to TappedOut. Good budget version and start for your first Commander deck.
On a budget consider expanding on Elves to make repeatable mana to activate Radha? You have Priest of Titania already which is great there's also Elvish Archdruid and Marwyn, the Nurturer. Grand Warlord Radha and Radha, Heir to Keld can make mana when they attack and Grand Warlord makes mana equal the the number of creatures who are attacking. The mana that they make when they and other creatures attack can be used in combat to activate Heart of Keld. In Magic you're allowed to control multiple Radha's with different names on the battlefield at the same time. The legendary rule only applies when you control two legendary cards with the same name on the battlefield.
Mina and Denn, Wildborn has good interaction with Rahda since it lets you play more than one land a turn from the top of your library or hand. It can also give Radha trample by bouncing a land you control. Wood Elves, Farhaven Elf and Springbloom Druid land ramp for a basic land which puts another land onto the battlefield for Radha's pump. Wood Elves can search for a Forest or a Forest dual land such as Cinder Glade or Sheltered Thicket. Being able to ramp with a dual land is very helpful.
Ezuri, Renegade Leader can be repeatable protection for Radha/other Elves with regeneration and it can be another mana sink to give Radha as well as all other Elves you control pump and trample. Beast Whisperer can be repeatable draw when you cast a creature.
Other Elves to consider adding:
Quartzwood Crasher is very good with one of the best cards in your deck Garruk's Uprising for trample and repeatable draw. Uprising gives all your creatures including Radha trample and with Crasher when those creatures do combat damage you create a Dino token that has power/toughness equal to the amount of damage those creatures did. These Dino tokens can be huge.
I offer more help. Would you like more help?
Good luck with your deck.
2 months ago
Ah, lands. An archetype with which I consider myself quite adroit. I play a Naya version, but Gruul bears the majority of the value.
If you opt for a strategy more anent utility lands, there is a multitude of options that become available.
Inkmoth Nexus can combo superbly well withal Kessig Wolf Run, oft murdering someone on the spot.
Of course, Dark Depths and Thespian's Stage is just another threat for the opponents to answer.
Glacial Chasm has saved me more times than I would care to admit, and Drownyard Temple is fun with sacrifce effects.
Sheltered Thicket is probably just better than an Evolving Wilds.
Sylvan Safekeeper is a little too perfect here. Defend the commander, aggressively costed, and perfidious for the opponents to remove.
I have a lands deck myself, bearing Vital Force and Vivien Reid as splendidly potent engines.
Nissa, Vastwood Seer  Flip is a card that literally never feels bad. It's great at all points of the match.
For assembling your land base, Realms Uncharted carries its weight, Hour of Promise is fantastic evermore, Crop Rotation can be a surprise, Elvish Reclaimer is as powerful as it reads, and Expedition Map is cheap and efficient. Sylvan Scrying is also fine.
Given enow utility lands, Field of the Dead becomes one of the very best cards. You could try snow basics for additional names to support it. This also opens Into the North as a possible ramp spell.
'Tis a little selcouth, but I enjoy Throes of Chaos for decks with many lands, as it makes dead draws less possible.
Cantrips make every deck work! Once Upon a Time is banned and broken, Winding Way grants a refill, and Life from the Loam with a cycling land is an engine by itself, and one quite difficult for anyone to intercede upon. Explore is also effective.
One more interactive spell would be nice. Beast Within does the job.
World Shaper has proven itself with High Market for additional control.
There are some things I'd recommend you ablate:
Try fewer lands and more large threats. You have an ungodly amount of ramp yet the only thing reqiring much mana is Radha's second ability. Try some eldrazi, Apex Altisaur does work, Borborygmos Enraged is on theme and always sweet, and fun times is the scariest card on any table, no matter what. Ignore that Teferi. Radha is huge!
Insurrection is oft dispraised, but it ends games a lot of the time. In fact, it has bean so thoroughly unloved by the community as of late that no one expects it. Nice!
The combat package is nice, but it falls apart very quickly to a removal spell. Though, Raking Claws could be fun. :)
In summation, add more angles of attack than voltron, some more card draw would be great, have better ways to spend your mana, and just stick the cheaper ramp. Four mana or less is ideal.
Oh, add some wraths. Blasphemous Act and Ezuri's Predation are each solid. Put them in and don't look back.
Good luck and happy cartography!
2 months ago
Sorry for the delay again everyone. The combo of school and work these past couple weeks has kept me pretty busy. I decided I'm going to just get the update down now! Ill get back to life in a bit haha.
Zilkios: I am going to have to mess with some stuff in order to make it work again. I guess the spoiler button is no longer a thing. There are a ton of Primer that are broken on the site I guess. Are the Tappedout creatures still keeping things up and running?
Elvish Reclaimer Is a fine card, it is just really slow. 3x the mana plus summoning sick is not great, even though you can tutor it. Running both is definitely an option if you have room.
Like Rasarusaid, Perilous Forays is a great sack-outlet in this deck because it also keep providing you token with landfall. If you happen to have Lotus Cobra or Amulet of Vigor in play you normally just win the game because you get all your basics out of the deck and deal all the damage. Better is a Warstorm Surge effect is in play of course.
Talking about Surge, if you have one of those in play you start really taking over the game, if you get luck enough to play a second one, gg. Now that we have one that can be tutors into play AND cost less to cast, life is good. I would not consider taking one of the three out, it is just to powerful.
Out utility lands might not always come to hand, but that can be said for any utility land in any deck. I would rather take them out for a basic (or Sheltered Thicket) then switch them out for different utility lands. Although Hour of Promise is cool, it is just not worth the commitment. I have drawn that card in many opening hands and have been very frustrated. However, if you want to play it, go for it!
DivineDragoon999: Garruk's Uprising will be added shortly! :D
SynergyBuild: Might be worth a consider, and could honestly go in any deck, the problem is out landbase is pretty delicate here. Basics are very important due to all the basic ramp we do, so adding more utility isn't really worth it.
Rasaru: I have thought about this for a while, but it might be worth making a list of cards worth considering. There are definitely games where I hope to get non-creature removal to deal with a Winter Orb, but then I realize I can just kill the player who owns it an move on with the game. I have opted to play more aggressively with my build, so removal is pretty scarce. In fact, I have won more games by blowing up my own board with Blasphemous Act then I've used it to wipe the opponent's boards.
All this being said, creatures rarely last long one the board if Om_rath doesn't want them there. He is a removal machine, but the trick with this deck is decided it is just better to kill a player over removing some targets. Also, it is fairly easy to cast our commander 4+ times in a game, so although protection is great, it is not needed as much as you might think.
2 months ago
My thoughts are that the best improvements could be made to the landbase. Command Tower, Path of Ancestry, Jungle Shrine, Field of Ruin, Krosan Verge, Scavenger Grounds, Rogue's Passage... Sure, the last three are colorless, but you can usually afford a few colorless utility lands in a 3 color deck. I'd also recommend Cinder Glade, Canopy Vista, Sheltered Thicket, and Scattered Groves, as they can be searched up by the verge and count as their respective basic types for your checklands and showlands. Also makes Skyshroud Claim worth considering, which would be a great addition to your ramp package! I'd dump the guildgates, untyped tapped lands, and the bouncelands for them, but the bouncelands might be worth keeping if your group doesn't play much land destruction, in which case I'd dump the lifelands.
Migration Path is a strict upgrade to Explosive Vegetation, and Rampant Growth is a strict upgrade to Thunderherd Migration since it always costs 2. Less flavorful, but more efficient.
Lastly, Sol Ring, it's the most powerful ramp in the format, definitely worth considering.
Load more