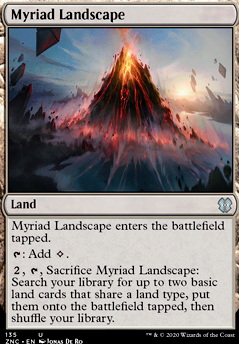 Myriad Landscape
Land
Myriad Landscape enters the battlefield tapped.
: Gain .
, , Sacrifice Myriad Landscape: Search your library for up to two basic land cards that share a land type, put them onto the battlefield tapped, then shuffle your library.
Browse Alters
View at Gatherer
Trade
Legality
| | |
| --- | --- |
| Format | Legality |
| Duel Commander | Legal |
| Oathbreaker | Legal |
| Commander / EDH | Legal |
| Custom | Legal |
| Legacy | Legal |
| Casual | Legal |
| Canadian Highlander | Legal |
| 2019-10-04 | Legal |
| Vintage | Legal |
| Limited | Legal |
| Highlander | Legal |
| Leviathan | Legal |
| 1v1 Commander | Legal |
| Tiny Leaders | Legal |
Latest Decks as Commander
Myriad Landscape Discussion
6 days ago
You described almost every Xenagos deck, mine included. You hit it right on the head.
As you said, we either have it or we don't. With no way to tutor card draw, adding more helps increase the odds of maintaining gas
Lifeblood Hydra - Not necessary but always welcome on X = 3 or more. Even if they destroy it, you still get value, has built in evasion and has a high ceiling.
Life's Legacy - If blue is too prevalent in your meta, ignore this suggestion
Momentous Fall - Similar to above, but would still put in despite blue, and despite the fact that its hard to have 4 mana after casting a beater. But similar to rishkar's expertise, I argue the potential card draw is worth the risk. You usually use this in response to opponent's removal
Bonders' Enclave - Never hurts, coudl replace a fetch land possibly
Elder Gargaroth - Makes beasts for blockers/draw spells, draws cards and gains life in a pinch.
Harmonize - Reliable draw
Be sure to lmk what you think of each suggestion. Some will work better for you than others. I see you run some dorks so I know you don't want too many nonbasics, but with all the ramp in Xenagos, I think we can be a little greedy. If you can't find room, I have ideas for cuts.
1 week ago
Cards under $2 TCG Low according to tappedout....
Greater Good - Only card I think over $2, but the BEST CARD IN XENAGOS EVER. ADD THIS 100%, tcg player that shit.
1 week ago
Profet93 Thanks for the recommendations!
I used to run Yavimaya Hollow, but ended up cutting it a while back. This is just me as a player, but I can't resist playing aggressively and dumping my mana on my turn (unless I have a guaranteed reactive play like Nature's Claim or Krosan Grip), and it's for that reason Yavimaya Hollow rarely ever performed for me. The same applies for why I play Memory Jar over Mind's Eye, I'm too addicted to explosive turns.
Blighted Woodland has been on my watch list, I might give that a go over Crystal Vein. I'm sure I could find a spot for Myriad Landscape too.
Scute Swarm is absolutely, positively, pants-on-head ridiculous. It works like so: When a land enters the battlefield under your control, put a 1/1 insect creature token onto the battlefield. However, if at that time you control six or more lands, instead create a token copy of Scute Swarm (which has Scute Swarm's ability, and will be able to create copies of itself). IE - Scute Swarm is on the battlefield, you play your 6th land (it's Fabled Passage), you now have two total Scute Swarms on the field. You crack Fabled Passage and get a Forest, which triggers both of your Scute Swarms, and you now have four total Scute Swarms. You play Ramunap Excavator and proceed to play / crack Fabled passage two more times, meaning your total number of Scute Swarms will go from 4 to 8 to 16 to 32 to 64. Here's the scryfall link, which has a good explanation of the rules text: Scryfall
Ancient Greenwarden looks like a boss, I'm just not sure what to cut for him yet.
Titania, Protector of Argoth was cut long ago before I had all the fetches (and prior to Prismatic Vista and Fabled Passage), so perhaps it's time to give her another shot. Spots are a little tight in this deck though, and currently, I'm looking for more cheap draw.
Suuuuuuuuuper smart call on the Snow-Covered Forests, I should do that immediately.
I haven't ran into the Bane / Concordant issue yet, though I'm sure it'll feel bad when I do. G-wave isn't often something I use as a win con, rather, more of a value piece. With the number of tutors I'm running, Craterhoof Behemoth is my win 90% of the time.
1 week ago
Yavimaya Hollow - Protection
Myriad Landscape/Blighted Woodland - Ramp, nice synergy with crucible effects. Speaking of have you considered...
Ancient Greenwarden - Extra redundancy of ramunap/crucible which triggers field of the dead, Scute Swarm, Tireless Tracker, rampaging baloths and avenger of zendikar.
Scute Swarm - Can you explain how this works exactly? I've been considering to add it in my build but I never quite understood how this worked....
I've seen lots of Azusa lists run Memory Jar, I personally use Mind's eye. Curious how the jar is working for you, I feel in my meta, I would dump my hand, play jar and then they would remove it.
I see Titania, Protector of Argoth in the mayeboard- What was your thought process on excluding it? Its not an allstar but it can pull its weight synergizing with 10% of your deck, providing recursion for field/cradle when they are smart enough to inevitably destroy it.
Why not replace half your forests with snow-covered to more easily trigger field of the dead?
How does G-waving your deck onto the field work, as bane destroys your haste outlet. I'm sure you can win other ways such as E-wit back the outlet and cast it but I took out Bane in my deck for that reason.
2 weeks ago
Given you are mono red, you need a way to draw cards
Hedron Archive - Ramp when you need it, draw when you don't
Humble Defector - Nice to have but not necessary, politics and card draw. Nice with homeward path should you wish
Ignite the Future - "Draw" and flashback is very powerful
Light Up the Stage - Similar to above, easy to cast with all your burn. Although truth be told, you should really cut down on burn and focus on strengthening your weaknesses rather than incorporating burn with no particular strategy
Mind's Eye - Expensive, not necessary but nice with wheels
Outpost Siege - A little slow similar to above, but often gives you many cards as people don't want to waste removal on it.
Skullclamp - Draw
Solemn Simulacrum - Draw and ramp
Be sure to let me know what you think of each suggestion. There are more tribal cards to consider but since I don't play tribal, they are not on the top of my head. Once we go through these, we can consider other tribal cards as well. Your biggest issues are lack of ramp and card draw. For a dragon deck, it's not bad.
Load more