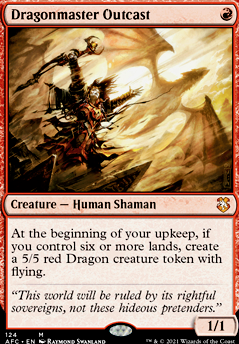 Dragonmaster Outcast
Creature — Human Shaman
At the beginning of your upkeep, if you control six or more lands, create a 5/5 red Dragon creature token with flying onto the battlefield.
Latest Decks as Commander
Dragonmaster Outcast Discussion
1 week ago
Hey! Kinda late, but I would like to suggest some stuff:
(Disclaimer: I have a budget way lower than yours, but I've been tinkering with Ghired for almost two years - he's my favorite commander. I'll break the suggested upgrades down into categories for better organization.)
Haste enablers:
Ramp: Run at least 15 ramp cards to make your deck flow smoother and faster.
As an aggressive deck, speed is fundamental. Fellwar Stone, Nature's Lore, Three Visits, Skyshroud Elf, Bloom Tender, Faeburrow Elder, Chromatic Lantern, Coalition Relic, Wood Elves, Skyshroud Claim and Mirari's Wake can ramp and heavily fix your mana, taking the place of Gyre Sage, Solemn Simulacrum, Rampant Growth, Sakura-Tribe Elder and Xenagos, the Reveler - the latter is a win-more ramp, and his 2/2 token is not large enough to synergize with the power-based card draw, while the other four fix for a single color of mana (Ghired decks can sometimes be color-hungry), and this deck can't abuse the sad robot for value.

In the land department, Krosan Verge and Blighted Woodland pull their weight, and synergize greatly with Avenger of Zendikar and Rampaging Baloths. Maybe remove Cascading Cataracts? (Your spells are not THAT color hungry.)
Direct damage:
Extra combats: You don't have to worry about your opponents' answers if they never get to their turn, so...
Boardwipes:
Card draw: Alongside ramp, it is my main concern with Ghired. I want to be able to rebuild my board after a boardwipe.
Some cards I suggest you to remove:
Some cool lands for you to try out: (landbase is my favorite part of deckbuilding)
I hope I've been of some help to you. I didn't suggest many token-related cards because I believe that, as long as you have decent ramp, draw and removal in your deck, you can win to your heart's content. Wanna throw in a Godsire? Do it. Prefer to clone your opponents' creatures with Hate Mirage? Go ahead. But the fundamentals of the deck is what makes it flow consistently. Have fun and smash 'em all (and run Doubling Season for extra fun) ;-)
1 month ago
First off, sweet Hulk alter on the Omnath. Love Gruul Landfall, I have a pretty nice 60 card format that I enjoy running, which makes good use of Fires of Yavimaya for Omnath and Dragonmaster Outcast tokens by giving them Haste. +1
4 months ago
Hey, well done with your budget upgrade of Ghired precon, nice Purphoros.
Quartzwood Crasher is a very good budget creature with Ghired since it can create huge Dino tokens who have trample and Rhinos have trample. Pair Quartzwood and creating Rhinos with Garruk's Uprising for repeatable draw and giving all creatures you control trample.
Dragonmaster Outcast can create a 5/5 Dragon at your upkeep if you control at least six lands which is not difficult to do when playing green with land ramp. Court of Grace at your upkeep can create a 4/4 Angel if you have the monarch or a 1/1 Spirit if you don't. Having the monarch is also repeatable draw at your end step and only one player can be the monarch at one time.
---
Loyal Apprentice and Loyal Unicorn are budget creatures who care about when you control Ghired. You want to attack with Ghired since then you get his populate trigger, but sometimes you can't attack because it's not safe since Ghired will not survive the attack. Unicorn lets Ghired safely attack because he will not take damage in combat. Creatures you control also gain vigilance which is helpful for defense.
When you control Ghired Apprentice creates a 1/1 flying Thopter with haste at combat before you attack. Enchant a 1/1 flying Thopter with Breath of Fury for a combo of infinite attacks or infinite damage to opponents with Purphoros. As long as the Thopter does combat damage to an opponent then you sac it and attach Breath to the newly created 1/1 Thopter and repeat. Breath can also be used with Ghired by enchanting a Rhino, but you would first need a haste enabler for creature tokens such as Fires of Yavimaya. Then as long as Ghired can safely keep attacking and the Rhino can attack/do combat damage to an opponent you get infinite attacks.
Tyrite Sanctum is a nice support land since for two mana it can repeatedly make Ghired bigger with a +1/+1 counter then sac it to give Ghired indestructible to protect him in combat and from most board wipes as well as from most other opponent removal.
---
Some changes to consider:
I offer more advice. Good luck with your deck.
5 months ago
Hey, welcome to TappedOut and Commander. Nice collection of cards for your first deck, but you've kind of just added cards to add them to make a deck not because they belong with Dragons.
Some advice is to consider getting the new Draconic Rage Commander precon? It's a preconstructed 100 card Commander deck that's focused on a Dragon theme. In the precon are several cards that would be upgrades for your deck.
---
More advice is consider doing some research at EDHRec Top Cards in Commander? These cards are the most played cards in Commander, called staples and most are budget. EDHRec is a great site to see examples of deck building for Commander. Several of these cards are in the Draconic Rage precon.
You can also look at the budget cards that most people playing five color Dragons use EDHRec Dragons.
The main reason that most of these cards are the most played is because they provide high synergy, effects for Dragons, Dragon tribal effects. Atarka, World Render gives itself and all other attacking Dragons you control double strike which makes each Dragon do more combat damage either to the opponent blockers or to the opponent who they attacked. Crux of Fate can destroy all nonDragon creatures leaving just you with an army of Dragons to attack your opponents unblocked and not have to worry as much about the opponents attacking you after.
Another reason most of these cards are most played is because they have more than one effect such as Dragon's Hoard. It can be ramp, making any one color, as well as repeatable draw making this one card a source of ramp and a source of draw. Temur Ascendancy is a haste enabler letting Dragons attack the same turn they ETB and it's also a repeatable draw source each time any 4 or more power creature you control ETB including creature tokens.
---
What EDHRec lacks is casual deck building structure advice, basic guidelines to follow to structure a casual Commander deck. Good ratios for a starting basic structure:
When you have a basic structure in place then you can of course add other cards that do other things. When playing five colors ramp is important because ramp also provides mana color fixing from getting lands that can make different colors of mana (Farseek) or from mana rocks (Arcane Signet)/mana dorks (Faeburrow Elder) that can make different colors of mana. Ramp is also just as important when your Commander, in this case Tiamat, has a high converted mana cost (CMC). Tiamat is 7 CMC which ramp can help to cast him and then that same ramp can help to cast other Dragons.
Good luck with your deck.
6 months ago
Hey DadHumanPraetor, iammute, and conthogib987. Thanks for all your suggestions, some of them are great. Also, sorry for such slow replies, it's been a while since I logged in to tapped out but I'm doing a few deck tweaks so now is the time to respond!
Some of the cards you guys suggested are actually already in the deck (e.g. Herald's Horn ) so I won't comment on those ones specifically. Some of the others are ones I've actually already tried in the deck previously but they ended up being cut. A prime example of that would be Flameshadow Conjuring - 4 CMC for the enchantment isn't bad, but overall the deck runs so lean on mana (being mono red) that it was oftentimes really difficult to find the extra 1 mana to make a token when I spend mana casting a dragon. Clearly this is sometimes a great card, but in playtesting with my local group it never worked as well as I had hoped.
I am definitely going to address the balance of card draw vs card advantage because this is becoming more and more important. I think things like Endless Atlas are great here so that's a definite for the maybeboard. I also take your point about things like Thrill of Possibility . Some of the cards in this current version are sub-optimal because I run 15 different EDH decks and occasionally I run out of staples and don't want to spend money on more copies! This is something to be addressed though.
Looking at the Magmaquake / Earthquake vs the other suggestions, I actually disagree here. Those two are mana intensive for sure, but they're also often very one-sided as pretty much all my creatures fly. Sarkhan's Unsealing is good for sweeping lots of small tokens or something, but oftentimes you need to beat something larger that 4 toughness.
Card suggestions I really like and will see what I can do to fit in though include Dragonmaster Outcast and Archwing Dragon .
Stay tuned for a bit of a deck tweak here!
8 months ago
This might be sacrilegious, but I never cared much for planeswalkers, even though some are very powerful. So Sarkan definitely makes me roll my eyes.
Dragonmaster Outcast is better than Sarkhan, the Dragonspeaker as well imo.
TriusMalarky I do dig your strategy and can't argue with your ranking. If I had to guess, I'd say that Hypersonic Dragon 's ability is really for decks that rely on the "overload" mechanic to play something like Mizzium Mortars at instant speed. It definitely is not designed to compliment a dragon themed deck despite the sweet card art.
Maybe in an "overload" focused deck Hypersonic could see some play, but you would need an arcane knowledge of sorceries which I lack.
Load more