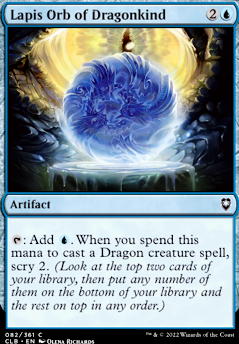 Legality
1 month ago
You're describing a nice playtest. I like your take on Miirym. Upvote!
May i suggest some (maybe) interesting cards? You're already using the Dragon Orbs... Orb of Dragonkind is a 2cmc colourfixing rock which can also dig into your library. Monster Manual can cheat your dragon into play. Sure, more cmc than Sneak Attack but your beasty-boys do not have to be sacrificed in the end. The Great Henge would cost or even just most of the time and grants enormous value. More on the flavour side is Korlessa, Scale Singer which is pseudo card advantage. Herald's Horn reduces your dragons cost and can provide card advantage (works pretty well with Lapis Orb of Dragonkind). Rishkar's Expertise is a powerhouse draw and could cast 17 creatures or almost all your artifacts/enchantments.
And finally, i like Wrathful Red Dragon as a protection piece. In addition it's a surprise "i-win" with Blasphemous Act and/or Chain Reaction
I did a take on Miirym by myself and i hope you don't mind me linking it in here to hear your opinion on it.
---

Commander / EDH* Housegheist
SCORE: 10 | 10 COMMENTS | 583 VIEWS | IN 1 FOLDER
---
2 months ago
Something worth mention too add for Gruul
Also, don't know if you'll add cards for certain tribal restricted ramp?
Like, for example Dragons: