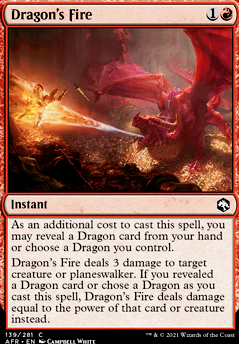 Dragon's Fire
Instant
As an additional cost to cast this spell, you may reveal a Dragon card from your hand or choose a Dragon you control.
This deals 3 damage to target creature or planeswalker. If you revealed a Dragon card or chose a Dragon as you cast this spell, this deals damage equal to the power of that card or creature you revealed instead.
Latest Decks as Commander
Dragon's Fire Discussion
3 weeks ago
This deck is really cool! I love any good dragon deck and this is definitely one of them. Looking at the list I see that you have a Tarkir, but I do notice you have Draconic Roar, which is cool because you can bolt a creature and then throw some dmg at opponent's face. Just a suggestion but Dragon's Fire is very similar in answering creature (and planeswalker) threats. I know it doesn't allow for dmg straight to the opponent but you don't seem to have any other non dragon removal that hits big targets.
2 months ago
Hey, well done for being new and knowing that you can still learn and improve your deck building.
Some cards within your budget to consider adding:
You have Old Gnawbone, Hellkite Charger is a combo with Gnawbone for infinite attacks as long as Charger can keep attacking you can keep paying seven mana with treasures to have another combat step. This combo uses Dragons as the win condition by attacking with Tiamat being a source of lethal Commander damage. Savage Ventmaw can make six mana when it attacks that can be used to pay for Charger, needing only one mana to have another attack which can result in having a lot of extra attacks on your turn each turn equal to the amount of untapped mana you have. Crux of Fate can wreck since it can destroy all nonDragon creatures your opponents control leaving only your Dragons alive to attack.
Temur Ascendancy does two things that are really good for Dragons, it's a haste enabler and repeatable draw whenever a Dragon ETB. Faeburrow Elder can tap for two mana, green and white, but if you control other colored permanents then it can tap for even more mana, up to tapping for five mana, one of each color. Fellwar Stone is another two drop rainbow mana rock.
Boros Charm at instant speed can protect all permanents you control from most removal including all your lands. Swords to Plowshares and Counterspell are staple single effect instant removal options. Blasphemous Act is really good in multiplayer Commander as a fail-safe/reset the battlefield of creatures and it's mana cost consistently can be reduced to only one red mana.
Patriarch's Bidding is among the most powerful reanimation effects for tribal, for five mana it reanimates all Dragons that are in your graveyard.
---
Some cards to consider cutting:
Temple of the False God is not a good land. My advice is cut it from all your decks, since you can't tap it for mana until you control five or more lands. If you have it in your opening hand then that hand is a mulligan and any land that does this shouldn't be used. Orb of Dragonkind can't tap to make mana to cast any nonDragon card or pay for anything else, there's better ramp options.
You're not going to be casting enough instant or sorceries in a turn to reduce the mana cost of Demilich much. Quad blue or triple blue mana cost is too difficult to make with this manabase without controlling Chromatic Lantern or The World Tree with five other lands. Velomachus Lorehold cares about cheating the mana cost of powerful 5 CMC or less instants and sorceries which you don't really have here or do you need to include since Dragons are the high CMC cards you want to cast. Casting a Crux of Fate for free would be nice, but even so I don't there's enough worth while instants or sorceries to make Velomachus worth playing.
Good luck with your deck.
2 months ago
Atarka can make a pretty mean combat damage deck. It's not the best at interaction, but player removal counts as removal, too. I notice you're not running much green interaction, so I would suggest adding Nature's Claim and Return to Nature. They're nice and cheap.
Some upgrades could be Untamed Wilds and Spoils of Victory for Kodama's Reach and Cultivate. There's also Skyshroud Claim and Beanstalk Giant. Having lands that can ramp is really nice too, so I'd consider swapping some basics for Myriad Landscape and Blighted Woodland.
Bower Passage gives basically all your dragons unblockable (it's some really nice tech for dragon decks). This ca
Savage Ventmaw is an excellent dragon in my opinion. Helps a lot with the mana. If you have a Klauth, Unrivaled Ancient or Old Gnawbone that would be better. But the uncommon is good on a budget. Any one of these goes very well with Aggravated Assault or Hellkite Charger.
Now for the expensive suggestions. Xenagos, God of Revels lets you one-shot people with your commander while also giving haste. I know you may not want to be one of THOSE people, but if you put Grafted Exoskeleton on your commander, it also lets you one-shot people. Balefire Dragon and Hellkite Tyrant are excellent for completely wiping out opponents. Steel Hellkite is a budget alternative to those. The Great Henge is powerful in this deck by giving you draw, extra power, mana, and being a low cost once you have a dragon out. Utvara Hellkite is an army in a can. Gets ridiculous fast.
Some cards I would consider cutting are definitely the burn spells. Magma Jet, Lightning Bolt, Volcanic Fallout, Dragon's Fire, Banefire, and Atarka's Command may be good in other formats, but they fall short in commander. They aren't very good interaction because you'll often not be able to deal with the biggest threats on the board. Better cards for interaction would probably be Ryusei, the Falling Star, Rolling Earthquake, and Scourge of Valkas.