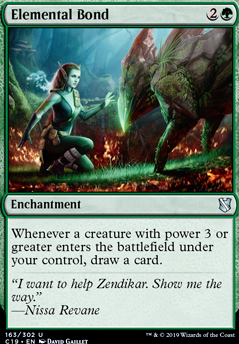 Elemental Bond
Enchantment
Whenever a creature with power 3 or greater enters the battlefield under your control, draw a card.
Browse Alters
Trade
Legality
| | |
| --- | --- |
| Format | Legality |
| Tiny Leaders | Legal |
| 1v1 Commander | Legal |
| Magic Duels | Legal |
| Canadian Highlander | Legal |
| Vintage | Legal |
| Modern | Legal |
| Highlander | Legal |
| 2019-10-04 | Legal |
| Block Constructed | Legal |
| Pioneer | Legal |
| Leviathan | Legal |
| Legacy | Legal |
| Frontier | Legal |
| Duel Commander | Legal |
| Oathbreaker | Legal |
| Unformat | Legal |
| Casual | Legal |
| Commander / EDH | Legal |
Elemental Bond occurrence in decks from the last year
Commander / EDH:
All decks: 0.04%
Green: 0.29%
RG (Gruul): 1.0%
Elemental Bond Discussion
9 hours ago
Dear Kronhamilton
Golos, Tireless Pilgrim is my favorite commander, and I've been brewing around him ever since he was teased. Let me just say you've chosen an excellent commander.
(I've written quite a lot in an attempt to make a sort of guide for you, so if you want the short version, check out the Suggestions panel)
Golos can be tricky to build around since he can do literally anything pretty well. The easiest way to make an effective Golos deck is to lean into Golos's 7 Mana Rainbow Wheel Of Death. Before getting into that though, we need to cover some EDH deckbuilding basics.
I think the most useful advice I can give someone who is just beginning to explore the deck-building territory of EDH is to structure your deck and mind your Ratios. By this I mean it is useful to categorize the cards in your deck according to the role they fulfill.
We'll begin by looking at some core categories that you'll want to make your deck function effectively. Then I'll present the Ratios (how many of each category of card) you will want to make a generic Golos deck function effectively. Next, I'll include a detailed (but not totally complete, because I'd be here all day) catalogue of cards within some of those categories. I'll also offer up some suggestions and input about some of your specific card choices. Lastly, since I'm about to unpack a lot of information, I will include a brief list of suggestions (see the bottom) for a generically good Golos 'Shell' that should be able to support most Golos strategies.
Categories
Draw

Ramp

Removal

Sweepers

Threats

Support

Land
The art of Ratios is all about determining what combination of cards from each category makes your deck run the most smoothly.
Please note that these Ratios will not total to 99 cards. This is because you will invariably have extra flexibility to choose how your deck behaves even after establishing functional Ratios. Also keep in mind that although these Ratios do recommend you adhere to the minimum number of cards in each category, you still can choose which cards will fill those slots. The point is not to restrict your options, but instead to create a 'Shell' that is reliable enough to power your Threats cards, Support cards, and other cards. Whatever you do, make sure you have at least the minimum number of Draw and Ramp cards. THE MOST IMPORTANT CARDS IN THE DECK ARE DRAW AND RAMP!!!
While I ultimately suggest Ratios resembling the Basic Golos Shell, I will lay out the Ratios for several different Shells;
Template: a sort of baseline beginner's guide which is commonly promoted as a place to start.

Basic Golos: a modified version of the Template that suites most Golos decks.

Control: a version tailored for a slower game with many Sweepers.

Aggro: a version designed to act quickly and deploy Threats before the opponents are prepared.

Big Mana: a version invested heavily into Ramp with the goal of deploying many end-game Threats.

Mega Mana: an even more extreme version of Big Mana with extremely expensive Threats.
Please remember that any suggestions I make are because I am trying to help. Ultimately, the choices you make with your deck are up to you, and I can only provide constructive criticism based on my own experience and opinions.
Good luck :)
Ratio Fixing
The most effective change to your deck would probably be adjusting the Ratios, especially with regard to your Draw cards. Applying the most basic Template Shell, you want to have at least these three quantities nailed down for a smoother and reasonably powerful deck;
Lands – 36 --> You have 40 Lands (Cut 4 Lands)

Ramp – 10 --> You have 5 true Ramp cards (Add 5 to 8 Ramp cards)

Draw – 10 --> You have 3 true Draw cards (Add 7 to 10 Draw cards)
Ramp & Draw Additions Show
What I counted in your deck Show
Mutate
Depending on how strong your Mutate subtheme is, some of your Mutate inclusions may act as engines. However, I must state that Mutate is a VERY risky and even fragile strategy since your Mutate 'Pile' of creatures will all be destroyed at once if your opponent uses a Removal spell or a Sweeper. For that reason, I recommend leaning out of the Mutate theme (unless the Mutate card is just straight-up insane, as in the example of Nethroi, Apex of Death).
With that said, playing a Mutate theme is your decision and I totally respect that and if you want to stick to a Mutate theme then by all means do so. I just want to be sure you know that Mutate is a risky strategy that you cannot depend on to fulfill your Ramp and Draw slots (so you'll just need to supplement it with other cards).
Cut or Include?
At a glance your deck seems like something you have created using just your collection – and that's great! However, if you want to incrementally upgrade your deck, then I recommend replacing most of the cards in your deck with more powerful options over time.
Here is a list of cards you should probably keep playing: - Barrier Breach (Removal, because exiling 3 enchantments is helpful in some situations)
In my opinion, there are other, better options for all of the other nonland cards in the deck, however it is up to you to decide on how you would like to proceed so I won't intrude.
I strongly recommend cutting the Planeswalkers though – Calix, Destiny's Hand doesn't seem to synergize much with the deck and I feel that Lukka, Coppercoat Outcast is not very potent.
Lands
Just as a recommendation, I would suggest the following spread of Basic Lands;
8 Basic Forests

3 of each other Basic Land
The remainder of your lands could be either more basics (which is really, really, risky if you don't have tons of Ramp – think like 15 Ramp cards and about 12 Basic Forests) or Color Fixing Lands (see the Catalogue for more options). It is rough to have your lands enter the battlefield tapped, but unless you want to either lean into Green or spend a lot of money on lands, you will just have to live with it (I play around 5-10 tapped lands in a normal Golos deck and it isn't really that bad).
In this section, I will list out an example of the Basic Golos Shell complete with the necessary Ratios and some examples of good/fun cards in each category. I'll try to keep it relatively Budget sensitive and most of these cards will be relatively random – this won't be based on any particular theme so don't expect it to be optimal.
As a reminder:
The Shell
Ramp – 12
Draw – 13
Removal – 7
Sweepers – 2
Threats – 12
Support – 7
Land – 36
Good Luck :)
-Slashdotdash
19 hours ago
Hey, Regal Behemoth may out of the price range, but it's a Dino to have for ramp to curve into Gishath and it has trample. It's not a Lizard it's a Dino, it was errata to Dinosaur three years ago when Ixalan was released. It's an expensive price Dino, but try to make room/budget for it.
Quartzwood Crasher is new budget Dino from Ikoria who's very underrated. It can create many powerful Dino tokens with trample. It has trample and so does Gishath, Ghalta, Zacama, etc. It's pretty bonkers with Ghalta. And gives excellent Dino value for five mana when it has haste from Regisaur Alpha. Quartzwood scales very well and can get out of hand quick for your opponents since it and the token it creates have trample. Rhythm of the Wild is another haste enabler for Dinos and it also protects them and Gishath from being countered when cast.
Elemental Bond can trigger to draw any time a creature you control with 3 or more power enters the battlefield, this includes when a token is created. Bond for a three drop over the course of a game can draw you a lot of cards with Dinos. It's good with Quartzwood. Congregation at Dawn can tutor for and setup the top three cards of your library to be Dinos for when you attack with Gishath. Fierce Empath is not a Dino, but it's a budget creature tutor for one of your best big Dinos, it's worth including especially if you add Regal.
I see Farseek and Nature's Lore, but I only see Stomping Ground dual land that they can search for. That's the advantage of these spells is they can ramp with a dual land which is also color fixing. Cinder Glade and Canopy Vista were just reprinted in Commander 2020. I would make room/budget for these two dual lands. Sheltered Thicket and Scattered Groves are two more budget lands that have two different types. Other budget land upgrades are: Exotic Orchard, Battlefield Forge, Fortified Village, Ash Barrens, Naya Panorama.
Wild Growth, Fertile Ground and Trace of Abundance are three more land auras for ramp and these are upgrades because they're less mana to cast. Beast Within and Generous Gift are versatile instant removal spells in Commander because they can destroy any permanent and giving your opponent a 3/3 doesn't matter much when you have much higher power Dinos.
Good luck with your deck.
1 day ago
Aesatr I use to run Elemental Bond, and for the life of me, I don't remember why I took it out. Rishkar's Expertise looks fun, but it could end up being a dead card if I don't have any creatures on the field. Apex Altisaur is on the watch list, and I have a copy, but have yet the energy to put it in. Time of Need would be a nice card, but Gishath is really good at digging into my deck for her comrades. Ask for Mosswort Bridge it could be useful, but I am very against lands that enter tapped, also it is a bit risky. Only looking at the top 4. Gishath could easily do that for me.
1 week ago
Hey, I've been playing my Gishath deck for a while, you can check my deck if you feel like it: EDH Dinosaurs
Some card suggestions I would give are:
Elemental Bond, its just like your Guardian Project
Apex Altisaur, big Dinosaur from a recent Commander Set
Time of Need, it's cheap to buy and can tutor you Ghalta, Etali etc
Mosswort Bridge, super easy to activate
Rishkar's Expertise, it's greedy, but it feels awesome when you play it
Hope this helps, feel free to give me any feedback on my list as well.
1 week ago
Don't run Phyrexian Arena, it isn't as good as you think it is. Necropotence on the other hand...
I have never found Pull from Tomorrow type cards to be very good, they need way too much mana. Speaking of too much mana, consider this! For everything 5 mana and more, to what extent does it help you to win you the game? How much of a threat will you be to the table? Will you be able to win that turn or the next turn, is there a clock? Maybe that Silumgar's Command isn't too good by these standards, and I'm not convinced The Mimeoplasm deserves a slot. Spelltwine is cool, but this deck doesn't strike me as one where this would help you achieve victory.
My major criticism is that you aren't ramping hard enough to pull this off in a devastating way. it seems to me that the way to getting more creatures out is to draw more from Damia, but of course you aren't getting her out early game, so you end up playing from the hand and running out of things. I am thinking of either Gilded Lotus, or Thran Dynamo. Are you aware of Nature's Lore and Farseek, they can pull up dual lands that have those land types i.e. Zagoth Triome. You probably also need some draw for before Damia, like maybe you could do Elemental Bond style effects to improve that? Of course there is also Mystic Remora. Also if there aren't enough creatures coming out, is the recursion you have that valuable; why not try to just draw more cards, it doesn't seem like you need any particular cards that badly or you would be running tutors?
Sorry for the long post! I like the deck, I always thought copying other people's stuff would be a cool way of playing!!
1 week ago
Hey, a little more info about Elemental Bond and how good of a repeatable draw source it can be because you have easy access to Kaheera, the Orphanguard's +1/+1 anthem for Cats. Bond triggers when tokens are created that's a reason it has so much potential with Cats. Anthem effects are called static abilities and each one is applied to Cats as they enter the battlefield.
King of the Pride is the best example of how good Bond can be as a draw source because any 1/1 Cat ETB with 3 power which triggers Bond. Bond + King + Brimaz, King of Oreskos/Leonin Warleader for example when you attack can create 3 power Cats and draw a card when each one is created. White Sun's Zenith creates 2/2 Cats, but with Kaheera these Cats ETB as 3/3s; each Cat will trigger Bond which can draw a lot of cards. Kemba, Kha Regent creates 2/2 Cats which with Kaheera are 3/3s when they ETB which triggers Bond each time.
Having two anthem effects on the battlefield such as Kaheera and Regal Caracal also makes any 1/1 Cat ETB as 3/3 to trigger Bond. In fact if you have Bond + Kaheera on the battlefield then Regal will draw three cards when it ETB.
There's two Ajani's that are budget and their ultimates create Cat tokens: Ajani, Caller of the Pride and Ajani, Adversary of Tyrants. Both these Ajani's +1 loyalty abilities can give Cats permanent pump with +1/+1 counters, but they do other things also. Adversary is the better of the two because it's -7 is not hard to achieve, a turn faster than Caller and if you get the emblem it's a repeatable source of creating Cats at your end step. Adversary can also provides something that Selesnya wants which is creature reanimation. Ajani can reanimate a one or two drop Cat such as Bronzehide Lion or Fleecemane Lion which can be helpful to recover.
1 week ago
Hey, good job upgrading the precon.
You could cut several higher CMC cards to reduce the avg. CMC which can help to speed up the deck. An advantage of Kaheera is it's a three drop anthem effect for Cats therefore more one drop and two drop Cats you can get on the battlefield before you play Kaheera the more attacking you can do. Lower CMC Cats are also better with lots of equipment since easier to have mana to equip to the turn you play a Cat. Arahbo is the high CMC Cat you want to cast and it's easy access in the Command Zone.
Cats to consider adding:
Cats with double strike become real threats when their power is increased. Entity is a Cat since it's a changeling; it's also a mana sink to make all Cats high power/toughness until end of turn. When you activate Entity it changes the power/toughness of each Cat you control, then any other effects that increase the power/toughness of Cats are also applied to each Cat. Nacatl and Loam can benefit from dual lands that are both a Plains and a Forest: Temple Garden, Canopy Vista, Scattered Groves. Farseek and Nature's Lore can search for one of these lands.
---
Other cards to consider adding:
Cards to consider cutting:
Elfhame Palace
Vivid Grove
Vivid Meadow
Jareth, Leonine Titan
Jedit Ojanen of Efrava
Rout
Nissa's Pilgrimage
Hero's Blade
Moonsilver Spear
Sigiled Sword of Valeron
Loxodon Warhammer
Icon of Ancestry
Frondland Felidar
Huntmaster Liger
Jazal Goldmane
Zendikar Resurgent
Door of Destinies
Good luck with your deck.
Load more