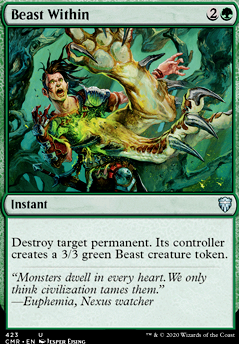 Beast Within
Instant
Destroy target permanent. Its controller creates a 3/3 green Beast creature token.
Browse Alters
Trade
Tokens
Legality
| | |
| --- | --- |
| Format | Legality |
| Oathbreaker | Legal |
| 1v1 Commander | Legal |
| Legacy | Legal |
| Canadian Highlander | Legal |
| Commander / EDH | Legal |
| Highlander | Legal |
| Modern | Legal |
| Tiny Leaders | Legal |
| 2019-10-04 | Legal |
| Custom | Legal |
| Unformat | Legal |
| Duel Commander | Legal |
| Casual | Legal |
| Leviathan | Legal |
| Vintage | Legal |
| Limited | Legal |
| Block Constructed | Legal |
Beast Within occurrence in decks from the last year
Latest Decks as Commander
Beast Within Discussion
3 weeks ago
From my own assessment, the general sentiment surrounding Jeweled Lotus is summarized in the following Cardboard Crack comic:
Excellent comic by the way. But I think it really misses the mark here - when a player gets ahead too early, they become the Archenemy - the player who is assessed as being the biggest threat early on (between turns 1 - 3) in a game and gets focused on by the table. Instead of a game of 1 v 1 v 1 v 1 - it becomes 1 v 3. Speaking from experience, said Archenemy player gets their entire board state dismantled by ALL of their opponents and are usually left with the least amount of resources for the rest of the game - if any.
In reference to the comic, if ALL opponents have no response and concede on turn 1 then I think that's indicative a larger issue within that playgroup: nobody at that table uses any form of interaction in their decks (e.g. Swords to Plowshares, Beast Within (as in T1 Mana Crypt + Forest), Pongify, Lightning Bolt...the list goes on). I would even go on to say that everyone in that group plays like Timmy/Tammy (nothing is wrong with that - but it makes games very narrow and insular - basically no one interacts with another's boardstate). Alternatively, if that was a game of cEDH then that's how the game is supposed to be played - but with less bad feels. Regardless, the point i'm trying to make is that - in an average game of Commander, a table should reasonably be able to react and control a turn 1 or 2 Commander in the vast majority of games (i'm saying 80% - 90% of the time the archenemy gets controlled by the table). In those rare instances when a table is literally locked out - e.g. T1 Urza + Mana Crypt + Winter Orb - then that's simply a done game. Again, combos that powerful are rarely seen in a game.
Now, there are decks I think this card can do well in - decks where the Commander is a really high CMC. Yes, take this as shameless advertising, but i'm considering this card for one of my own decks:
---

Commander / EDH Mortlocke
SCORE: 192 | 93 COMMENTS | 20658 VIEWS | IN 78 FOLDERS
---
Zacama, Primal Calamity helms this deck, and she is a CMC (Naya) commander. For decks that have those extra THICC commanders with the high CMCs, Jeweled Lotus could make all the difference at any point of the game. In Zacama's case, she is considered a "kill on sight" Commander - a creature that can be highly disruptive to any boardstate at any point of the game." She will get removed, regardless of when she is played. But, for those situations where I need to get her out late game Jeweled Lotus could easily be the difference maker. OR, I could have an explosive start and play Zacama 3 turns earlier.
Ultimately, I think the Magic Community's reaction is far too dramatic thinking that this one card is going to stop a game before it starts. No. It will not. It will simply put a single player in the position of Archenemy early on, or help a player get a Commander back into the game after it has been removed a few times.
Side note - I do agree with the notion that the card is entirely designed to help sell packs. Serving mostly as something exciting for people to pull. I think it's a good idea. Is it worth the $150 - $100 pre-order price? Hell No. It's a decent $20 (non-foil) card in the making that goes in only a handful of commander decks.
Additional side note: For those interested in my Zacama build The Predator of Predators, I plan on swapping Jeweled Lotus in for Talisman of Impulse. Additional Additionally, I will swap in Court of Bounty for Rishkar's Expertise. I really enjoy Monarch, and I think that card is a perfect fit for the deck. Please let me know your thoughts about the deck and uh...feed Zacama your upvotes.
3 weeks ago
Potential Non-Boros Commanders: Show
3 weeks ago
griffstick wow I think I might genuinely be able to build this deck now haha!
So, funnily enough, I actually had every card you mentioned for the opponents except for Song of the Dryads for budget reasons. I quite like the idea of those Licid cards - like you said, they're super janky fun. but I can also play them as crappy creatures and use them on the dragons later.
I also had Curse of the Swine and other removal of the same nature like Pongify or Beast Within so I think that with the combination of cards I had set aside to disrupt opponents, I'm pretty set in that regard.
Haha Chromium, the Mutable was actually a placeholder for the commander hahhaha! But I think I primarily need U/G and then as a 3rd colour, W/R. I also was thinking that Ramos, Dragon Engine could be a flavourful commander whilst also giving me access to 5 colours. Given the limitations of the jankiness, more colours might be the way to go. Though, limitations breed creativity. So, I would be open to less colours too.
3 weeks ago
Depending on how you want to build the deck, maybe replacing Prava with Rebbec, so your golems have more protection. Conjurer's Closet can blink splicers or your commander, to make more golems. I'd also think about more spells like Krosan Grip, Disenchant, Beast Within etc, since Ich-Tekik doesn't specify you need to destroy your own artifacts.
4 weeks ago
Yea, you are absolutely overreacting. Is it kinda dumb that it steals your opponent's tutors? Yea. But you'll probably only get 1 off of it when you flash it in. And it could literally get killed in response. Its not as bas as it looks. Opposition Agent is fine. Dumb, but fine. Play counterspells, play removal, pay attention to your opponent's having open mana, or just Rule 0 it with your playgroup if you all hate it.
The ONLY thing I'm ACTUALLY a bit worried about is Maralen of the Mornsong. Maralen I could see getting a ban just so that we can avoid another Leovold situation. Opposition Agent alone isn't "the most disgusting card ever printed", but when you can't draw, can't tutor, you're slowly killing yourself, and your opponent gets to play everyone else's cards, NO ONE is going to want to play against that. Its like if they made a Commander that's intentionally designed to Mindslaver Lock you.
Maralen has never really seen a lot of play in the past because she's basically self-defeating since your opponent gets to tutor first and can simply find whatever piece of removal they want to kill Maralen. Cards like Shadow of Doubt, Leonin Arbiter, Aven Mindcensor, Stranglehold, and Ashiok, Dream Render ALREADY exist, but the difference is that none of them have been playable in a mono black deck with Maralen before.
So the real problem is that Opposition Agent should have been Blue/Black like Notion Thief, or IMO, ABSOLUTELY should have been a WHITE card. One of the few unique parts of White's color pie is hatebears. And Opposition Agent would have been a great piece of card advantage for white, similar to Alms Collector, which isn't nearly as good as it sounds since it doesn't trigger from multiple singular draws, but only if 2 or more are drawn at once from the same effect.
Opposition Agent otherwise has the same problem as Hullbreacher does. Its just going to die to removal immediately. You might get a bit of value from it, but once its out, no one is going to choose to tutor or draw extra cards until its gone. So you get some immediate value from it, and then its basically just another hatebear.
Hullbreacher is NOT Smothering Tithe. Smothering Tithe triggers on EVERY draw and it tricks you with the option of paying for it, even though few people ever want to, much like Rhystic Study. You still get to draw all the cards you want, someone else just gets a little extra benefit for it. It doesn't actually harm you unless you choose to pay for it. That's why its so good, it flies under the radar. Its why people will kill a Platinum Angel or Blazing Archon on sight, but don't really care about that Ghostly Prison even though they're both keeping you from getting attacked. One has an optional work-around, its just inconvenient enough to disuade people from doing it.
IMO, Opposition Agent should have been white, and it should have fit along the same lines as Smothering Tithe. Something like, "Flash, Whenever an opponent searches their library, you may also search your library for a card, unless that opponent pays 2. If you do, put it into your hand and shuffle." This way you're just taxing your opponents' tutors, or profiting off of them yourself.
People have said it before, but Rhystic Study should ABSOLUTELY have been a white card, and this would have been a cool way to do it, much like how Beast Within breaks green's color pie, so it was colorshifted to white in Modern Horizons as Generous Gift.
1 month ago
At last, there is a card of Nevinyrral, and he is very impressive, as he should be! I like how he has synergy with his own disk, which makes sense.
Juri now has a card, as well, but I wonder why WotC waited until now to give her a card, instead of making Judith and Exava in the previous Ravnica blocks.
Necrotic hex is a flavor fail; it makes each player sacrifice six creatures and then creates six tokens, but it costs 7 mana to cast.
I am glad to see Generous Gift being reprinted in this set, and I hope that this means that WotC will never again reprint Beast Within, since the latter card is a color pie break.
Elvish dreadlord is a very nasty card, and I know that I will not wish to be on the receiving end of its effect, but its name sounds like something from Warcaft.
Llanowar abomination is amazing, and any elf deck that contains the colors black and green will want it, but I do wish that it has been a Lorwyn/Shadowmoor elf, since the dark and creepy atmosphere of the card would work better on that plane.
On that subject, I really would like to see a reprint of Llanowar Dead, since that card has never been reprinted, before.
Araumi is very nice, with how he or she (the name sounds feminine) can grant encore to creatures, which will be best with creatures that have abilities that trigger when they enter the battlefield.
Load more