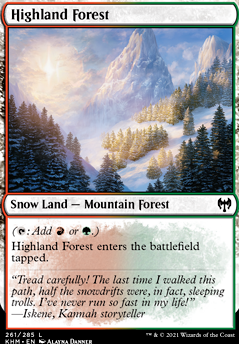 Highland Forest
Snow Land — Mountain Forest
(: Gain or .)
Highland Forest enters the battlefield tapped
Browse Alters
Legality
| | |
| --- | --- |
| Format | Legality |
| 1v1 Commander | Legal |
| Arena | Legal |
| Block Constructed | Legal |
| Brawl | Legal |
| Canadian Highlander | Legal |
| Commander / EDH | Legal |
| Duel Commander | Legal |
| Gladiator | Legal |
| Highlander | Legal |
| Historic | Legal |
| Legacy | Legal |
| Leviathan | Legal |
| Limited | Legal |
| Modern | Legal |
| Oathbreaker | Legal |
| Pioneer | Legal |
| Pre-release | Legal |
| Standard | Legal |
| Tiny Leaders | Legal |
| Unformat | Legal |
| Vintage | Legal |
| Casual | Legal |
| Custom | Legal |
| Quest Magic | Legal |
Latest Decks as Commander
Highland Forest Discussion
1 week ago
Hey, for a first deck this is well done on a budget. Nice Foothills Expedition :)
Ask yourself do you need Elemental tribal with Omnath? My advice will hopefully give you ideas of how you can make upgrades with Omnath by getting away from the tribal theme. Omnath by himself is an Elemental engine, creating Elementals with landfall. Focus more on ramp and landfall for Omnath as your main source of Elementals, not other Elemental creatures.
The cards you cast before Omnath should help you to cast Omnath which will do a lot more for gameplay then casting some Elementals before him. Still play some Elementals such as Ashaya, Soul of the Wild and Bane of Progress , but play these because they're good cards not because they're Elementals. Elementals such as Creeping Trailblazer and Lavakin Brawler aren't good enough even with Elemental synergy.
Cards in the early game you want to cast are ramp.
Lotus Cobra , Tireless Provisioner and Stone-Seeder Hierophant are important budget cards because of landfall which makes them combo with Perilous Forays + Omnath to repeatedly pay for the sac activation of Forays.
---
Ramunap Excavator , Mina and Denn, Wildborn and Moraug, Fury of Akoum are good budget support cards who are not Elementals; they're support comes from interactions with lands. Excavator lets you play lands from your graveyard which is excellent with Fetch lands for landfall: Foothills, Passage, Wilds, Expanse, Myriad Landscape , Naya Panorama , Jund Panorama . Excavator makes cards that make you sac a land when you cast them better since you can then play the land you saced from your graveyard. Excavator is also good with Valakut Exploration which is landfall for card advantage or damage to all opponents.
Wildborn lets you play another land on your turn and it also has an ability to bounce a land you control to give Omnath trample. Moraug can be a win condition with landfall giving you extra combat steps to attack with Omnath and 5/5 Elementals. You get an extra combat step after a main phase for each landfall trigger.
If you're interested in these suggestions then I offer more advice. Good luck with your deck.
1 month ago
Mossfire Valley is a decent budget land and Highland Forest is tutorable. I also like Blighted Woodland , Warped Landscape and Guildless Commons this deck. Don't think you need Reliquary Tower here though.
The proliferate cards like Retreat to Kazandu, Bloom Hulk, Vorinclex, Stumpsquall Hydra, Pridemalkin and Managorger Hydra don't fit so well to Phylath in my opinion. Going wide instead of big will get you better results. All you want in this deck is card draw, interaction, a lot of land ramp and some mass-pump spells. When cutting these cards, I'd also take out Inspiring Call, Soul's Fire, Thud and Fling. Plummet doesn't strike me as good enough. Kazuul's Fury can maybe work because it doubles down as a land. Gruul Locket, Wayfarer's Bauble, Commander's Sphere and maybe even Gruul Signet and Thought Vessel can be cut for more land ramp. I would even disregard single target protection like Swiftfoot Boots. Your commander dying is sometimes even advantageous, because then you can cast it again to get another bunch of tokens, similar to how Prossh, Skyraider of Kher can play.
Here some nonland cards that I'd definitely add either way:
Beanstalk Giant , Predatory Rampage , Nature's Claim , Impact Tremors , Momentous Fall , Overrun , End-Raze Forerunners , Rampaging Baloths , Abrade , Valakut Exploration , Heraldic Banner , Farhaven Elf
I personally like Creeperhulk and Gigantomancer , because they increase creatures' base stats, so Pylath's +1/+1 counters up the target's power even more. Very easy to get a handful of 10/10 plants this way. Vitalizing Wind can also win you the game, but costs a lot of mana upfront. Wort, the Raidmother can come in handy too. If you can afford it, Greater Good does very well in this deck as card advantage engine.