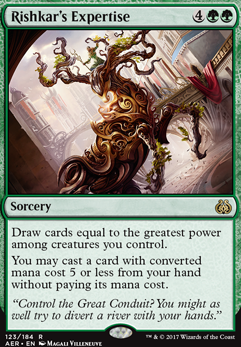 Rishkar's Expertise
Sorcery
Draw cards equal to the greatest power among creatures you control.
You may cast a card with converted mana cost 5 or less from your hand without paying its mana cost.
Browse Alters
View at Gatherer
Trade
Legality
| | |
| --- | --- |
| Format | Legality |
| Pioneer | Legal |
| Duel Commander | Legal |
| Oathbreaker | Legal |
| Modern | Legal |
| Custom | Legal |
| Legacy | Legal |
| Casual | Legal |
| Commander / EDH | Legal |
| Unformat | Legal |
| Canadian Highlander | Legal |
| 2019-10-04 | Legal |
| Block Constructed | Legal |
| Vintage | Legal |
| Limited | Legal |
| Highlander | Legal |
| Leviathan | Legal |
| 1v1 Commander | Legal |
| Tiny Leaders | Legal |
Latest Decks as Commander
Rishkar's Expertise Discussion
5 hours ago
There are other cuts to consider as well, but I feel these are the more noteworthy ones....
Ashaya, Soul of the Wild - No direct synergy with Xenagos, you want a beater with evasion or protection
Beast Whisperer - Better in decks that are lower to the ground that can better use it's ability
Brash Taunter - "No synergy with Xenagos"
God-Eternal Rhonas - Better in decks that go wide, this gets easily chump blocked. You rarely have more than 1 creature out at a time
Klothys, God of Destiny - "No synergy with Xenagos"
Leyline Tyrant - Better in red decks, while not recomending it, glorybringer would be better IMO as it acts as removal as well
Phylath, World Sculptor - No synergy with....
Ulamog, the Ceaseless Hunger - Not enough ramp to hard cast, no cheating effects (which wont even give you a cast trigger)
Ulamog, the Infinite Gyre - See above
Shadowspear - Meta call? Better to have creatures with trample or more ramp and card draw in this slow
Triumph of the Hordes - Hit or miss. Playing a beater, hoping it survives, casting this next turn and hoping they dont have removal. Ignoring the feelbad of infect
Berserkers' Onslaught - Winmore
Vernal Bloom - Symmetrical ramp which you can't even take full advantage of
Nissa, Who Shakes the World - This is ok, I like the vigilance and getting essentially a 6/6. Rather have something more impactful.
Atarka, World Render - Beater with evasion
Balefire Dragon - Beater with evasion that also destroys decks that go wide
Carnage Tyrant - Beater with protection, evasion and anti-blue. Nice to use a mass draw spell knowing they can't remove the creature in response
Etali, Primal Storm - Not needed, but fun! Lots of value, doesn't require combat damage
Farhaven Elf - Ramp for T4 Xenagos
Fierce Empath - Tutor
Inferno Titan - Removal
Kogla, the Titan Ape - Removal
Malignus - GG target player
Savage Ventmaw - Beater with evasion and helps build tempo
Scourge of the Throne - Destroy people's lifetotal
Shaman of Forgotten Ways - Ramp and potential wincon
Siege Behemoth - Beater with evasion
Somberwald Sage - Ramp
Springbloom Druid - Ramp for T4 Xenagos
Yavimaya Hollow - Protection
Turntimber, Serpentine Wood - Land when you need it, beater when you don't
Dread Statuary - Manland to be used as potential beater or for draw spell
Rishkar's Expertise - Draw + Tempo. Powerful!
Life's Legacy - Draw
Momentous Fall - Similar to above, to be used in response to removal
Berserk - Use on selvala, malignus or even an opposing creature attacking one of your opponents!
Sylvan Library - Nice but not needed
2 weeks ago
Interesting deck +1
What is your meta like?
Proud Wildbonder - Seems too unimpactful for 4 mana
Essence Warden - Whats the purpose of this?
Beast Whisperer - Seems cool, I tried him in my build. Does he get a chance to stick around long enough to draw you atleast 2-3 cards?
Ravager Wurm - Is this meta against maze of ith?
Shivan Wurm - Reusing ETB effects or something I'm missing? Seems weak
Voracious Cobra - Gosh this card brings back memories from my childhood. Curious how it's been for you, seems like a card they need to burn removal on if they want a chance of attacking you unless they go wide
Windstorm - Meta?
Fog - Meta, if so, why not get the new green fog that came out recently?
Soul's Might - Return of the Wildspeaker would better serve you as you can draw cards in response to removal rather than your creature getting removed in response to might being cast.
Ancient Tomb , Castle Garenbrig are ramp
Goreclaw, Terror of Qal Sisma - Trample and ramp
Heroic Intervention - Protection
Selvala, Heart of the Wilds - Ramp and draw
The Great Henge , Somberwald Sage, Shaman of Forgotten Ways are all good ramp
Inferno Titan - Removal
Kogla, the Titan Ape - Removal
Deflecting Swat - Utility! Counter counterspells, redirect targetted removal/draw/extra turns. Very powerful
Rishkar's Expertise, Bonders' Enclave, Elder Gargaroth, Greater Good, Life's Legacy, are all amazing card draw options, especially greater good. Seriously, don't sleep on greater good
I hope the suggestions werent too overwhelming, I just didn't see that much draw and I figured that adding more never hurts.
2 weeks ago
What are your thoughts on
3 weeks ago
Ok, so just went through... Also don't have Unclaimed Territory. I've updated the deck on what I decided, but I must ask, do you have any recommendation for something to swap out for Rishkar's Expertise and Force of Vigor? Having trouble deciding ahah.
1 month ago
This deck is pretty low to the ground for Xenagos, good job.
How is your land situation? Given your dorks and lower CMC, you might be fine, but I'm curious how it plays out. It seems unless you get a dork early game and lands, you will have trouble casting Xenagos consistently. How has it been playing out for your in your meta?
Yavimaya Hollow - Protection
Ancient Tomb > Temple of False
Bonders' Enclave > Sanctum of Eternity - Is the reason it's in your deck to prevent opponents from removing Xenagos during your turn prior to combat? I don't see the use of it in this deck. Perhaps I'm missing something.
Cragcrown Pathway  Flip > Mountain/Forest
Turntimber, Serpentine Wood > Forest - The additional utility it provides late game is key for when you're topdecking/out of gas
Raging Ravine - Manland that can be used as a creature to place a draw effect under late game
Dread Statuary - See above - Or not given your dorks and you want to limit colorless mana?
Myriad Landscape - Ramp - Same issue as above?
The Great Henge
- Draw
Skullclamp - Not 100% sold on it, but I think it could work here given your dorks which can be used as draw for late game, or helps you draw cards when your beaters die.
Berserk - Malignus says hi! Also, works on opposing creatures too. If opponent A attacks opponent B, you can kill their creature and deal extra damage to opponent B. Although I like using it on my beaters or Selvala heart of the wilds for extra ramp.
Deflecting Swat - Counter counterspells, redirect targeted removal(biggest issue in Xenagos so you don't get 2 for 1ed), targeted draw/extra turns, abilities, etc... Too much utility and for free.
Heroic Intervention - Protection for beaters
Rishkar's Expertise
- Crazy value that's worth risking the 2 for 1, also helps keep up with tempo which is great
Life's Legacy - Draw
Harmonize - Draw
Green Sun's Zenith - Tutor for the beater you need to the battlefield
I count 5 sources of draw in this deck, 2 of which are unimpactful, 1 of which is unreliable, the other 2 are good. Do you often find yourself running out of gas quickly especially given your lower CMC?
You run embercleave but no Godo, Bandit Warlord???
1 month ago
Ah okay, I assumed the maybeboard were cards you were only looking at, my bad!
In that case you have a bunch of stuff that definitely could fit in the deck. For those three you mentioned Exploration is very good and can be slotted in over Rampant Growth, Canopy Vista/Smoldering Marsh can just be replaced by a Forest/Mountain, and definitely take a Sol Ring if you have a spare one.
As for others, here's the most notable you have on your maybeboard:
For boardwipes you already have Crux of Fate and Balefire Dragon. Throwing in Cyclonic Rift would definitely be a good choice. The issue with boardwipes in decks like these is that you don't want to reset your own boardstate, but that's why the three I mentioned are so good because they only affect the opponents. Cyclonic Rift also dodges indestructable as it's a bounce effect rather than a destroy.
In my opinion, counters are generally not very effective in decks like these. It's generally more effective to run cards like Rhythm of the Wild and Asceticism as they're not one-shots, while also having the side-benefit of opponents using their counters on your other opponents instead. If you wanted to pick up additional effects like those if counters/removal are rampant in your group, I personally like Steely Resolve and Conqueror's Flail.
I actually recommending cutting Deflecting Swat as you'll only rarely have your commander out. If you want one-shot defensive utility, Veil of Summer and Autumn's Veil are amazing for that.
If you want more spot removal, I definitely recommend picking up a Path to Exile. With it, Swords to Plowshares, and Anguished Unmaking you should be good for spot removal unless you wanted to splurge on an Assassin's Trophy.
I'm unsure about Ramos, Dragon Engine

. Since you're in a more casual environment they might be okay, but unless you have something like Descendants' Path down they're not really worthwhile. If you're wanting to go out and buy a fairly expensive creature, by far the best purchase you could make is Kaalia of the Vast IMO.
Load more