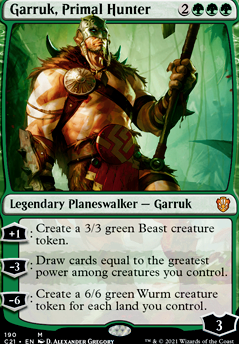 Garruk, Primal Hunter
Planeswalker — Garruk
+1: Create a 3/3 green Beast creature token.
-3: Draw cards equal to the greatest power among creatures you control.
-6: Create a 6/6 green Wurm creature token for each land you control.
Browse Alters
Trade
Tokens
Legality
| | |
| --- | --- |
| Format | Legality |
| 1v1 Commander | Legal |
| Block Constructed | Legal |
| Canadian Highlander | Legal |
| Commander / EDH | Legal |
| Duel Commander | Legal |
| Highlander | Legal |
| Legacy | Legal |
| Leviathan | Legal |
| Modern | Legal |
| Oathbreaker | Legal |
| Unformat | Legal |
| Vintage | Legal |
| Casual | Legal |
| Custom | Legal |
| Quest Magic | Legal |
Latest Decks as Commander
Garruk, Primal Hunter Discussion
1 week ago
Hey Walrighti, +1!
Congrats on your first deck! You have a lot of fun cards in here and it looks great! I imagine you want to tune and make it even more efficient so here are some ideas...
Add 3 categories: #Combo, #Lifegain, and #Evasion; and then sort your maybeboard the same way you've done your mainboard to easily rank your choices within a category (By "combo" I mean all your "if-then" cards like Trudge Garden that are slower and don't work by themselves). Remove #Creatures (most of them are #Combo).
Avoid most cards above 4 cmc... Willowdusk is fast and fragile, so play into that... Also, prioritize cards that can do 2 or more things or that give value on ETB... If you have pet cards that don't really fit and that hurt to cut, put them in a "I'll build that theme later" list.
...Always play at least 10 ramp spells under 3 cmc.
...Playtest and make sure Willowbark consistently makes a fatty (with evasion) before turn 6-7.
Here's another Willowdusk thread.
Happy building :)
3 weeks ago
I'm looking for Naya colored card draw in a few-creatures-deck.
My Atla Palani, Nest Tender

contains only 10 selected creatures, most of them huge like Avacyn, Angel of Hope , Ulamog, the Ceaseless Hunger , and Blightsteel Colossus .
Since there are so few creatures, most green card draw engines like Beast Whisperer , Guardian Project , Greater Good , or even The Great Henge is pointless and will barely trigger.
I am running one cantrip ( Explore ), Harmonize , and also Sylvan Library . The best card is probably Skullclamp with Atla's tokens and I am running Steelshaper's Gift specifically to fetch it.
Otherwise I'm running Garruk, Primal Hunter (for it's -3), Hunter's Insight , Momentous Fall , and Soul's Majesty that can draw a huge amount of cards once the huge creatures are out. But unless I get to that point, I won't be drawing cards.
How can I access more card draw/ card advantage under these circumstances?
3 weeks ago
Cool idea, I've never seen wolf tribal before! :-) I'm not familiar with wolf tribal, so I won't recommend specific tribal cards. But I will comment on the general deck structure:
cheers
2 months ago
Your deck will be a bit slow to start up because you're running 3-4 CmC ramp so if you wanted to speed up the deck start replacing Explosive Vegetation and Vastwood Surge with Rampant Growth , Into the North , Farseek , Nature's Lore , or Three Visits .
You also aren't running many draw spells which is concerning. since you're going stompy I highly suggest the draw spells that care about power like Rishkar's Expertise , Return of the Wildspeaker , Garruk, Primal Hunter , Life's Legacy , Greater Good , Momentous Fall , etc.
Of your whole list of creatures i would only consider cutting 2: Desolation Twin and Essence Depleter . Twin only get's you a token if cast so it doesn't play nice with the cheaty effects and Depleter isn't a needed combo piece if you have access to Dimensional Infiltrator .
3 months ago
+1
Can you list out combos?
What's the point of emerald charm, cradle + enchantment removal?
Shamanic Revelation > Collective
Seasons Past IMO > Praetor's counsel - 2 mana can make a big difference in a competitive deck.
Although not competitive, something to consider is Rude Awakening - Ramp with cradle, draw with shamanic revelation/collective (not regal force unfortunately), ritual given enough lands/dorks, alternative aggro wincon, etc... Lots of good stuff with the right set up.
Cut half forests for snow forests to trigger field of the dead
Castle Garenbrig - Upgrade
Maze of Ith - Combo with Argothian Elder to make infinite mana during the combat phase
You seem to have a good amount of slots dedicated to anti-blue. Is that necessary when it takes away from your gameplan? I feel if you cut seedtime, dosand or gaea's herald (note, I think there is a better version of herald that came out relatively recently), you can add more cards to help ensure consistency through redundancy. How much blue is in our meta?
Garruk, Primal Hunter / Rishkar's Expertise - Draw, you might need a bit more draw. If you're willing to pay 6 for collective, rishkar's is worth considering
3 months ago
PhyrexianPreator, the problem with Reverent Hunter and Setessan Petitioner both have the same issue, they both rely on having a great boardstate. The format right now is creature-heavy so everyone main a bunch of removal, so relying on a boardstate is half the time a losing war, especially when humans is simply a better green stompy deck in every way. There's also the fact they both cost 3 mana and I simply don't have enough space for them. That's why I only play 2 Aspect of Hydra, they steal games but aren't good enough, especially when I main multiple creature with less than optimal devotion.
Yorvo, Lord of Garenbrig was on my mind but since the deck has few ways of getting card advantage, playing creatures after a 3 drop is most of time not the position you want to be; it also doesn't have any keyword or combat abilities so it's easily blocked. Playing a 1 drop and letting itself get bigger is safer than betting a complete turn on a threat easily countered.
These cards can probably pull up a good fight in a different build, with mana dork and planeswalker like Garruk, Primal Hunter in a more go-wide strategy, betting on a big late-ish game, even considering CoCo. But in a more mid-rangy/aggro they just ask too much of commitment. The deck has elements of devotion, but it isn't the main mechanic.
4 months ago
Mirage Mirror, Pattern of Rebirth, Garruk, Primal Hunter, Return of the Wildspeaker, Kenrith's Transformation, Chord of Calling, Gemrazer, Ohran Frostfang, Sawtusk Demolisher, Force of Vigor, Obscuring Haze, Ram Through, Rampage of the Clans, Thwart the Enemy, Vines of Vastwood, Tribute to the Wild, Rancor, Swarmyard, Monstrous Onslaught, Overwhelming Stampede, Roar of Challenge, Jeweled Lotus
4 months ago
Have you conisdered Garruk, Primal Hunter > Soul's majesty? While the mana cost is slightly more difficult, you get much more utility. I like Garruk since he creates a token which can be used to block or as a "target" for his second ability to draw cards when you are low on gas.
Load more