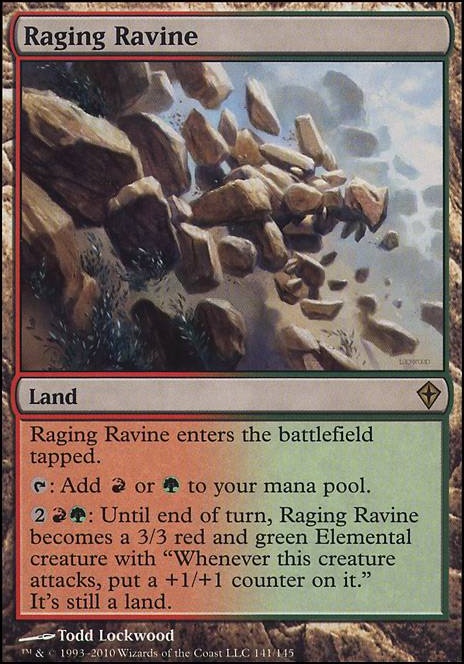 Raging Ravine
Land
Raging Ravine enters the battlefield tapped.
: Gain or .
: Until end of turn, Raging Ravine becomes a 3/3 red and green Elemental creature with "Whenever this creature attacks, put a +1/+1 counter on it." It's still a land.
Browse Alters
View at Gatherer
Trade
Legality
| | |
| --- | --- |
| Format | Legality |
| Tiny Leaders | Legal |
| Legacy | Legal |
| Block Constructed | Legal |
| Duel Commander | Legal |
| Leviathan | Legal |
| 2019-10-04 | Legal |
| Commander / EDH | Legal |
| Limited | Legal |
| Canadian Highlander | Legal |
| Highlander | Legal |
| Unformat | Legal |
| Vintage | Legal |
| Custom | Legal |
| Oathbreaker | Legal |
| Modern | Legal |
| Casual | Legal |
| 1v1 Commander | Legal |
Raging Ravine occurrence in decks from the last year
Rules Q&A
Latest Decks as Commander
Raging Ravine Discussion
3 days ago
I have not updated my Xenagos since exactly a year ago, so some of these suggestions do not take into account cards that have been released since then such as Jeska(i?)s will and battle mammoth which should find their way into this deck. Now onto my specific suggestions....
I couldn't suggest more than what's allowed by tappedout, but let me know what you think of each suggestion. If you want ideas for cuts, lmk
1 month ago
Profet93 thanks for the suggestions much appreciated.
Out of those I will consider to add the following:
Raging Ravine - in case of no creature on the board and only with Xenagos this is 7/7 for 4mana.
Greater Good - for some reason I always thought it to be a sorcery. That for sure can be a great draw engine.
Berserk - can be a good finisher, if I find it for lower price.
Deflecting Swat - seems sweet but quite situational. Same as above might include if I find it for lower price.
Return of the Wildspeaker - I have it in the deck already, was one of the latest changes I've made to the deck.
The Great Henge - Got one copy of it in a different deck, sadly (thought expectable.) it spiked it price, I won't be getting another one for that price.. but it sure is a great card.

I would gladly hear any of your creature suggestions. Thank you.
1 month ago
Without discussing creatures...
Ancient Tomb > Temple of false. Out of budget, not needed, but nice to have
Yavimaya Hollow - See above
Castle Garenbrig - Ramp
Dread Statuary - Manland used for drawspells
Raging Ravine - See above
Reliquary Tower - Utility
Skyshroud Claim - Ramp that provides tempo needed in Xenagos
Harmonize - Draw, not the best, not the worst. I like it personally
Green Sun's Zenith - Since many of your dragons are green, not needed but nice
If you listen to any suggestion of mine, this is it, hands down, most important card in a Xenagos deck.... Greater Good - It provides you with draw and a reward for when your big creatures inevitably get removed
Rancor - Nice but not needed, think with Selvala to add lots of mana, with a dork to get 6 power trample. Can even give to an opponent's creature for politics.
Beast Within - Removal
Berserk - Finisher with a huge beater, nice to use on opponent's creature/commanders as well. Never underestimate instant speed interaction (see above)
Deflecting Swat - Counter counterspells, redirect targetted removal, draw, extra turns, etc.... for free. Not needed but VERY nice to have. Bluffing interaction while tapped out!
Momentous Fall - Might not be the best, but has saved my ass countless times. You need a way to maintain card draw in Xenagos
Return of the Wildspeaker - See above
The Great Henge - Draw, ramp, lifegain for cheap
2 months ago
At Nava's request i'm posting suggested changes, additions, cuts, and my thoughts on them. She requested that I not stick to only budget, but keep the max single card value under $30 (I kept it under $20 for the most part and largely even lower than that). As such, here are my thoughts and recommendations.
Recommendations:
Creatures:
Add:
Courser of Kruphix- Ramp, pulls cards off the top of your deck so you are more likely to draw useful cards and just directly drop your lands onto the battlefield
Living Lightning- a useful elemental that allows you to recast your instants/sorceries
Multani, Yavimaya's Avatar- A very powerful card that also allows you to bounce your lands so you can replay them for more effects
Nyxbloom Ancient- Triple mana on an elemental.
Overgrowth Elemental- A useful elemental that pumps your creatures and gains you life.
Ramunap Excavator- Replay your sacrificed and destroyed lands. Fantastic in a lands deck. Omnath feeds on lands, and the more you drop the more cards you can draw and counters you can give out.
Roil Elemental- A fantastic landfall ability that allows you to grab key pieces from your opponents and use them against each other
Seedborn Muse take full advantage of your lands and abilities without worrying about being tapped out
Titania, Protector of Argoth- land recursion, elemental generation.
World Shaper- land recursion
Birds of Paradise- One of the best dorks in the game
Sylvan Caryatid- Fantastic dork
Cut:
Brighthearth Banneret- You are a lands deck. You have more than enough mana and this simply doesn't do enough for you.
Chandra's Embercat- This will be a recurring comment from me. You are a lands deck with plenty of ways to ramp. This is a very limited card that costs too much and doesn't do enough for you. You are a lands deck. Increase the number of ways you can pull lands out of your deck to further your decks goals and increase the chances of drawing a non-land card that will help you more.
Embodiment of Insight- Too expensive for the effect. Also, personally I don't like turning lands into creatures as it makes them incredibly vulnerable without giving enough benefit.
Embodiment of Spring- Too expensive and not nearly good enough.
Generator Servant- The haste isn't important enough for your creatures as you very rarely have anything massive enough or has a useful enough tap effect that is being cast from your hand to require it. Furthermore, you are a lands deck with plenty of ways to ramp. This is a very limited card that costs too much and doesn't do enough for you. You are a lands deck. Increase the number of ways you can pull lands out of your deck to further your decks goals and increase the chances of drawing a non-land card that will help you more.
Grove Rumbler- This card is terrible. Four for a 3/3 trample that has an effect that will pump it slightly for one turn. This is awful. It feels like this card was only put in due to it being an elemental.
Lavakin Brawler- Rarely do you ever have enough elementals out for this to be worthwhile. Not that it's terrible, but there are so many better cards that can be put in its place.
Parcelbeast- Doesn't get enough value to justify the slot
Smokebraider- You are a lands deck with plenty of ways to ramp. This is a very limited card that costs too much and doesn't do enough for you. You are a lands deck. Increase the number of ways you can pull lands out of your deck to further your decks goals and increase the chances of drawing a non-land card that will help you more.
Tireless Tracker- This has nothing to do with your deck and you're better off finding other draw engines
Surrak Dragonclaw- No synergy with the deck and not nearly good enough to justify the high mana cost.
Lands:
Add:
Breeding Pool
Command Tower
Exotic Orchard
Fabled Passage
Field of the Dead
Ghost Town
Glacial Chasm
Hinterland Harbor
Reflecting Pool
Rootbound Crag
Steam Vents
Stomping Ground
Ketria Triome
Bring your land count to 38 or so
Cut:
Coral Atoll- This is terrible. I know you're going for the bounce effect, but this is far worse for several reasons. Firstly, it only gives you blue mana as opposed to multicolored. Secondly, it requires specifically an island to be returned as opposed to any land that you can then take advantage of. And thirdly, it requires the land to be untapped which means that not only does it come in tapped, but it requires an untapped island which means you can't even use that land and then return it for value. This is awful. I don't love the bounce lands either, but I understand what you're going for and their value. This has neither.
Lumbering Falls, Raging Ravine, Wandering Fumarole- These man lands are in here entirely because they can become elementals, but really aren't worth running. They are come in tapped, cannot be fetched, and cost 4 mana to turn into a creature, largely negating any benefit. They're really bad and I highly recommend cutting them for more basics.
Unclaimed Territory- Not really worth the value. It's colorless more often than not and another basic land will give you more value than that more often.
Artifacts:
Add:
Arcane Signet
Chromatic Lantern
Strionic Resonator
Mana Vault- Nava already owns a copy of this in her Nekusar deck, so it can be added here without issue.
Strionic Resonator- Copy all of your ETB triggers, as well as any other triggered abilities. Fantastic
Cut:
Icon of Ancestry- A waste of a slot. Not nearly enough benefit for the important deck slot it takes
Seer's Sundial- There are better ways to draw cards given your access to blue.
Instant:
Add:
Chaos Warp- Removal on your own pieces or an opponents. Bypasses indestructible and often is allowed through without being counterspelled due to the fact that it's usually replacing a piece that people agree is a fair target rather than outright destroying or removing without replacing. A fantastic card overall
Constant Mists- Great protection when you need it, plus it can be bought back if needed. Lands can be recovered through multiple means.
Disallow- A must have for counterspells. It covers all possible basis and is fantastic.
Heroic Intervention- Hexproof and indestructible at instant speed for 2. Amazing.
Krosan Grip- Split second artifact/enchantment destruction. Among the best removal for them there is.
Force of Vigor- Free artifact/enchantment removal with multiple targets.
Swan Song- 1 drop counterspell that hits everything but creatures. A great counterspell to have on hand.
Cut:
Counterspell- There are better cards to replace this with that are still very cheap/budget and are overall better
Growth Spiral- A decent card but we can do better given the range of cards available in commander
Inspiring Call- See Growth Spiral
Return to Nature- There are so many better versions of this for an equal if not lesser cost. Or, for one more there are better cards which I will be recommending.
Struggle / Survive- Too limited, not enough value, not powerful enough.
Tale's End- This is just a bad version of disallow that very rarely gets any value.
Withstand Death- This is a bad version of other similar cards.
Wrap in Vigor- Very rarely do mass destruction effects happen, and when they do the usually say "cannot be regenerated". This seems really good but i've never really seen it get any value and will typically be a dead card most of the time.
Sorcery:
Add:
Genesis Wave- Drop all the permanents (lands included) that you can afford.
Life from the Loam- pull lands from your graveyard and keep your engine going without running out. Omnath feeds on lands, and the more you drop the more cards you can draw and counters you can give out.
Nature's Lore, Three Visits- Pull forests (basic and non-basic that are forests) from your deck. Very helpful at any time.
Scapeshift- Grab all the lands you want, plus trigger your landfall and other such triggers
Splendid Reclamation- Pull all the lands from your graveyard. Nuff said.
Tempt with Discovery- If one person takes it then it's a better Explosive Vegetation. If more then it's an amazing card, but even if no one else does you get to pick your land and in a lands deck you will get more value.
Windfall- Refills your hand, interferes with opponent's plans, dumps lands in graveyard for later use.
Cut:
Ground Assault- very limited and not worth running. There are better cards with similar if not stronger effects available to you
Hull Breach- There are better cards with similar if not stronger effects available to you
Quasiduplicate- no real apparent benefit to this over other cards that can more directly further your end goal.
Sylvan Awakening- I don't recommend turning your lands into creatures, especially enmass. It's just asking for all your lands to be mass removed. Very dangerous and will rarely get the payoff you need. Limited and will be a dead card in hand except in very specific scenarios.
Enchantment:
Add:
Burgeoning- land Acceleration
Trade Routes- Bounce lands for more triggers and value, and in a pinch you can pitch them for more cards. Mana swamped becomes a thing of the past.
Exploration- Land acceleration
Planeswalker:
Cut:
Domri, Anarch of Bolas- It seems like the main reason this is being run is for the +1 ability, which is really not worth running a card like this for. Not enough value.
Nissa, Steward of Elements- Without a large number of counters on her she gets minimal value, and if you do pay enough mana to make her viable there are already better cards you can run for those costs.
Maybe Cut:
Eternal Witness- Unless you find your creatures or important cards dead often, or have a real way to take advantage of the cards in your graveyard, this is unnecessary and doesn't do enough for the deck.
Fertilid- A decent card but i've never found it gets enough value for the cost. it's a minimum of 5 mana for 1 basic land. You need to do this at least 3 or 4 times to really get enough value to be worth running over a land fetch.
Leafkin Druid- This is okay as a dork and an elemental, but I've found with tribal decks that you are better off running other creature and card types that better fuel your deck as a whole and really allow the tribe to shine, rather than forcing the tribe everywhere.
Tectonic Giant- Not good enough.
Animar, Soul of Elements- Unnecessary.
Zendikar Resurgent- Largely unnecessary due to the high number of lands in the deck, but can be kept if you feel it worthwhile
Frontier Bivouac- decent but comes in tapped and cannot be fetched. In a lands deck you will rarely be hurting for colors and the fact that this comes in tapped slows you down.
Simic Growth Chamber, Izzet Boilerworks, Gruul Turf- While I see what you are going for with these, they overall do slow you down and you have enough lands (once you bump up to 38 or so) that you shouldn't have any issue with them. I'd swamp these for basics as you have far more ways to grab those.
Maybe Add:
Mana Breach
Overburden
4 months ago
You described almost every Xenagos deck, mine included. You hit it right on the head.
As you said, we either have it or we don't. With no way to tutor card draw, adding more helps increase the odds of maintaining gas
Lifeblood Hydra - Not necessary but always welcome on X = 3 or more. Even if they destroy it, you still get value, has built in evasion and has a high ceiling.
Life's Legacy - If blue is too prevalent in your meta, ignore this suggestion
Momentous Fall - Similar to above, but would still put in despite blue, and despite the fact that its hard to have 4 mana after casting a beater. But similar to rishkar's expertise, I argue the potential card draw is worth the risk. You usually use this in response to opponent's removal
Bonders' Enclave - Never hurts, coudl replace a fetch land possibly
Elder Gargaroth - Makes beasts for blockers/draw spells, draws cards and gains life in a pinch.
Harmonize - Reliable draw
Be sure to lmk what you think of each suggestion. Some will work better for you than others. I see you run some dorks so I know you don't want too many nonbasics, but with all the ramp in Xenagos, I think we can be a little greedy. If you can't find room, I have ideas for cuts.
5 months ago
This deck is pretty low to the ground for Xenagos, good job.
How is your land situation? Given your dorks and lower CMC, you might be fine, but I'm curious how it plays out. It seems unless you get a dork early game and lands, you will have trouble casting Xenagos consistently. How has it been playing out for your in your meta?
Yavimaya Hollow - Protection
Ancient Tomb > Temple of False
Bonders' Enclave > Sanctum of Eternity - Is the reason it's in your deck to prevent opponents from removing Xenagos during your turn prior to combat? I don't see the use of it in this deck. Perhaps I'm missing something.
Cragcrown Pathway  Flip > Mountain/Forest
Turntimber, Serpentine Wood > Forest - The additional utility it provides late game is key for when you're topdecking/out of gas
Raging Ravine - Manland that can be used as a creature to place a draw effect under late game
Dread Statuary - See above - Or not given your dorks and you want to limit colorless mana?
Myriad Landscape - Ramp - Same issue as above?
The Great Henge
- Draw
Skullclamp - Not 100% sold on it, but I think it could work here given your dorks which can be used as draw for late game, or helps you draw cards when your beaters die.
Berserk - Malignus says hi! Also, works on opposing creatures too. If opponent A attacks opponent B, you can kill their creature and deal extra damage to opponent B. Although I like using it on my beaters or Selvala heart of the wilds for extra ramp.
Deflecting Swat - Counter counterspells, redirect targeted removal(biggest issue in Xenagos so you don't get 2 for 1ed), targeted draw/extra turns, abilities, etc... Too much utility and for free.
Heroic Intervention - Protection for beaters
Rishkar's Expertise
- Crazy value that's worth risking the 2 for 1, also helps keep up with tempo which is great
Life's Legacy - Draw
Harmonize - Draw
Green Sun's Zenith - Tutor for the beater you need to the battlefield
I count 5 sources of draw in this deck, 2 of which are unimpactful, 1 of which is unreliable, the other 2 are good. Do you often find yourself running out of gas quickly especially given your lower CMC?
You run embercleave but no Godo, Bandit Warlord???
5 months ago
I have given some thought to what Zendikar Rising provides!
Personally, I do not feel enamored with Turntimber Symbiosis at the moment. That feeling may change, but this card seems like it will hurt big-time if it whiffs. Of course, the odds are against that happening, but this is Magic the Gathering and those kinds of shenanigans happen. In comparison, Summoning Trap, at instant-speed, can absorb a potential whiff more easily when cast at the end of an opponent's turn than watching helplessly as went up in smoke during our main phase. On the other side of the card, we have a Forest that enters the battlefield tapped unless we pay three life. Paying three life is not inordinately burdensome in our format, but for just ? Spidey senses are tingling all over the place, and I sense this card may be more harmful than beneficial in the deck. Let me know how Turntimber Symbiosis functions for you.
Bala Ged Recovery: I don't feel excited about this card. If the land entered the battlefield untapped it would receive more praise, naturally. This is a slightly over-costed Regrowth with the option of putting a land into play tapped. Honestly, I feel "meh" about this card. I don't plan on play-testing it or adding it at the moment. I prefer lands that don't enter the battlefield tapped, and printing a more expensive Regrowth on the other side of this card is not alluring enough for me to consider including it in the deck.
Of the cards you mentioned, I believe Moraug, Fury of Akoum provides the greatest power and synergy with our deck. This minotaur's inclusion seems inevitable for a Xenagos, God of Revels deck and motivates me to include Fabled Passage, Prismatic Vista and Wooded Foothills in order to increase the potential number of accrued combat phases in a turn. I envision having a biggun or two under our control, casting Moraug, Fury of Akoum and then playing a land. Perhaps it is one of the aforementioned lands, granting us with TWO additional combat phases. In this scenario and with Xenagos, God of Revels under our control, our creatures can REALLY get out of hand if we can drop a land or two. Although it currently is not in the deck, I am tempted to imagine how a Genesis Waved Moraug, Fury of Akoum develops. At worst, Moraug, Fury of Akoum is a monster that can whittle away opponents' creatures through combat. I definitely want to test this card!
Here are some cards I am either interested in testing or their inclusion is inevitable:
INEVITABLE: Cragcrown Pathway. Once a copy of this land becomes available, it will find its way into this deck and most likely replace a basic land.
INTERESTED: Inscription of Abundance is intriguing. At just , the options of gaining life equal to the power of one of our creatures OR having one of our creatures enter Fight Club are really versatile. Additionally, kicking this spell for just seems very reasonably costed, and we can choose both of the previously discussed options and put two +1 +1 counters on a creature. The entirety of those modes seem more valuable than . I also enjoy the potential political motivation of this card, as the +1 +1 counters and the life gain, respectively, denote "target creature" and "target player," not "target creature you control" and "you." I'll be taking a long look at Inscription of Abundance. It seems too good not to.
D'OH! If only Cragplate Baloth had trample!!
INTERESTED: I think Shatterskull Charger may be worth a look. Not kicking this creature brings it back to our hand at the beginning of our end step. With Xenagos, God of Revels under our control, paying and attacking with an 8/7 hasty trampler that is safe from sorcery removal seems strong. This reminds me of the dash mechanic. I think it is worth play-testing.
INEVITABLE: Lithoform Engine is an absolute powerhouse. I'm still in awe that this card was created. Seriously. I think consideration should be given to including this card in every EDH/Commander deck, right after Sol Ring. I do not exaggerate. Not only is Lithoform Engine the most powerful card in Zendikar Rising, it will be the next most-desired staple of the format. This is over-powered. This is beyond over-powered:
, Tap Lithoform Engine: Copy target activated or triggered ability you control. You may choose new targets for the copy. This is BETTER THAN Strionic Resonator, which currently resides in the deck.
, Tap Lithoform Engine: Copy target instant or sorcery spell you control. You may choose new targets for the copy. This is a personalized version of Reverberate or Twincast, and only costs . Think: Selvala's Stampede, Chandra's Ignition, Return of the Wildspeaker, Savage Beating, Summoning Trap, Skyshroud Claim.
, Tap Lithoform Engine: Copy target permanent spell you control. SERIOIUSLY!??
At the time of this reply, Lithoform Engine is, justifiably, the most expensive card in Zendikar Rising (aside from Box Toppers) and I predict it will be THE CHASE CARD of Zendikar Rising. I also believe that this set will be printed/opened into absolute oblivion due to the presence of the aforementioned Box Toppers and its tenure in Standard for the next two years. As a result, I plan to watch for potential price variations in Lithoform Engine and then accumulate as many as possible. This card is too good.
INTERESTED: There may be some mid- to late-game benefits to including Crawling Barrens in the land base. It seems like a decent mana-sink at instant-speed. Actually, I am surprised that this card did not include the dreaded "only at any time you can cast a sorcery" text. As an added value, we choose when to make Crawling Barrens a creature. As another benefit, it's only a creature until the end of the turn. This versatility is valuable to us and maddening to our opponents. All of these benefits reside ON A LAND. If Raging Ravine occupies a slot in the land base, I think there may be a place for Crawling Barrens as well.
At the moment, those are the cards that promote the greatest amount of fancy-tickling for me. I'm looking forward to Zendikar Rising and can't wait to crack them packs and feast on the goodies inside!
Load more