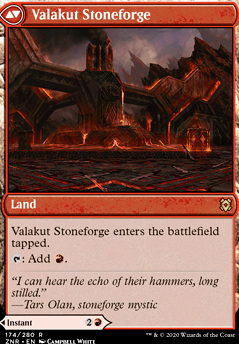 Back:
Valakut Awakening
Flip
Legality
2 years ago
Given you are mono red, you need a way to draw cards
Hedron Archive - Ramp when you need it, draw when you don't
Humble Defector - Nice to have but not necessary, politics and card draw. Nice with homeward path should you wish
Ignite the Future - "Draw" and flashback is very powerful
Light Up the Stage - Similar to above, easy to cast with all your burn. Although truth be told, you should really cut down on burn and focus on strengthening your weaknesses rather than incorporating burn with no particular strategy
Mind's Eye - Expensive, not necessary but nice with wheels
Outpost Siege - A little slow similar to above, but often gives you many cards as people don't want to waste removal on it.
Skullclamp - Draw
Solemn Simulacrum - Draw and ramp
Be sure to let me know what you think of each suggestion. There are more tribal cards to consider but since I don't play tribal, they are not on the top of my head. Once we go through these, we can consider other tribal cards as well. Your biggest issues are lack of ramp and card draw. For a dragon deck, it's not bad.