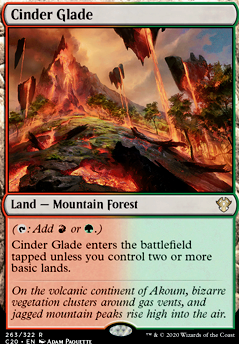 Cinder Glade
Land — Mountain Forest
(: Gain or .)
Cinder Glade enters the battlefield tapped unless you control two or more basic lands.
Browse Alters
Trade
Legality
| | |
| --- | --- |
| Format | Legality |
| Unformat | Legal |
| Limited | Legal |
| Leviathan | Legal |
| 1v1 Commander | Legal |
| Legacy | Legal |
| Tiny Leaders | Legal |
| Modern | Legal |
| Custom | Legal |
| Canadian Highlander | Legal |
| Duel Commander | Legal |
| Oathbreaker | Legal |
| 2019-10-04 | Legal |
| Highlander | Legal |
| Casual | Legal |
| Vintage | Legal |
| Block Constructed | Legal |
| Pioneer | Legal |
| Commander / EDH | Legal |
Cinder Glade occurrence in decks from the last year
Latest Decks as Commander
Cinder Glade Discussion
1 day ago
Changelog (22/11/2020)
White
Blue
Black
Red
Green
Multicolored
Colorless
Mana Fixing
1 week ago
Hey, nice version of Jared. I'm not a fan of Jared, but I can see you have put a lot of thought into your deck and you have overall very good card sense on a budget. Card draw shouldn't be a problem as long as you can keep the monarch :)
The manabase is lacking which is understandable because of the low budget. Cinder Glade and Canopy Vista are two of the better budget lands for Naya because they are two different land types, have interaction with lots of basic lands and they're Forest lands. Farseek, but also Nature's Lore, Three Visits (Commander Legends version), Skyshroud Claim and Wood Elves can all search for them and these five land ramp spells are among the best in Commander because they can ramp with a dual land. Some other good budget lands are: Battlefield Forge, Path of Ancestry and Naya Panorama.
Crop Rotation can tutor for Throne of the High City. Open the Armory can tutor for Pariah, Shield of the Oversoul or one of five equipment. Pariah is an important card to have more access too because you can't lose the monarch when Jared is enchanted with it.
Kami of False Hope is the white Spore Frog. Sun Titan is now less than $1 and is quite helpful since it can be repeatable reanimation: Jared, Pariah, Throne, Frog, Reckoner or any other 3 CMC/less permanent. Dromoka's Command is a good instant fight spell since it also gives another mode.
---
Cards to consider cutting:
1x Mountain
Protector of the Crown: Archon and Regal are better six drop monarch enablers.
Truefire Captain: difficult casting cost for this budget manabase.
Blackblade Reforged: not needed since doesn't give evasion or protection and Jared will have huge power/toughness with counters.
Good luck with your deck.
3 weeks ago
Hey, well done building a budget version of Overload, but unless your willing to spend more to upgrade the manabase a lot then getting above power level 5 will not be possible. There's no Command Tower or Exotic Orchard which are budget staples of Commander especially with five color decks. You honestly shouldn't be worrying about power level at all with a tribal deck that's less than $200.
On a budget there's limited options for playable lands for a five color manabase. Your best options for lands in five colors are Rainbow lands (Command Tower), etc. Unfortunately most Rainbow lands are expensive price cards, but there's some exceptions:
The goal of any manabase in Commander is to have the least amount of lands that will always ETB tapped because then game play is not hindered by the lands you play since you can tap the land for mana the same turn you play it. On a budget for five colors it will difficult, almost impossible, to not play some lands that always ETB tapped, but the lands that do this better give you good color fixing to make up for it and you don't need to play a ton of them.
Tri lands (Jungle Shrine) will always ETB tapped, but when they untap they can make one color of three different color choices which makes them on a budget worth playing:
Tri lands along with Path of Ancestry should be the only lands in the manabase that always ETB tapped.
I've built a lot of budget five color manabases for $200 decks and they use basic lands with dual lands that have good interaction with basic lands. Battle lands (Cinder Glade) and Check lands (Rootbound Crag) are dual lands that have interaction with basic lands to make them ETB untapped:
Battle lands also have interaction with Check lands because they're two different land types which is what Check lands look for. Many Check lands are expensive price, but there's a few that are less than $4. All Check lands are more expensive than Battle lands therefore add more Battle and less Check. Battle lands are nice with Farseek since it can search for one of them and being able to ramp with a dual land gives you much better color fixing then just a basic land.
Example of a budget five color manabase shell to build from:
8-10 Rainbow lands
20 basic lands
5-8 Battle lands/Check lands
5-8 Tri lands
---
You have the right idea with playing green land ramp spells which are good with 20x basic lands for ramp and color fixing, but you can expand on this with cards that let you search for any land meaning it can get a land that's not a basic land. Crop Rotation is a powerful budget card in Commander since you can sac a basic land to search for any land and put it onto the battlefield. Sac a basic land to get a Rainbow land. Crop is an instant meaning you could cast it during an opponents end step to get a Tri land then untap on your turn and be able to tap the Tri land for mana. Sylvan Scrying is another land tutor to get any land.
Arcane Signet and Commander's Sphere are staple budget Rainbow mana rocks that can help ramp as well as color fixing.
I offer more advice about Slivers on a budget. Good luck with your deck.
1 month ago
Hey, well done with precon upgrade on a budget.
Scion of the Ur-Dragon is one of the best Dragons for Dragon tribal being a repeatable Dragon tutor. Scion could replace Wardscale Dragon. Scion's ability to change into a Dragon can be done at instant speed which means during combat you can change into different Dragons whenever there's a stop at a combat phase.
Scion's ability goes well with Savage Ventmaw, Teneb, the Harvester and Bladewing the Risen which is a three Dragon combo to end up with Scion and cheat Teneb/Bladewing on the battlefield. Then if Teneb lives he can reanimate other Dragons you tutor for with Scion. Savage is part of the combo because you tutor for him first with Scion, before you attack which then gives you 6 mana to activate Scion three times during combat. The combo takes 11 mana therefore Savage making 6 mana means you only need 5 mana for other sources. Would you like me to explain this combo?
---
Consider cutting a few of the least good Dragons for more Dragon support? Rhythm of the Wild and Temur Ascendancy are in the maybeboard and they could replace two Dragons such as Vorosh, the Hunter and Darigaaz Reincarnated. The repeatable effects of Rhythm and Ascendancy are much better than what these Dragons can provide. Faeburrow Elder is also in the maybeboard and it's a much better ramp source than Mana Geode. Crux of Fate and Eerie Ultimatum are also in the maybeboard they could replace Spit Flame and Palace Siege.
There's 20 lands here of the 36 that will always ETB tapped which is a lot. The Tri lands on a budget are worth always ETB tapped, the rest are not. My advice is cut the Bounce lands and Scry lands for other types of lands. The combination of lots of Tri lands and Bounce lands is not good; play either one, not both in the same manabase.
Exotic Orchard is budget staple Rainbow land. By adding a few more basic lands then the 5 Battle lands are budget options since they have interaction with lots of basic lands. Cinder Glade, Smoldering Marsh, Sunken Hollow, Prairie Stream, Canopy Vista, can get each of these for less than $2 at TCGPlayer with Vista being the most expensive.
Manabase upgrades to consider:
You have Farseek and it can search for one of these Battle lands which is helpful for color fixing.
Good luck with your deck.
1 month ago
Alrighty, changed a few things with the land base!
Removed -
Added -
Also added these to the maybe board I'd like to put into use, just trying to work out what to replace for them lol -
Door to Nothingness (For fun ;))
As always, Feiryn, your help is much appreciated! Have more of the land base on the way, but probably won't have them for a few weeks still. (Also have Hunting Grounds coming... Can't wait to use that lol.
1 month ago
Hey, very good upgrade of the precon while still keeping budget. Nice Doubling Season and Xenagos, God of Revels is some spicy tech with Obuun :)
My advice is consider cutting a few land ramp spells and adding some repeatable draw sources such as Valakut Exploration, Garruk's Uprising and Tireless Tracker. Exploration uses landfall to play cards from the top of your library including lands. It can also be graveyard fuel for Trove Warden, Sun Titan and Emeria Shepherd. Uprising is an amazing budget card in Commander with creature strategies especially with Omnath, Locus of Rage and Rampaging Baloths since it triggers when a token is created. Tracker, Mystery Booster version, creates clues with landfall and clues can sac to draw.
Crop Rotation can tutor for any land which is nice with Bounce lands, Fetch lands, Kessig Wolf Run and Gavony Township. Emeria Angel and Scute Swarm are build your own army with landfall which is very good with Doubling Season, Felidar Retreat, Township and Beastmaster Ascension.
Cinder Glade and Canopy Vista are some land upgrades for the manabase because they have good interaction with lots of basic lands and they're two different land types. Farseek, Nature's Lore, Grasslands, Mountain Valley can search for one of these dual lands. Krosan Verge and Skyshroud Claim can get both of them. These Battle lands are $2 or less each at TCGPlayer. Exotic Orchard is a budget Rainbow land that's quite good in multiplayer Commander.
---
Cards to consider cutting:
Good luck with your deck.
1 month ago
Hey, nice budget version of Ur-Dragon. Good job upgrading the precon by adding the Ventmaw + Assault combo.
Even if you have a higher budget to make upgrades with here's some budget cards (each $2 or less) to consider adding to replace some cards you have here:
Understand that for most cards on this site the prices are displayed wrong and you need to do some browsing around TCGPlayer/Card Kingdom to get the best actual prices of cards. Having a creature tutor can be helpful to get Scion of the Ur-Dragon or any other Dragon. Drakuseth is a Dragon upgrade especially with the Ventmaw + Assault combo as a win condition with infinite attacks.
Hoard is a ramp upgrade since if not using it for ramp it can be a repeatable draw source. Wizards put zero instant speed removal in the precon and that's not good in Commander. You want to be able to remove a problematic card from an opponent or counter a spell that's going to wreck you.
The 5 Battle Lands could replace the 5 Vivid lands. There's lots of Tri lands here and these lands will always ETB tapped, but on a budget they're worth it for the color fixing. Vivid lands are not worth ETB tapped because you don't have a way to put more counters on them and when they run out of counters they're terrible. Battle lands have interaction with lots of basic lands and Farseek can search for one of them.
Good luck with your deck.
Load more