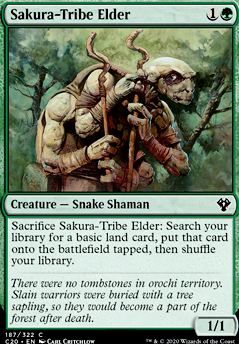 Sakura-Tribe Elder
Creature — Snake Shaman
Sacrifice this: Search your library for a basic land card, put that card onto the battlefield tapped, then shuffle your library.
Latest Decks as Commander
Sakura-Tribe Elder Discussion
1 week ago
Hey! Kinda late, but I would like to suggest some stuff:
(Disclaimer: I have a budget way lower than yours, but I've been tinkering with Ghired for almost two years - he's my favorite commander. I'll break the suggested upgrades down into categories for better organization.)
Haste enablers:
Ramp: Run at least 15 ramp cards to make your deck flow smoother and faster.
As an aggressive deck, speed is fundamental. Fellwar Stone, Nature's Lore, Three Visits, Skyshroud Elf, Bloom Tender, Faeburrow Elder, Chromatic Lantern, Coalition Relic, Wood Elves, Skyshroud Claim and Mirari's Wake can ramp and heavily fix your mana, taking the place of Gyre Sage, Solemn Simulacrum, Rampant Growth, Sakura-Tribe Elder and Xenagos, the Reveler - the latter is a win-more ramp, and his 2/2 token is not large enough to synergize with the power-based card draw, while the other four fix for a single color of mana (Ghired decks can sometimes be color-hungry), and this deck can't abuse the sad robot for value.

In the land department, Krosan Verge and Blighted Woodland pull their weight, and synergize greatly with Avenger of Zendikar and Rampaging Baloths. Maybe remove Cascading Cataracts? (Your spells are not THAT color hungry.)
Direct damage:
Extra combats: You don't have to worry about your opponents' answers if they never get to their turn, so...
Boardwipes:
Card draw: Alongside ramp, it is my main concern with Ghired. I want to be able to rebuild my board after a boardwipe.
Some cards I suggest you to remove:
Some cool lands for you to try out: (landbase is my favorite part of deckbuilding)
I hope I've been of some help to you. I didn't suggest many token-related cards because I believe that, as long as you have decent ramp, draw and removal in your deck, you can win to your heart's content. Wanna throw in a Godsire? Do it. Prefer to clone your opponents' creatures with Hate Mirage? Go ahead. But the fundamentals of the deck is what makes it flow consistently. Have fun and smash 'em all (and run Doubling Season for extra fun) ;-)
2 weeks ago
This deck looks pretty good, but it does seem a little colored mana heavy. I would recommend switching in more lands that tap for all your colors. For example, I would remove the Rugged Highlands for a Savage Lands instead. In terms of ramp, I wouldn't go for things like Mox Tantalite but rather Burnished Hart or Sakura-Tribe Elder which synergize better with your commander. I've made a combo deck with Sek'kuar as well, and mana dorks always do well: lots of value early game, and can be sac'd for cheap value when drawn later.
2 weeks ago
Mana talk:
Minimizing taplands is generally good but expensive (as you know). Plan to eventually replace stuff like the Vivids, snow-duals, and whatever the shorthand for Transguild Promenade is (which, btw, this is twice as slow as a normal tapped land and should 100% be replaced). Yes, even eventually replace the 'gain 1 life' lands that I love :(
I don't know the exact recommended land count. I see as low as 29 (with lots of 0cmc extra expensive cards) and as high as low 40s. I've been targeting 35ish with another 7-8 mana rocks, but I'm not in Green. In Green, you can run 2cmc ramp spells instead of 2cmc mana rocks. like Rampant Growth, Sakura-Tribe Elder, and Farseek.
With all of your land-tutor creatures, make sure you have enough targets. Since you're Chulane, erring on more lands overall might be better?
2 mana rocks like Azorius Signet and Arcane Signet are going be substantially stronger than 3cmc stuff like Selesnya Locket.
Cheatsheet and hyperlinks:
Shocklands: https://mtg.fandom.com/wiki/Shock_land
Fetchlands: https://mtg.fandom.com/wiki/Fetch_land
Filterlands: https://mtg.fandom.com/wiki/Filter_land
Checklands: https://mtg.fandom.com/wiki/Check_land
2 weeks ago
5.13 avg. cmc is astronomically high even for Animar. Your first few counters are going to be slow and inconsistent.
I'd suggest more low drop creatures like Cloud of Faeries, Destiny Spinner, Shrieking Drake, Dream Stalker, Man-o'-War, Phantasmal Image, Sakura-Tribe Elder, Stratus Dancer, Walking Ballista, Wild Cantor, Imperial Recruiter, Glimpse of Nature, and Utopia Sprawl. I'd also suggest Neoform and Weird Harvest to help look up combo pieces.
Feel free to check out my list for inspiration. Upvotes on any of my decks are appreciated. Animar, Gaea's Hemorrhoid ⫷PRIMER⫸
3 weeks ago
I feel like you may be a bit too all in on cards like Poison-Tip Archer. It really feels like you're trying to play aristocrats, but Jund just isn't the best combo for it. Your deck can make decent amount of tokens, but most of these death triggers require actual creatures to be dying and you only run 26, most of which are cards you don't actually want to sacrifice. You also aren't even running nearly enough sacrifice outlets, certainly your commander makes a good sacrifice outlet, but 3 mana is a lot to pay if you plan to do so repeatedly across the course of the game, and this commander is fragile to removal and will get costly quickly.
I'd likely cut down on cards like Toggo, Goblin Weaponsmith, Anax, Hardened in the Forge, and Sek'Kuar, Deathkeeper. Then focus more on value generation, cheap cards that generate more resources. Such as Mycosynth Wellspring, Ichor Wellspring, Goldspan Dragon, Tireless Tracker, Sakura-Tribe Elder, Dryad of the Ilysian Grove, and Courser of Kruphix.
3 weeks ago
I find Sakura-Tribe Elder is a very good card in Meren. I run 5 cards that serve a similar purpose presently, and I am rarely unhappy to draw them (though I run a lot less lands). If I can get a card like Elder out early, I can end up with a ton of mana while adding to Meren's XP count. Blood Pet is another interesting option.
Here are a few other cards I think might work. If you like to win with attacking, Mazirek, Kraul Death Priest is a nice option, those counters can add up quickly. Ohran Frostfang is another great attacking option, probably better in Meren than Toski, Bearer of Secrets, who might also be a fun alternative to Beast Whisperer. There are also Grim Haruspex and Midnight Reaper, these can be better than Phyrexian Arena in my experience. I also use Liliana's Standard Bearer, which can draw a mittfull of cards, including after you are boardwiped. Rise of the Dread Marn can help vs board wipes as well. Endrek Sahr, Master Breeder can make a fair number of tokens, and if you can keep sacrificing them he won't die (and becomes a very solid token generator). Foundation Breaker is a pretty handy removal effect stapled to a body, it's Evoke cast is also cheap XP (and a body in the yard). Sidisi, Undead Vizier is almost too good in Meren in my experience, but I feel I should mention her.
Cool deck, lots of interesting choices in here! I think you have 2 Willow Geist atm.
3 weeks ago
I think you should cut: Brutalizer Exarch, Conduit of Ruin, Frost Titan, Giant Adephage, Myr Battlesphere, Oblivion Sower, Pelakka Wurm, Phyrexian Ingester, Rashmi, Eternities Crafter, Rattleclaw Mystic, Sagu Mauler, Simic Sky Swallower, Sphinx Ambassador, Stalking Vengeance, Tornado Elemental, Plasm Capture, Pandemonium, Sunken Hope, Tezzeret the Seeker, Chromatic Lantern, Darksteel Ingot, Disaster Radius, Explosive Vegetation, Heat Shimmer, Rude Awakening, and Spelltwine. As for lands, I do think you should replace: Izzet Boilerworks, Spawning Bed, and Temple of the False God.
I think you should add: Temur Sabertooth, Genesis Ultimatum, Etali, Primal Storm, Skyshroud Claim, Goreclaw, Terror of Qal Sisma, Sakura-Tribe Elder, Chaos Warp, Klauth, Unrivaled Ancient, Terror of the Peaks, Kodama of the East Tree, Reclamation Sage, Kogla, the Titan Ape, Consecrated Sphinx, Selvala, Heart of the Wilds, Wood Elves, Ilharg, the Raze-Boar, Diluvian Primordial, Prime Speaker Zegana, Release to the Wind, Return of the Wildspeaker, Nature's Lore, Three Visits, Garruk's Uprising, Guardian Project, Unnatural Growth, and Arcane Signet.
I do think one option that you have is replacing all signets with mana dorks like Birds of Paradise, Llanowar Elves, and Elvish Mystic
If you are able to find more slots, I think you should consider: Hullbreaker Horror, Thryx, the Sudden Storm (dependent on count of spells with 5 cmc or more), Soothsaying, Mulldrifter, Beast Whisperer (dependent on final count of creatures), Rishkar's Expertise, Turntimber Symbiosis  Flip, See the Unwritten, Balefire Dragon, Scourge of the Throne, Bane of Progress (I feel like you do not have a ton of high value artifacts or enchantments that would cause this to cripple you), Momir Vig, Simic Visionary, and Genesis Storm.
4 weeks ago
This looks cool. Is it an actual competitive snakes list or did you choose that for legality reasons? If it's competitive, take what I'm about to say as a casual player's advice.
From what I've learned playing snakes, I need to point out that it's very easy to overload on CMC2, which you really should try to avoid. The smaller snakes are powerful, but they really don't stand a chance once an opponent goes up the curve. Maybe take a look at what I'm playing? My snake deck (that title took me two weeks...)
Sosuke's Summons is a great card for the deck. Also, playing Nemesis without a way to stuff your graveyard seems wrong. I'm using a combination of Commune with the Gods and Sakura-Tribe Elder for that. Definitely consider the latter.
Load more