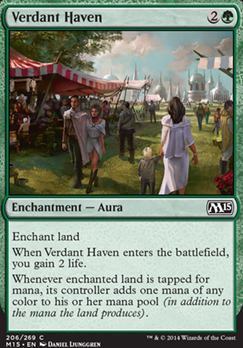 Verdant Haven
Enchantment — Aura
Enchant land
When Verdant Haven enters the battlefield, you gain 2 life.
Whenever enchanted land is tapped for mana, its controller adds one mana of any color to his or her mana pool (in addition to the mana the land produces).
Have (18)
SirFowler , cclyburn7556 ,

s

a

j

0

2

1

9

, Valentine35 , Rellick ,

C

a

s

t

l

e

S

i

e

g

e

, Micen , Raistlin911822 , calaw00 ,

X

x

C

a

t

a

c

l

y

s

m

i

C

x

X

, ManOfTroy ,

C

o

m

i

c

a

l

f

l

o

p

, rexxxif , leftkeh , seraphim_atreides , balchj , much-doge , Fatred
Want (2)
Luthor , Torlelukor
Verdant Haven Discussion
1 month ago
Verdant Haven and Market Festival are very slow. Have Sol Ring if nothing else. Even Wild Growth would be good. Honestly though... in legacy of any competitive format hard casting eldrazi will never cut it. You've got to play sneak and show or something. Have you considered turning this into an EDH deck?
1 month ago
Perhaps you could use Verdant Haven? You'll heal off some of the damage and get colors needed for spells. It'd it easier for you to play Spiteful Blow, in particular.
2 months ago
You need a LOT of ramp, and cheaper ramp at that. Drop Boundless Realms, the Grazing Gladehearts, and Seedborn Muse, as they don't add to your mana. While not consistently competitive, a ramp base that revolves around Arbor Elf and Voyaging Satyr + Utopia Sprawl, Verdant Haven, and/or Sheltered Aerie can work pretty nicely.
I would say, replace Elvish Mystic with Arbor Elf, and pull Boundless Realms, Cultivate, Rampant Growth, Ranger's Path, Summer Bloom, Khalni Heart Expedition, Seedborn Muse, and Grazing Gladeheart for 4x Voyaging Satyr, 4x Utopia Sprawl, 4x Verdant Haven, and 2x Garruk Wildspeaker.
| | |
| --- | --- |
| Color(s) | Red Black Blue Green White |
| Cost | 2G |
| Converted cost | 3 |
| Avg. draft pick | 8.46 |
| Avg. cube pick | 2.46 |
Legality
| | |
| --- | --- |
| Format | Legality |
| Standard | Legal |
| Legacy | Legal |
| Vintage | Legal |
| Commander / EDH | Legal |
| Modern | Legal |
| Duel Commander | Legal |
Related Questions