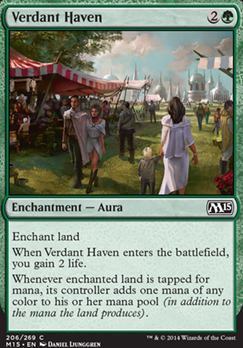 Verdant Haven
Enchantment — Aura
Enchant land
When Verdant Haven enters the battlefield, you gain 2 life.
Whenever enchanted land is tapped for mana, its controller adds one mana of any color to his or her mana pool (in addition to the mana the land produces).
Have (11)

s

a

j

0

2

1

9

, Raistlin911822 , Valentine35 ,

C

a

s

t

l

e

S

i

e

g

e

, leftkeh , seraphim_atreides , balchj ,

C

o

m

i

c

a

l

f

l

o

p

, much-doge , rexxxif , Fatred
Want (2)
Luthor , Torlelukor
Verdant Haven Discussion
4 days ago
Perhaps you could use Verdant Haven? You'll heal off some of the damage and get colors needed for spells. It'd it easier for you to play Spiteful Blow, in particular.
3 weeks ago
You need a LOT of ramp, and cheaper ramp at that. Drop Boundless Realms, the Grazing Gladehearts, and Seedborn Muse, as they don't add to your mana. While not consistently competitive, a ramp base that revolves around Arbor Elf and Voyaging Satyr + Utopia Sprawl, Verdant Haven, and/or Sheltered Aerie can work pretty nicely.
I would say, replace Elvish Mystic with Arbor Elf, and pull Boundless Realms, Cultivate, Rampant Growth, Ranger's Path, Summer Bloom, Khalni Heart Expedition, Seedborn Muse, and Grazing Gladeheart for 4x Voyaging Satyr, 4x Utopia Sprawl, 4x Verdant Haven, and 2x Garruk Wildspeaker.
4 weeks ago
No problem, at this point it's basically observing what slivers/other cards are the most useful and replacing the ones that underperform with more/different/same-but-better utility. I was gold-fishing some games and the ones I was least happy to see pop-up were Lymph Sliver, Victual Sliver, and Poultice Sliver. Lymph Sliver wasn't a favorite since, while overall damage protection is nice, I would rather have Ward Sliver for the same cost. Not sure what I would do with the other two, but Magma Sliver, Brood Sliver, Horned Sliver, and/or Homing Sliver would have loved to be there in the tests. Also, unless there are multiple slivers decks in your meta it might be nice to find older, cheaper-costed versions of new slivers like Two-Headed Sliver over Belligerent Sliver, Heart Sliver over Blur Sliver, and there are probably more I can't remember. Almost forgot to mention Urza's Incubator; a card I stumbled upon when researching cost reduction cards(maybe replace Verdant Haven). Got one for my slivers and have yet to look back. After that I think draw power should be your next focus. You have access to the best draw power from every color don't be afraid to cut slivers that aren't advancing the hive for draw power. That's pretty much all the help I can give without feeling like I'm completely commandeering your deck building, but if you have questions feel free to ask.
| | |
| --- | --- |
| Color(s) | Red Black Blue Green White |
| Cost | 2G |
| Converted cost | 3 |
| Avg. draft pick | 8.46 |
| Avg. cube pick | 2.45 |
Legality
| | |
| --- | --- |
| Format | Legality |
| Standard | Legal |
| Legacy | Legal |
| Vintage | Legal |
| Commander / EDH | Legal |
| Modern | Legal |
| Duel Commander | Legal |
Related Questions