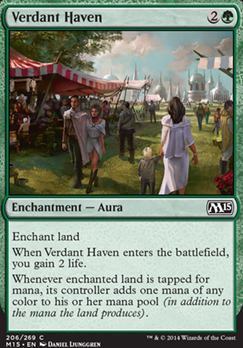 Verdant Haven
Enchantment — Aura
Enchant land
When Verdant Haven enters the battlefield, you gain 2 life.
Whenever enchanted land is tapped for mana, its controller adds one mana of any color to his or her mana pool (in addition to the mana the land produces).
Have (17)
maR2307 , Big-Foot , TranquilWyvern ,

s

a

j

0

2

1

9

, l0rd.v8r , CustomMI , Squillis , ironax , SunshineDynamo , afumblez , ajmcnulty , Spottyfriend , OldManDilios , Loner929 , SkitzyRae , Rellick , HostileBelief
Want (1)
urimaster
Verdant Haven Discussion
1 month ago
I like the deck, but if you really want to make it competitive, cut the stuff that doesn't contribute and add stuff that is harder to answer. Also, redundancy is key. It always was and always will be in EDH.
1 month ago
ok just trust me on this you want to be able to cast all of your spells from your mana base, your not gonna draw a Prismatic Omen or Birds of Paradise every game, and even if you do all it takes is one Path to Exile or Mortify and you basically fold. for your mana base you can add City of Brass and Mana Confluence for easy permanent fixing. you can also add duel color lands, i suggest temples (Temple of Plenty for examples) because they're cheap and can smooth our your draws. if your on a tight budget then just run tap lands (Sejiri Refuge). but if you have the money the strongest mana base is a combination of fetches (Arid Mesa), shock lands (Steam Vents they can be fetched), basics and expedition lands (Sunken Hollow). This mana base will allow you to fetch for any color land you need, and also thin out your deck to smooth our your draws.
you also need to up the land count, your biggest card cost 8 mana, with only 20 lands you wont constantly hit your mana drop to hit those bigger cards
you can also run cards like Verdant Haven and Market Festival for cheap simple ramp and mana fixing.
i would also run more mana dorks like Sylvan Caryatid for additional fixing and ramp
with all of the additional ramp you could then play a card that benefits from all the additional ramp like Primordial Hydra
this will get you to a deck that is consistent, but its not gonna be truly competitive. you can play all 5 colors but as soon as you draw a spell you want to have the colors to immediately cast it that way you don't have cards just sitting in your hand
also another easy way to play more then two colors is to is two build your deck focusing around one to two colors (probably green, so you can ramp) and then just put small splashes of the other colors in
also these are all cards off the top of my head, there are much better alternatives out there. its just a matter of research on other decks, and how much your willing to spend
good luck!
Legality
| | |
| --- | --- |
| Format | Legality |
| Modern | Legal |
| Legacy | Legal |
| Vintage | Legal |
| Commander / EDH | Legal |
| Duel Commander | Legal |
| Pauper | Legal |
Related Questions