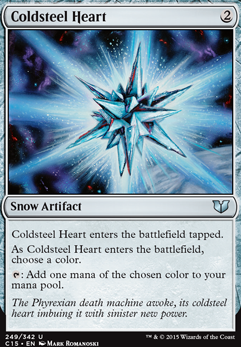 Legality
| | |
| --- | --- |
| Format | Legality |
| Tiny Leaders | Legal |
| Noble | Legal |
| Leviathan | Legal |
| Magic Duels | Legal |
| Canadian Highlander | Legal |
| Vintage | Legal |
| Modern | Legal |
| Vanguard | Legal |
| Legacy | Legal |
| Archenemy | Legal |
| Planechase | Legal |
| 1v1 Commander | Legal |
| Duel Commander | Legal |
| Unformat | Legal |
| Casual | Legal |
| Commander / EDH | Legal |
Coldsteel Heart
Snow Artifact
Coldsteel Heart enters the battlefield tapped.
As Coldsteel Heart enters the battlefield, choose a colour.
: Gain one mana of the chosen colour.
---
CM2
C15
Have (1)

P

i

e

g

u

y

3

9

6

Want (76)
Rafelker , GS10 , Synchlor , insanious , Xue-Kaihua , kovellen , MAGESTIC_LLAMA ,

M

u

s

h

i

M

u

s

h

i

A

p

p

l

e

s

, TevishSzat , Druidyczny , AgentHellboy , MementoMuffin , mooseonwhiskey , loganbowers , xXThormentXx , correcthorsebatterystaple , Verusor ,

S

e

r

g

a

l

, sybert1ger , jpengland , AnonymousFox , NezumiNinja , snoopywashere , kzig , JBert , rikimaru188 , hyrulian , coadster , Blindoromo , Arthurallgood , Ouranos , Prodigalpyro , Edu7ez , PRO-AUGMANDOO , joemamaishere123 , Internomer , Gravehawk , Elementalism , Asuras , mechflip , SilverGalaxE , secondcerberus , juuuj12345678901 , livingrock , shazarn , Xelgion ,

S

u

n

s

_

C

h

a

m

p

i

o

n

, khepri33 ,

L

y

t

h

i

a

, DocMockingbird , kvfd1719 , buildingadeck , smsithlord01 , frugalate , Schwiggity , pieguy744 , regnek , Amelius , EminentEncounter , svsnv77 , cablespy , jerboa256 , SkullDJ , Approximos , CounterSpiel , hotwing10 , keinsteinkenten , thefringthing , M0zart , StuSenpai , Blue_Otaku_No.1 , Hopper_2011 , Sarkhanite312 , ilocke , SurfyBasilisk ,

F

u

z

z

l

e

w

u

z

z

l

e
Coldsteel Heart Discussion
2 weeks ago
Hi friends! I Am looking to buy my Elenda deck and I'm down to 30 cards! If you have any of the following and want to sell or trade, hit me up! Prices are roughly high to low.
I'm posting this in a few different places, so this is liable to shorten at a moment's notice. Thanks!
1 month ago
Let me start by saying I've been playing Mizzix since he was released, and I've constantly strived to make my [[Primer]] Knowledge & Flame deck the best it can be. I'd like to believe with a 96% competitive rating, and the fact that I RARELY lose with the deck means it's a solid deck. As such it has seen several iterations and I've tried playing all kinds of cards... So here's a bit of advice.
I only have 17 cards that aren't spells that Mizzix can discount, 6 of which is Ramp. I only have two creatures, Niv-Mizzet, Parun (I'm testing him for extra draw power and secondary win con) and Laboratory Maniac as one of my main win cons. Of the 9 cards remaining 2 cards help me with consistent draw power, 2 are to protect Mizzix, 2 win me the game, and the rest are just there. Now I'm telling you all this because even with me having so little cards that aren't reduced by Mizzix I STILL end up with them sitting in my hand for ages for fear of tapping out and not having a counterspell up. So there are a lot of cards you have in this deck that do not directly add to your winning... And some cards that just don't play well with a deck that wants to either combo out or burn everyone into the ground.
Here are some suggested cuts:
Invert // Invent: Invert does nothing really, and Invent is WAY too expensive for what it does.
Seething Song: Just trade it out for Desperate Ritual so that you can tutor Reiterate and Desperate Ritual with Firemind's
Keranos, God Of Storms: Great card, but honestly it's just a win more card, this won't win you the game.
Melek, Izzet Paragon: I played with this for awhile but at the end of the day it's the same as Keranos
Blatant Thievery: It's a great card, but it always felt lackluster for me because it requires your opponents to have a good board state, which obviously you don't want. I'd suggest Aethersnatch in it's place because then your opponent just plays a spell for you.
Ignite Memories/Mind's Desire: Storm cards are good but they don't get you the game. In fact I have whiffed both of those spells more times than I can count! I'd say go for something a bit more certain.
Mizzium Mortars: I just think that this doesn't kill a LOT of creatures in this format Blasphemous Act is strictly better.
Stolen Goods: It's too easy for this to be a bad card. what if it's a Rampant Growth or vanilla 2/2 or a lord that doesn't do squat for you. Just too RNG
Temporal Fissure: Too expensive and again it's too easy to whiff the storm aspect
Sentinel Tower: It just makes you a target, unless you are committing to storm.
Future Sight: As a blue player you always want people to assume you have a counterspell, or don't want others to know you have a counterspell... This crushes that. If you REALLY need this effect, which I think isn't worthwhile, Precognition Field is better.
Sunbird's Invocation: WAY TOO EXPENSIVE, and it's strictly just a win more card.
I know I stated a lot of cards are too expensive and you are playing mizzix but assume mizzix isn't on the table because he will be killed or a target 90% of the time.
Here are some cards I'd highly suggest playing:
Sorry I know I posted a lot but I'm really passionate about this deck, and I love to see mizzix players succeed.
1 month ago
Best budget suggestions I could think of:
Coldsteel Heart - can become the colored source you need the most right now
Wayfarer's Bauble - crappy version of Rampant Growth but is an artifact and puts the basic needed most directly into play.
Goblin Welder - more shenanigans with artifacts that can swap opponents' stuff as well.
Starting to go up in price but would be awesome if you land one, Smothering Tithe , as EDH players love to draw cards.
You have a pretty low overall CMC in the deck, with only one card costing over 5, so maybe cut Temple of the False God for another colored mana source? Grand Coliseum , while hardly optimal, isn't overly expensive to get and would probably get you by long enough to draw a regular source of the needed color[s].
1 month ago
For lands, Cabal Stronghold doesn't make any sense. You're running 7 Basic Swamps. If you wanted to put in Cabal Coffers with Urborg, Tomb of Yawgmoth , that could work, but I doubt you want to put your money there. Cascading Cataracts, Waterveil Cavern, Survivor's Encampment, Shimmering Grotto, Rupture Spire, Guildmage's Forum, and Gateway Plaza should be the next to go. You're running a 2-color deck, so you don't need such bad fixing. I'd also lose Everglades.
Nighthowler is the only really bad creature that I see, although you'll probably want more if you're on the self-mill plan. Triskaidekaphobia and Tree of Perdition are cute. I don't think I would run that, but if you're going to, run Clutch of the Undercity and Dimir House Guard to tutor up the pieces.
Spinal Embrace is a cool card, but it's pretty inefficient. For that kind of mana, you could be running Kindred Dominance , Crux of Fate , Deadly Tempest , Decree of Pain , Extinguish All Hope , or Life's Finale (I would go with this one, given your commander). Cancel is a no-go. Counterspell , Negate , Swan Song , Countersquall , Dissolve , Arcane Denial , Disallow , Sinister Sabotage and Dream Fracture should all be in the deck before Cancel.
I don't know why you're running Dramatic Reversal , but if you are, you should be running Isochron Scepter for the infinite mana.
Tome of the Guildpact is pretty bad in this deck. If you want rocks, you should be running Sky Diamond , Charcoal Diamond , Coldsteel Heart , Mind Stone , Thought Vessel , and Talisman of Dominance before you touch that or Darksteel Ingot in a 2-color deck. If you're looking for card draw, Phyrexian Arena , Syphon Mind , Fact or Fiction , Tidings , Sign in Blood , and Night's Whisper are all better.
If you wanna mill, Altar of the Brood , Mesmeric Orb , Dread Summons , Sphinx's Tutelage , Psychic Corrosion , Traumatize , Patient Rebuilding , Memory Erosion , and Whetstone are all more powerful than Millstone (though I do appreciate it's OG status).
If you want to see what other people are playing in their Scarab God decks, I recommend checking out the EDHREC page for him.
1 month ago
Viscera Seer is a staple free sac outlet that this deck is going to want, the scry is honestly gravy.
At quick glance I see some cards that aren't doing much to advance your commander's strategy: Vizkopa Vampire is kind of vanilla here, Doomed Traveler gives you something upon termination and thus something for you commander to double up on. These are the effects you want to stack in your deck, Edge of the Divinity really isn't doing much here as a creature enchantment in a deck where you want your creatures to die probably isn't sticking around and you aren't likely to win with commander damage, True Conviction , while a high CMC gives all of your forces [big beater and tiny token alike] a buff.
A land you may want to consider is Vault of the Archangel as I noticed you seem to like your lifelink.
Sol Ring is the most played card in commander and should have a home in this deck. Your mana curve isn't outrageous so you should safely be able to go down to 37-38 lands but I'd replace that with more artifact ramp: Orzhov Signet , Mind Stone , Coldsteel Heart , Wayfarer's Bauble and for the X2 death trigger... Burnished Hart .
Load more
Coldsteel Heart occurrence in decks from the last year
Commander / EDH:
All decks: 0.04%
Blue: 0.22%
Black: 0.14%
Red: 0.21%