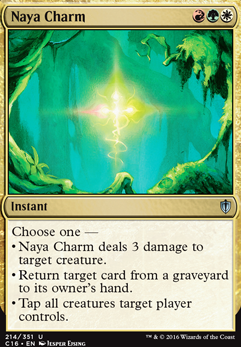 Legality
| | |
| --- | --- |
| Format | Legality |
| Tiny Leaders | Legal |
| Noble | Legal |
| Leviathan | Legal |
| Magic Duels | Legal |
| Canadian Highlander | Legal |
| Vintage | Legal |
| Modern | Legal |
| Vanguard | Legal |
| Legacy | Legal |
| Archenemy | Legal |
| Planechase | Legal |
| 1v1 Commander | Legal |
| Duel Commander | Legal |
| Unformat | Legal |
| Casual | Legal |
| Commander / EDH | Legal |
Naya Charm
Instant
Choose one —
Naya Charm deals 3 damage to target creature.
Return target card in a graveyard to its owner's hand.
Tap all creatures target player controls.
Have (11)
ironax , pokemate0 , cryptoplasm , Joblaska ,

S

t

e

v

e

n

D

F

1

6

, brentkc49 , releasethedogs ,

S

i

r

F

o

w

l

e

r

, geazykagar ,

O

l

o

r

o

_

M

a

g

i

c

,

g

o

o

d

a

i

r

Want (21)
Katfal , Gypsyhatten ,

p

p

h

h

a

a

z

z

e

e

, MeteoricChimera ,

f

a

m

z

i

m

1

3

, klokwurk , Pulseman , vaerth ,

F

u

l

l

m

e

t

a

l

m

a

g

e

, imapuncha , JBert , therocker666ify , TheEyesOfLife , afeuling , Loading_Error ,

h

o

u

m

b

u

s

, lucky72 , AntiheroFOREVER , mowingboy , Warxuaroz , ExultantCultist94
Naya Charm Discussion
3 weeks ago
Crackling Doom would be great for being apart of the Sunforger package. Wear / Tear is also a great multi use card. Naya Charm is also good since all the modes are relevant.
Grand Warlord Radha can help you cast a lot of spells due to the amount of mana you can produce when your going wide. A little more on the pricier side is also Xenagos, God of Revels as he will double your creatures power.
I prefer Heroic Intervention over Make a Stand as it's one cost lower and green should be one of your more important colors although you won't be able to use it with Sunforger package. Krosan Grip should also be an auto-include.
Hope that helps!
2 months ago
Needs more Steel Leaf Champion!
Partially serious up above. I play Naya big zoo, and I enjoy the deck a lot. 12 instants and sorcery is too many, I'd cut out 2 Naya Charm and put in 1 more creature (Steel Leaf Champion) and 1 Kessig Wolf Run.
Also, Tarmogoyf is still a good card... and if you can afford those, Horizon Canopy is also your best friend.
On the cheaper side of good options, Domri Rade has won me games. Control simply can't handle him since he gives you card advantage against control. Not to mention he can be cute and set up silly cascade triggers.
I think that the biggest issue I see with the list is that you are super highly concentrated at 3 mana or higher. Maybe put in some extra 1's (Wild Nacatl) and 2's (Tarmogoyf). I don't think Courser of Kruphix is right for the deck anyway, since it's more of a long term card where this deck wants to jam and punch face.
3 months ago
I would look at the charms...Jund Charm, Bant Charm, Naya Charm, Esper Charm, Mardu Charm, Sultai Charm, Temur Charm,Abzan Charm, Rith's Charm ect.
3 mana, 3 counters for Ramos, and a ton of different effects for multiple situations. Obviously not all of those should go in your deck, but I would definitely throw in your favorites.
4 months ago
Looks good! Here's some suggestions:
Boros Charm - saves your guys from board wipes or damage/destroy removal, can go to an opponents face for 4 damage for a random kill at instant speed, and is the nuts with Gishath because it makes him even harder to block, triggers his ability twice even through a blocker or two, and makes a commander damage kill easier.
Walking Ballista/Triskelion - amazing with all the enrage creatures, particularly Bellowing Aegisaur, which let's you put 5 ±1/±1 counters on each creature you control each turn (or just put infinite counters on everything if you happen to make Aegisaur indestructible somehow...)
Tooth and Nail - just a great card, can search for whatever two guys you need and can get both parts of a combo right away.
Xenagos, God of Revels - amazing in a deck with this many big creatures. Makes a Gishath commander damage kill easier but also is just great with big dinosaurs. Also it's big and hard to kill if you turn it into a creature.
Fires of Yavimaya - another great card with Gishath and the rest of your deck. Giving a bunch of giant Dino's haste is awesome and the +2/+2 is very relevant, digging 2 cards deeper with Gishath, protecting one of your guys from damage based removal or a close combat situation, or letting you trigger enrage 2 more times. Also works well with double strike and Xenagos's +X/+X.
Earthquake, Magmaquake, Pyromatics, etc. - works great with enrage, let's you wipe the board but not necessarily kill all of your creatures. Not as unconditional as [Blasphemous Act], but more flexible depending on the version.
Relic of Progenitus, Rest in Peace, Scavenging Ooze etc. - graveyard hate is almost necessary in most games and groups, not that fun but can win the game or at least give you time against graveyard decks.
Eternal Witness, Sakura-Tribe Elder, Aura Shards, Vandalblast, Fracturing Gust, Naya Charm, Solemn Simulacrum - staple commander cards in Naya colors.
Just some ideas, no clue what to cut though. Hope this helps!
4 months ago
I agree with RedDeckTries, the deck doesn't have enough lands. You could try Temple of the False God, Jungle Shrine, Rogue's Passage, Sunhome, Fortress of the Legion, and/or Exotic Orchard. Gishath is heavily reliant on landing attacks, and while it does have trample, you could add Whispersilk Cloak. A great card for this deck is Rishkar's Expertise, often netting you a lot of cards, and a free dinosaur. I think the deck might be missing some big closers, like Overwhelming Stampede, Titanic Ultimatum, etc. While Belligerent Brontodon does synergise with a few of your cards, I think there are other options to consider; Thundering Spineback, Silverclad Ferocidons, Bellowing Aegisaur, Trapjaw Tyrant, Thrashing Brontodon. Congregation at Dawn can act as a tutor in the deck, especially with gishath, and the versatility of Naya Charm is crazy good.
8 months ago
Agent_Fire, Mayael's Aria is pretty cool. I've actually never seen that card before. I definitely want to make room for it, but what should I cut? Naya Charm is also pretty cool as well I want to find a slot for that as well. Thanks for the awesome card suggestions. I'm almost finished constructing the deck, I just need to get my hands on a few more cards.
Load more