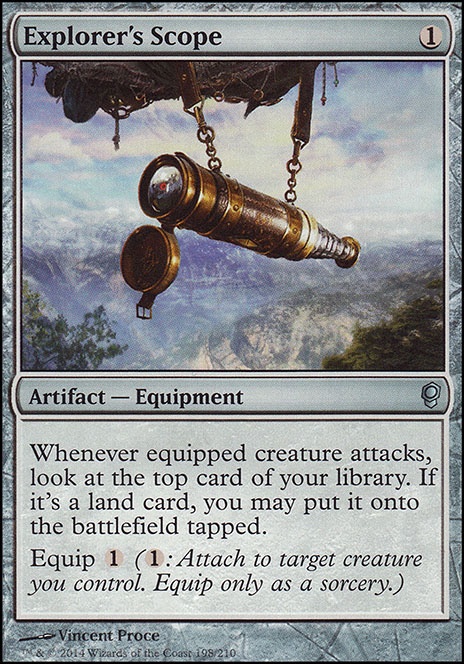 Legality
| | |
| --- | --- |
| Format | Legality |
| Tiny Leaders | Legal |
| Noble | Legal |
| Leviathan | Legal |
| Magic Duels | Legal |
| Canadian Highlander | Legal |
| Vintage | Legal |
| Modern | Legal |
| Casual | Legal |
| Pauper EDH | Legal |
| Vanguard | Legal |
| Legacy | Legal |
| Archenemy | Legal |
| Planechase | Legal |
| 1v1 Commander | Legal |
| Duel Commander | Legal |
| Unformat | Legal |
| Pauper | Legal |
| Commander / EDH | Legal |
Explorer's Scope
Artifact — Equipment
Whenever equipped creature attacks, look at the top card of your library. If it's a land card, you may put it onto the battlefield tapped.
Equip (: Attach to target creature you control. Equip only as a sorcery.)
Have (4)
Joblaska , mziter501 , ahobrien , voidruby
Want (15)

B

r

i

n

g

e

r

O

f

S

t

o

r

m

s

, DeadeyeDesperado , Korevana , doonmeister , Dawnbreaker7727 , sycdan , vakuso , Cheshire000 , DragynFyre , Fralaylah , 0ur0b0r05 , Arrownight , AzureOctive , Turtlelover73 , powertrot
Explorer's Scope Discussion
4 months ago
I noticed you don't have any library manipulation. Not trying to line up your draws?
Ronin Warclub is another auto equip. just thought it sounded fun summon your commander and boom here comes all the auto equip attach and then burn for good dammage. It's just hard to find the room.
Looter il-Kor is a good creature I don't see in your deck.
Cavern Harpy Is really good I cant recommend her more. Can keep her safe for 1 life and keeps returning a ninja to your hand
Have you tried Explorer's Scope before? decent cheap card that helps you not hit land. I'm going to test it.
5 months ago
9/12
Out:
In:
5 months ago
Thank you usaDiabetic, I appreciate both your honesty and humor!
If you browse my decks, you will notice I never play any signets, and also that ramping seems to be the one aspect of decks that I always neglect in favor of aggression and control. I guess I'm greedy that way. It does sound like a good idea to have a bit of a booster, I'll ponder and see if it is signets or something else.
I hate playing against Skullclamp, it is another card I never played myself. I may try it if only to surprise my friends, it would be really funny.
You are correct about Mathas, I wanted to give him a chance to shine but he never really did anything. Twilight's Call is going to give way to Patriarch's Bidding as soon as I get one (soon). Also to be acquired and added is Reconnaissance, which is just ridiculous in here.
As for Vampire Nocturnus, 73% of my spells have black in them, it has been working well so far. He would be better with a Top or a Scroll Rack, I used to play Explorer's Scope in Vampires that works too, but I can't find room here for one of those.
Feel free to comment some more, I have started looking at your other deck too, I like your style.
5 months ago
I like what I see so far. The land count seems right. I see many staples that I'd like to see. I'd like to see Path of Ancestry, Darksteel Pendant, Reclaim, Entourage of Trest, Mutant's Prey, Hunt the Weak, the two green cycle lands, Explorer's Scope, Village Elder, Crown-Hunter Hireling.
To make room I would look at the following to take out: Sizzle, Welder Automaton, Wrap in Vigor, Withstand Death, Blinding Fog, Jolrael's Favor, Nature's Panoply, Might Beyond Reason, Saddleback Lagac, Dragonscale Boon.
It's always nice to see new faces in our community :) Welcome!
Load more
Explorer's Scope occurrence in decks from the last year
Commander / EDH:
All decks: 0.01%
Red: 0.05%
White: 0.08%