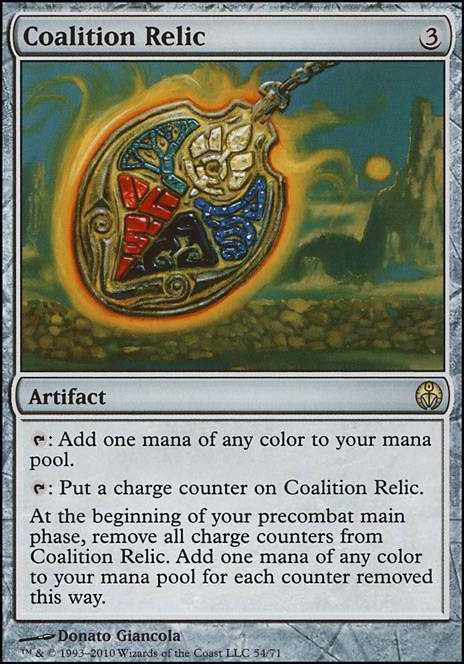 Legality
| | |
| --- | --- |
| Format | Legality |
| Pre-release | Legal |
| Noble | Legal |
| Leviathan | Legal |
| Tiny Leaders | Legal |
| Magic Duels | Legal |
| Vintage | Legal |
| Modern | Legal |
| Casual | Legal |
| Vanguard | Legal |
| Legacy | Legal |
| Archenemy | Legal |
| Planechase | Legal |
| 1v1 Commander | Legal |
| Duel Commander | Legal |
| Unformat | Legal |
| Pauper | Legal |
| Commander / EDH | Legal |
Related Questions
Coalition Relic
Artifact
: Add one mana of any color to your mana pool.
: Put a charge counter on Coalition Relic.
At the beginning of your precombat main phase, remove all charge counters from Coalition Relic. Add one mana of any color to your mana pool for each counter removed this way.
Have (10)
xpsychovampx ,

V

a

s

b

e

a

r

1

,

S

p

a

r

k

y

4

1

,

c

k

l

i

s

e

, bradyofportdetroit , warcry02 , robbnoble , geazykagar , MrCrazzyc , ecurps
Want (10)
Sasuin ,

D

i

d

g

e

r

i

d

o

o

d

a

, JeremyTheMiner ,

M

o

J

o

M

i

X

u

P

,

K

i

n

g

M

a

t

h

o

r

o

, Big-Foot ,

h

w

a

g

n

e

r

,

a

w

a

l

l

o

f

t

e

x

t

, samuelianstorm ,

M

a

l

a

c

h

y

_
Coalition Relic Discussion
6 days ago
Switching to English, thanks Tappedout.
None of the following recommendations/cuts are as important as they were with Karametra, since this deck is built on a solid ground and only needs a better defined game plan.
You have three archetypes to choose from, and you should focus on one or two of them. Trying to build all three will be too inconsistent.
Aggro - win by dealing 40 damage to everyone through combat damage and Purphoros/Blood Artist effects. Alesha is used to punch things and reanimate token producers/anthems/beaters.

Control - win by taking care of threats and staying relevant until late game where you outvalue whoever's left. Alesha is used less for combat damage and more for reanimating value/removal.

Combo - win by assembling an infinite combo. Alesha is mostly just there as a backup plan in case a combo piece is stuck in the graveyard.
I would recommend going for either aggro-control or combo-control.
Utter End - being able to target anything is very strong
Duplicant - one of the best creature-based removal cards
Wear / Tear - similar to Duergar Hedge-Mage but casts for 1/2 when you really need it, or a two-for-one for 3 mana at instant speed
Rakdos Charm - instant speed graveyard hate, or cheap removal, or a way to kill someone who's going wide and is about to win
Painful Truths - very good card draw in 3 colors
Toxic Deluge - the best creature board wipe in the game
Merciless Eviction - amazing against artifact decks, amazing against enchantment decks, amazing against reanimation decks, amazing against indestructible and very good against everything else
Chromatic Lantern, Commander's Sphere, Coalition Relic and Darksteel Ingot - good mana rocks for 3, prioritize from left to right
Fellwar Stone and Talisman of Indulgence - good mana rocks for 2
Animate Dead - reanimation for 2 mana is just too good to pass up on, fun with Sun Titan
Path of Ancestry - it's a strictly better Nomad Outpost
Ash Barrens - 1 mana for colorfix can help many bad hands, and lategame it's an untapped land
Mana Confluence and City of Brass - worth it when you're 3 colors, the lifeloss rarely matters but being able to play out your hand does matter
Clifftop Retreat - only checkland you're missing
Hanweir Battlements - colorless land is not great when you're 3 colors, but haste on Alesha is strong
Fervor - good source of haste, not as easy to remove as Lightning Greaves
Key to the City, Reconnaissance, Maze of Ith and Iroas, God of Victory - good way to keep attacking with stuff
Siege-Gang Commander and Ponyback Brigade - many tokens for just one ETB, deals 8 damage with Purphoros, God of the Forge for each cast/reanimation
Beetleback Chief and Pia and Kiran Nalaar - less tokens but still playable
Ankle Shanker - good for getting damage past blockers
Zulaport Cutthroat and Blood Artist - useful when going wide and repeatedly reanimating stuff, makes board wipes hurt
Harsh Mentor - very strong hatebear, can stop some game plans entirely
Mirror Entity - strong anthem when most of your deck is power 2 or less
Mother of Runes - protection can either make one of your creatures unblockable or protect one of your creatures from spot removal
Drana, Liberator of Malakir - decent anthem for cheap
Purphoros, God of the Forge and Impact Tremors - useful when going wide and repeatedly reanimating stuff
Noosegraf Mob - up to 5 2/2s per turn and can be reanimated with Alesha
Enlightened Tutor - good for getting Skullclamp when you need card draw or Purphoros, God of the Forge when you need damage
Swiftfoot Boots - an extra pair of Lightning Greaves
Cathars' Crusade - very strong anthem when going wide
Behind the Scenes - good way to get past blockers, pump is expensive but can be done after assigning blockers which is neat for getting damage through
Elspeth, Sun's Champion - playable either for the board wipe or to get 3 tokens per turn depending on board state
Fiend Hunter - can perma-exile stuff repeatedly with sacrifice or protect one of your own creatures from a board wipe while getting an extra ETB
Key to the City, Reconnaissance, Maze of Ith, Iroas, God of Victory and Whispersilk Cloak - good way to safely get Alesha triggers and get cards in the graveyard without losing card advantage
Ayli, Eternal Pilgrim - decent way to get stuff into the graveyard while still getting value out of them, also good chump blocker
Liliana, Heretical Healer Flip - a pretty good planeswalker that's a creature in the graveyard and can be reanimated
Hope of Ghirapur - can repeatedly stop or at least slow down a lot of decks
Sin Collector - one of few ways non-blue decks can deal with board wipes and huge swingy instants/sorceries
Feldon of the Third Path - slow without haste but a very strong effect once online
Leonin Relic-Warder - not as strong as Fiend Hunter but still useful in the same ways
Sunforger - lets you tutor up the most relevant removal and protection spells at instant speed, also get Mistveil Plains if you add this to get stuff back into your library
Strionic Resonator - works for double attack triggers with Alesha or double ETBs with anything else
Vampiric Rites - one of few sac outlets that provide solid value from its own effect
Flameshadow Conjuring - lots of extra value for only one mana per creature
Panharmonicon - doesn't work with some of your creatures, but solid value when it does
Assemble the Legion - decent wincon when your opponents are running out of gas
Elspeth, Sun's Champion - playable either for the board wipe or to get 3 tokens per turn depending on board state
Wayfarer's Bauble - not as fast as mana rocks but not as vulnerable against board wipes, good when aiming for slower wins
Fiend Hunter - combo with sac outlet + Karmic Guide or Sun Titan
Anafenza, Kin-Tree Spirit, Cathars' Crusade and Solemnity - combo with sac outlet + Murderous Redcap
Murderous Redcap - combo with sac outlet + Anafenza, Kin-Tree Spirit, Solemnity or Cathars' Crusade
Geralf's Messenger - combo with sac outlet + Solemnity
Viscera Seer, Carrion Feeder, Altar of Dementia and Goblin Bombardment - free sac outlets, the latter two can also weaponize most infinites
Zulaport Cutthroat and Blood Artist - weaponizes any sac-based infinite
Purphoros, God of the Forge and Impact Tremors - weaponizes all your infinites, lets you win with Kiki-Jiki, Mirror Breaker combos without having to go into combat
Mother of Runes - for protecting your combo pieces or sometimes making Alesha unblockable
Living Death - when you have enough combo pieces in the graveyard, resolving this usually lets you win on the spot regardless of which creatures your opponents get to return
Enlightened Tutor - another tutor for finding wincons
Village Bell-Ringer - combo with Kiki-Jiki, if you don't care about creatures being power 2 or less there's also Combat Celebrant, Zealous Conscripts, Restoration Angel and more
Archetype of Finality - way too expensive
Palisade Giant - generally worse than a creature with "When ~ enters the battlefield, you gain 7 life", which you wouldn't want to run in the first place
War Priest of Thune - can't hit artifacts, would never want to reanimate it over other targets
Mortify and Return to Dust - good removal cards but you have better options in your colors
Diabolic Tutor and Gamble - 4 mana is a bit much for a tutor and the card disadvantage on Gamble combined with the fact that you might discard non-creature combo pieces makes it questionable
Meekstone - pretty stupid to disable your own commander, not really beneficial to your game plan since it lets slower decks build up board state while no one can/wants to attack
Also, come up with a better title and description and try to keep your online list up to date with your deck IRL.
1 week ago
Well I have some suggestions. First you have way too many mana rocks. Gilded Lotus, Coalition Relic and Chromatic Lantern should be the first to go. With the mana base you have there is no need for sub-optimal ramp such as Chromatic Lantern or Coalition Relic and your mana curve is low enough that Gilded Lotus is just too much. You should also cut at least 1 signet or 1 talisman maybe one of each. Other artifacts that should go are Lightning Greaves because Kess, Dissident Mage is not at all necessary to a full storm build and having a card just to protect her from destruction isnt worth a card slot. Now as for your win conditions, if your going 1 creature then you should really just use Aetherflux Reservoir. Using Reiterate on Lightning Bolt with Paradox Engine is kinda clever but its very mana intensive, requires you to run lots of sub-optimal mana rocks and if you streamline your deck you will consistently get to an Aetherflux Reservoir win much faster. Take out Tendrils of Agony and Lightning Bolt. Now for Paradox Engine. This card doest synergize at all with Kess, Dissident Mage's ability and since you only get one spell each turn from her your going to need to rely on your deck for your gas. You should 100% replace Paradox Engine with High Tide and build your deck around that card. Add cards like Frantic Search, Time Spiral and Snap. Replace Vault of Whispers, Urborg, Tomb of Yawgmoth, Sulfur Falls, Seat of the Synod, Great Furnace, Glimmervoid, Drowned Catacomb and Dragonskull Summit with Island's. You should also take out Winds of Change, without Notion Thief its not really a great card since you might just refill your opponents hands. There are several other questionable instants and sorceries but this is already a lot coming at you so ill just link to a couple different decks people have been trying out to give you examples. The final few cards I will suggest are Mystic Remora, Paradoxical Outcome, Future Sight, Necropotence, Helm of Awakening, Sensei's Divining Top and Hurkyl's Recall
1 week ago
Hey, so I thought a little about the deck. Instead of efficient combos let's stick to the sillier ones, focusing on intruder alarm.
You are in very bad colors for tapping dorks, and the stonybrook/drowner combo is only tutorable by black. I'd suggest more artifact and instant focused combos that still require several pieces to set up, and are pretty cheesy.
So one would be Isochron Scepter + Ensoul Artifact + Some creatures which tap for mana + some pretty spicy spells such as:
To Arms! to draw your deck
Intruder Alarm with token generation, such as
Warping Wail for infinite scions/mana (and some other useful modes)
Raise the Alarm, Reality Shift to deck opponents, Pongify/Rapid Hybridization to replace fatties with 3/3s, etc.
This is all pretty janky, so a cheesy but more efficient method would be some of the above, but with Paradox Engine and artifact mana in place of Ensoul Artifact and tapping dorks.
A very fun combo sometimes used in Cedh is to have an Isochron Scepter imprinted with Dramatic Reversal, then playing a Copy Artifact imprinting a Swan Song, then playing some spell and infinitely countering it with swan song while it's on the stack to generate infinite 2/2 birds. Phyrexian Metamorph is a backup copier.
It looks like you are intentionally avoiding them, but I'd still look into the cheaper artifact and spell tutors to help assemble your combos easier. You are playing a tutor in the command zone, after all.
Regardless of the combos you choose to use, I'd include some cheap interaction and card advantage like the above comment suggests. The land count is also very high, I would cut down to 33 max. You can use some cheaper artifacts. Without mentioning the broken ones, you could stand to add Talisman of Progress, Talisman of Dominance, and Fellwar Stone. The 3cmc ones are typically pretty bad, but you could add Coalition Relic.
Hope that helps, good luck!
2 weeks ago
Cut Coalition Relic and a Mountain for Force of Will and Dragonlord Dromoka. Trying to see how much ramp I can cut down before I run into problems. Really want Force to work since I have a foil one just collecting dust, but I will most likely end up cutting it for a cheaper counterspell like Disallow since I don't run all that many blue cards.
2 weeks ago
Bruh. You have three lands currently. You're gonna need at least 38 in a typical commander deck. Also you need more nonbasics. And multicolor rocks. Darksteel Ingot is a classic. Mana of any color on a 3 mana rock and can't be killed w/ destruction effects. If you've got the cash do Coalition Relic, which can do pretty good ramp (considering your Avg CMC is high).
3 weeks ago
Play Dream Halls for extra cheese and wincon/combo piece. It is instant win with either Omniscience or Enter the infinite (maybe even with Razaketh, the Foulblooded, depending if you have 1-2 other creatures on the battlefield). Also it is really good with the amount of tutors and card draw you have. I'd also replace Obelisk of grixis and replace it with Chromatic Lantern or Coalition Relic for extra ramp and better fixing. Maybe Oblivion Stone is just better Nevinyrral's disk asweel? Oh, and play Hero's Downfall over terminate as an option for planeswalker removal.
If you want to see your friends and playgroup salty and amazed, you should also play Withering Boon for extra lolz ;D
3 weeks ago
Now that I finally have a chance to look at this... :)
Your removal package seems pretty good. I'd still always try to include a Beast Within, and I think Condemn is the weakest link in this deck's removal (since often you want to remove something that's not attacking).
Since all of your birds will have flying, Gravitational Shift and Favorable Winds seem very good.
Your color-fixing looks pretty good overall. Rupture Spire is a second copy of Transguild Promenade, and I'd generally use Reflecting Pool over Meteor Crater (since the latter requires you to already have cast the spell in question to be able to get use out of the land). Chromatic Lantern and Coalition Relic also help a LOT.
I've built budget landbases like this before, if you want to take a look at this deck's manabase: *RETIRED* An Hour of Wolves: Tazri EDH
Speaking of budgets, I'd cut Cavern of Souls most likely. It's not SUPER relevant in the deck, and it's nearly $50 :(
I saw Karakas in your maybeboard, but I'm afraid to tell you that it's banned in EDH :(
If this turns out to be fully tribal, you could run Cover of Darkness to great effect.
The one big thing you're missing here is draw effects. If the deck turns out to be creature-heavy, you could try cards like Shamanic Revelation or Kindred Discovery or Distant Melody. Otherwise, effects like Abundance, Sylvan Library, Rhystic Study, etc can help a lot :)
Hope that's useful commentary! :) I'll take another look when you've messed with the deck a bit more.
4 weeks ago
Great work here. Lots of thought put into the list and plenty of review leaves little to improve. Personally I dislike 3CMC mana rocks unless they are combo centric like Basalt Monolith. Do you think Chromatic Lantern could make room for anything better? Coalition Relic I have some reservations about as well but don't think this two color deck can afford not to run it.
Load more