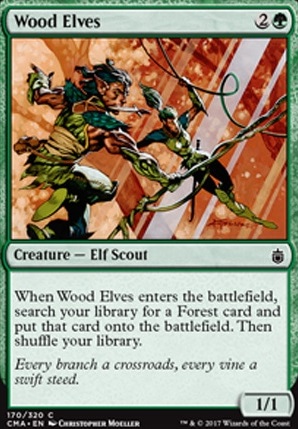 Legality
| | |
| --- | --- |
| Format | Legality |
| Tiny Leaders | Legal |
| Noble | Legal |
| Leviathan | Legal |
| Magic Duels | Legal |
| Canadian Highlander | Legal |
| Vintage | Legal |
| Modern | Legal |
| Casual | Legal |
| Pauper EDH | Legal |
| Vanguard | Legal |
| Legacy | Legal |
| Archenemy | Legal |
| Planechase | Legal |
| 1v1 Commander | Legal |
| Duel Commander | Legal |
| Unformat | Legal |
| Pauper | Legal |
| Commander / EDH | Legal |
Related Questions
Wood Elves
Creature — Elf Scout
When Wood Elves enters the battlefield, search your library for a Forest card and put that card onto the battlefield. Then shuffle your library.
---
CM1
DDR
C15
CM1
DDR
7ED
| | |
| --- | --- |
| Have (2) | Mortiferus_Rosa , MikeLaserbeam |
| Want (10) | Dreggstar , Serbon , miqualmedanis , Andromeda115 , toonlink282 , Gravehawk , Travis0288 , d0Shisha , cthhtc , Josh_theWizard |
Wood Elves Discussion
2 days ago
Thanks for the review WizardOfTheNorthernCoast! Looks good! I got some tips from the discussion on your deckpage. Unexpected Results is definitely on-theme but it could stop the Surge wincon. Seems like you put in more passive draw compared to my ETB/on-cast draw. I guess I could try that for another time. Would you ever get more than 7 cards and have to discard though?
1 week ago
Hey bobobo77,
Muldrotha is an awesome commander and as I see you have a great base here. I have some suggestions for you. First I would add some mana-dorks like: Llanowar Elves , Elvish Mystic , Fyndhorn Elves , Boreal Druid , Elves of Deep Shadow or Sakura-Tribe Elder , Wood Elves . With Muldrotha often it works like Meren of Clan Nel Toth , you need a Grave Pact , Dictate of Erebos and a Butcher of Malakir . Than you can use all the AristocraticStuff like Spore Frog , Fauna Shaman , Mulldrifter , Shriekmaw , Fleshbag Marauder , Plaguecrafter , Eternal Witness and I highly recommend you The Gitrog Monster .
That's some thoughts. If you like, check out my Sidisi the Land reanimator-deck.
1 week ago
Yo Chandra585, first thing that I kind of noticed is that your running 32 lands. For a avg. CMC curve of 3.53, that is fairly low. In inclusion of it as well, you aren't running much ramp effects to match the curve as well. Since you want a mix of both flicker effects, ETB value, as well as good stuff value, I would consider adding in Brago, King Eternal . Single use burst plays aren't formidable enough in EDH unless it's a mass one, so I would cut out all the single target flicker cards with mass one like Ghostway . In addition, ramp creature or card advantage creatures should be considered like:
This would help you get more mana, as Roon can be quite an mana intensive deck. With that being said, Peregrine Drake is a great enabler to allow you have open mana at all times. Cloud of Faeries as well, but that's only if you have access to broken type of lands like Nykthos, Shrine to Nyx or Gaea's Cradle .
I would also consider including Wargate (bias on this amazing card!) as well as Chord of Calling , as it has awesome interaction with Eternal Witness or Archaeomancer in allowing you pull any creatures from your deck, provided you have the mana for it! Wargate does double duty in pulling any permanents to the battlefield!
For protection package as well there are cards like Heroic Intervention and Faith's Reward as your oh shit button in the event where you need to protect everything. That goes along for Teferi's Protection as well. Being in Bant colors gives you a plethora of options and there are much things you can actually do. I would also consider more consistent blinking effects like Conjurer's Closet since you are in a semi-competitive meta as it is a threat but only a threat depending on what you have on the field. Same reasoning for Venser, the Sojourner , he also acts as triple duty in making additional ETB/LTB effects, if you add in Brago, making him unblockable, as well as win condition if he ults!
Along side that, Heartstone should become Training Grounds as reducing to is strictly better, and it makes Eldrazi Displacer cost only one colorless mana to blink which can get ridiculous value! Cards like Panharmonicon , Strionic Resonator , Illusionist's Bracers are a bit too finicky and are win-more type of cards. You can cut them out for efficiency, same with other creatures you run like Sigarda unless you are running her due to meta calls.
TL:DR - Add in some more lands, cut the big clunky win-more cards, use efficient spells to streamline deck. Wargate is a beast of a card and should definitely be included. Bant has so many choices so it depends on the level you want to build.
Hope that helps and feel free to ask for any more help, I like helping people deck tune their decks!
2 weeks ago
Hey, good suggestions by hkhssweiss, but what your deck needs more than anything else are creature tutors and repeatable draw power.
Cards to consider adding:
Cards to consider cutting:
Soul's Majesty
Demanding Dragon
Tyrant's Familiar
Relentless Assault
Savage Beating
Fyndhorn Elder
---
I see Taiga, Stomping, Glade and Thicket, consider upgrading your land ramp spells with Farseek , Nature's Lore and Wood Elves ? These cards can search for and put one of these four Forest dual lands onto the battlefield in the case with Lore and Wood it puts the dual land untapped. These spells can replace Kodama's Reach , Nissa's Pilgrimage and Explosive Vegetation .
Good luck with your deck.
2 weeks ago
To be honest your 4 drop slot seems fairly full though I don't personally care for Foresee . I get why it seems good copied, but there are better card draw spells in the 4 slot. I do agree with you though, Jace's Sanctum's effect is already heavily redundant in this deck. The only other card I don't particularly care for is Baral, Chief of Compliance . It's basically another sapphire medallion that you can't copy and your maybeboard has 2 better options in Farseek or Growth Spiral for ramp/fixing. Also curious why no Wood Elves to boost your ramp.
Load more
Wood Elves occurrence in decks from the last year
Commander / EDH:
All decks: 0.11%
Green: 0.64%
Golgari: 0.4%
G/U (Simic): 0.54%
RG (Gruul): 1.27%
RUG (Temur): 2.05%
BRG (Jund): 0.97%