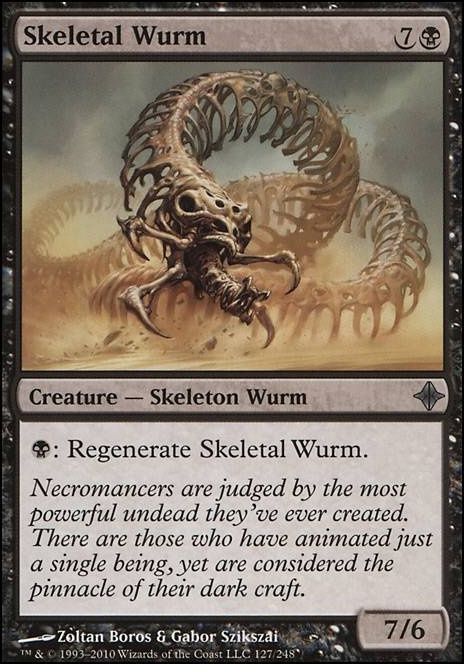 Legality
| | |
| --- | --- |
| Format | Legality |
| Noble | Legal |
| 1v1 Commander | Legal |
| Vintage | Legal |
| Modern | Legal |
| Casual | Legal |
| Vanguard | Legal |
| Legacy | Legal |
| Archenemy | Legal |
| Planechase | Legal |
| Duel Commander | Legal |
| Unformat | Legal |
| Pauper | Legal |
| Commander / EDH | Legal |
Skeletal Wurm
Creature — Skeleton Wurm
B: Regenerate Skeletal Wurm.
Skeletal Wurm Discussion
1 year ago
ok here are cards I think would do good in the decks you just listed theres nothing crazy tho Jarad, Golari Lich Lord, Norn's Annex, Null Profusion, Magus of the Disk, Curse of the Cabal, Extractor Demon, Spelltithe EnforcerF, Deathrender, Keening Stone, Hall of Triumph, High Market, Predator Ooze, Gaea's Anthem, Ezuri's Predation, Wolfcaller's Howl, Martyr of Bones, Lure of Prey, Curse of Predation, Acidic Slime, Contagion Clasp, Malakir Cullblade, Murder Investigation, Wall of Omens, Skeletal Wurm, Soul's Grace, Mind Swords, Homura, Human Ascendant
1 year ago
Your other option would be adding in even more ramp. Perhaps add in 4x Elvish Mystic and 4x Elves of Deep Shadow for the 2x Skeletal Wurm, 2x Mind Control, Unhallowed Pact, 2x Arcanis the Omnipotent (Legendary Rule will make multiple in hand really bad and the
in the cost is extremely prohibitive), and maybe a Dispel. Then maybe upgrade to Birds of Paradise and Sylvan Caryatid at some point.
1 year ago
Pheardemons ah yes. Didn't reallize that said permanent. My bad. Yes, there actually is one more card I would definitely add, and that's Drudge Skeletons. Or maybe a Skeletal Wurm if you're looking for something a little higher up on the curve. They're both regenerate-able for 1 mana and are REALLY annoying for an opponent to deal with, trust me, I've fought decks that run stuff like this. Not fun for an opponent to try to take out.