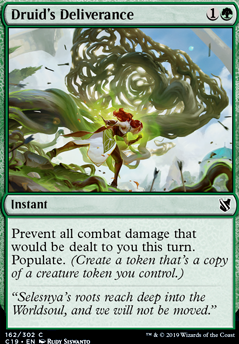 Druid's Deliverance
Instant
Prevent all combat damage that would be dealt to you this turn. Populate. *(Create a token that's a copy of a creature token you control.)
Browse Alters
Legality
| | |
| --- | --- |
| Format | Legality |
| Tiny Leaders | Legal |
| 1v1 Commander | Legal |
| Magic Duels | Legal |
| Canadian Highlander | Legal |
| Vintage | Legal |
| Modern | Legal |
| Penny Dreadful | Legal |
| Casual | Legal |
| Pauper EDH | Legal |
| Pioneer | Legal |
| Leviathan | Legal |
| Legacy | Legal |
| Duel Commander | Legal |
| Oathbreaker | Legal |
| Unformat | Legal |
| Pauper | Legal |
| Commander / EDH | Legal |
Druid's Deliverance occurrence in decks from the last year
Commander / EDH:
All decks: 0.01%
Druid's Deliverance Discussion
1 month ago
I'm not sure what happened with my above comment. The "spoiler" buttons don't seem to work anymore, even though they worked fine when I was posting it. :\ Must be a T/O bug. In any case, here's the same comment as above, but with accordions, which still seem to work.
---
You're actually fine using a Protection card that targets only one creature, because all you have to do is play it in response to the Declaration, targeting the same creature that the Declaration player targeted, and then Declaration will have an illegal target, causing the entire spell to fizzle. But that said, single-target Protection doesn't help against burn. I'd suggest Heroic Intervention to protect against both threats — and bonus points, it has a CAT in the art! XD
---
Before talking about this card specifically, first a quick note regarding "fog" effects: Some people actually feel similarly about "fog" effects as they do about lifegain — it doesn't deserve an entire card slot to itself. The rationale behind this is the same as with lifegain — a Fog neither develops your board, removes threats, nor decreases your opponent's life total. It essentially amounts to a lifegain spell that gains you the same amount of life as you were dealt in combat. That said, if you can find a Fog that does allow you to have an effect on the game, they can be great.
Alright, so on to your card choices. Unless you really care about the cycling, I'd actually choose a different Fog effect in its place, as both the CMC of Haze (2) as well as its cycling cost (3) are over-costed ( Fog costs 1 and cycling is usually 2). In its place, I recommend one of the following:
Of them, my favorites are Druid's Deliverance and Heroic Intervention.
---
Like I said before, I already feel like you DO have heavy-hitters (Pridemate, Sovereign, an eternalized Pouncer). The only thing Oketra has that they don't is indestructible (and a high-costed token producing ability). But Oketra also has the drawback of potentially being useless, as well as having no synergy with Sovereign or Regal Caracal.
That said, if you really want the Indestructible (and temporary Indestructible from instants like Valorous Stance or Heroic Intervention aren't good enough), then I recommend Fleecemane Lion — an efficiently-costed early threat that later becomes an Indestructible, Hexproof 4/4 — or Temur Sabertooth , who has a repeatable Valorous Stance ability that actually combos nicely with both Regal Caracal (creating more cat tokens after re-casting) and Pride Sovereign (who can be Exerted, returned with Sabertooth, then re-casted next turn untapped and ready to block).
Sadly, neither of them benefit from the Monument's mana reduction.... but honestly, I don't think that's the most important element of your deck to be building around. Monument is a nice "extra" if you happen to draw it and have high-CMC white creatures, but it's not a necessity for the deck to function well, IMO.
2 months ago
I'd like to see more token generation in the lower slots- convoke payoffs are amazing, but cutting a few to get a threat on the board that can scare 3 mana plainswalkers is essential for pioneer. More raise the alarm, more marshal.
In terms of 1 drops, Legion's Landing Flip Hunted Witness , Cartouche of Solidarity , Skymarcher Aspirant / Snubhorn Sentry , Thraben Inspector exist. If you make bigger tokens, Wake the Reflections can work. Springleaf Drum helps power out low-mana creatures.
Voice of Resurgence is the strongest 2 drop available for this list.
Further up the curve, Launch the Fleet , Countless Gears Renegade / Servo Exhibition , Dwynen's Elite , Animation Module / Anafenza, Kin-Tree Spirit , Hero of Precinct One , Lovestruck Beast , Murder Investigation Precinct Captain , Thorn Lieutenant , Westvale Abbey Flip and Hanweir Militia Captain Flip
In terms of sidebord, we'll see how the meta shapes up, but Alive / Well , Dryad Militant are worth looking at beside standard options. Druid's Deliverance if vannafar combo takes off. Sundering Growth as an artifact answer.
4 months ago
AN interesting note is that Changelings count as Saprolings, so cards like Birthing Boughs , Universal Automaton , Chameleon Colossus , Changeling Outcast , Graveshifter , and Woodland Changeling , along with Mirror of the Forebears , Volrath's Laboratory , and Mirage Mirror , among others, will give you +1/+1s when killed. I would also suggest cards with populate, such as Druid's Deliverance , Full Flowering , Horncaller's Chant , and Selesnya Eulogist . I honestly quite like this deck other than that.
4 months ago
Everlasting Torment is another option in case you have players who run with damage mitigation cards such as Riot Control Defend the Hearth Deflecting Palm Druid's Deliverance etc, which would be a giant road block to cards that let opponents choose to "take damage" or do the other thing. Dash hopes, risk factor, vexing devil, sword-point diplomacy, sword-point diplomacy, and torment of scarabs, leave your cards in the control of your opponent through choice, which can then be mitigated, when they draw the right cards. Everlasting Torment strips them of that choice with possible mitigations
Load more